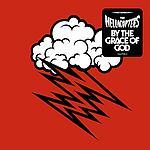 The Hellacopters is probably the best Swedish band of the last decade. X-Entombed Nick Andersson, who then wanted to explore his hard rock roots, formed them in 1994. In order to describe their musical style I'd better borrow a phrase by Geoff Ginsberg, who has agued that "what the MC5 and Stooges were to the '60s, what Sonic's Rendezvous Band and Radio Birdman were to the '70s, and what the Celibate Rifles were to the '80s - that's what Sweden's Hellacopters were to the '90s." And he couldn't be more precise! I'd only like to add that the Hendrix influences and the general 60's-70's atmosphere are haunting all their records. Speaking of which, so far they have released 8 albums (with "Supper Shity to the Max", "Hey!", "Payin' the Dues" and "High Visibility" being really astonishing!).

"By the Grace of the God" is their ninth effort and I feel that it is among their best works - if not the best one! Those who are familiar with The Hellacopters, will find here everything they expected: straight, wandering, dirty hard rock and roll!!! Andersson with his raw bluesy style way of singing provides the desired by all of us atmosphere: you get the impression that you are in a US bar (probably somewhere in the South), with busty chicks teasing you, the smell of burbon diffused, too much smoke and the Harley outside ready to take you to the unknown! Their music could be the perfect soundtrack for the movie "Harley Davidson and the Marlboro Man"!!!!

Differences form previous albums? Not many - the thing is that this album consists of 13 dynamites, which are among the best songs that the band has ever written. What I can notice is that the piano has a more crucial role here, something that works well for the songs, as it gives a more rock and roll feeling. Many good harmonies in the guitars give a rather melodic perspective to the whole CD, which come to contrast to the thunderous drumming and riffs of fire that flood the songs. For those who don't know The Hellacopters, be careful not to be misled and think that they have anything to do with what came to be known as stoner rock. This band plays pure hard rock n' roll with balls in the size of a skyscraper!! And believe me that the muddy riffs, the hoarse vocals and the doom bridges of many "stoner" bands seem like cheap tricks in comparison to the pure cunning of this band! Listen to this album and you can enjoy a parade of rock music's highlights. What else can I say? Let's hit the road!!!!
Release Date
7 October 2002
by Alex Savatianos 9/10