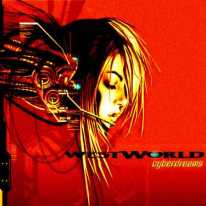 "Cyberdreams" is the new and the best album that Westworld have released. I really don't know from where to start! Westworld is the band that Mark Reale (Riot) and Tony Harnell (TNT) formed, some years ago. And now I' m wondering what more can we wait from musicians like them? The answer is pure melodic hard rock/metal music that very few people nowadays are incapable to compose! All the songs are marked by the virtuoso guitar playing of mark and of course with the superb voice of Tony and the divine vocal melodies that he has wrote! The lyrics are really brilliant and they show how the new way of life (Internet stuff) has entered to the people's life.

The songs of the album are all excellent, but if I were forced to name a few, I would say about the first song "Cyberdreamer" which is unique mid-tempo hard rock hymn! Another song that's worth to be mentioned is the light melodic rocker "How Good It Feels", and the clever "A Million Miles" which is very catchy. Last but not least, I must refer to the song "What If" cause it has one very brilliant and at the same time melodic refrain, and of course I must mention the most touchable ballad that I've listened so far this year, which is called "Look To See. That song is heavenly my friends!!!

The best thing that I should do is to advise you to go and buy this unique in its kind album! Westworld's "Cyberdreamer", is one of the best albums that have been released for 2002. Tony Harnell and Mark are both in a great shape and you will understand this from the first song of the album. So make yourselves a big favour and buy this album as soon as possible cause I'm sure that in the future, many of you will search for this album but will spent a fortune to buy it! We must be very careful and we must search very well to buy an album. Do not forget that very often, albums-diamonds are being releasing, and not many people pay attention to them but after a lot of years most of them are searching like a crazy to get them! So be aware of what kind of albums worth your money and your valuable time! Westworld are one of these groups that worth it and that you will love them! See you all in the "Cyberworld"!!!
by Thanos Aggelakis 9,5/10