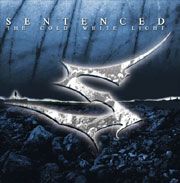 Sentenced Rule!!! That was the first thought that came up to my mind when I heard the Sentenced's new album "The Cold White Light" for the very first time. The guys from Finland made the absolute gothic metal album. If someone wants to know what exactly is gothic metal, I recommend getting and "studying" the new album of Sentenced! I couldn't find a better model and a better standard for it, ever!
It's difficult to describe to you the feeling that is running through the entire album, without being accused that I am subjective and one dimensional, …but this album is simply divine!!! Power, affection, regret, melancholy, pain, "neverlasting" love, and hate, memories of…"blood and tears", all together mixed with incredible melodies, and imaginary guitar riffs, surrounded by the dreamily vocals of Ville Laihiala… Also the production has improved once again, that Sentenced is a great band, as the heavy sound contributes to the high level of this album. The lyrics are as personal as like they are written for every one of you. Something like there's "No one there" in a crowdy and noisy place. …(Confused now?). You'd better try to "see"(hear) by your self…
Every song of "The Cold White Light" has it's own feeling and it's own magic, that kept me with my ears and my heart wide open…. Of course what I received from the new album of Sentenced is personal and unique, but I think that everyone of you, who attend to hear and feel this album, will also get something unique and magic, strong and affecting at the same time. But for the traditional gothic metal fans I only have to say this: As long as you keep your gothic metal heart pure…you won't have problems of getting into Sentenced…and understand their unbelievable music.
After the first hearing of the album, I tried to choose which are the best songs of it. But then I realized that was very difficult to choose which are the best songs on this album. What can we say for hymns like: "Excuse me while I kill my self", "Neverlasting", "Blood And Tears", "Brief is the light"….and more and more…
It's fair to characterize "The Cold White Light" as the best release of May and I think that Sentenced with this album are getting a very strong nomination for being one of the best album of 2002. Gothic metal is here and bands like Sentenced are continuing to prove it!!!
Release Date
May 13th, 2002
Kyriaki Petraki 9,5/10