MANOWAR
"WARRIORS OF THE WORLD"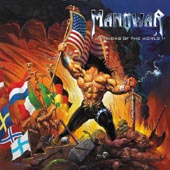 The Kings are back!! Manowar finally released their brand new album after almost 6 years, which is very fittingly titled "Warriors Of the World". The song that opens the album "Call To Arms" is a very powerful heavy song and the fans of the band are going to love it! The song "Warriors Of The World United", which is going to be released also as a single, will surely become a live classic hymn! The album is full of highlights such as " Swords In The Wind" (an epic mid-ballad), the operatically "Nessun Dorma", (where Eric Adams sings in Italian - a fragment from Verdi's opera with a classic Manowar orchestration - simply majestic!), the sentimental - instrumental epic song "The March" and the mid-tempo metal hymn, with the very melodic chorus, "Fight For Freedom".
Well now, after several times that I have listen to the album, I'm convinced that is much better compared to the previous release, "Louder Than Hell" from 1996, and it is more close to the classic Manowar albums like "Kings Of Metal" and "Sigh Of The Hammer" and for sure it has reached the classic metal Manowar standards! To tell the truth this album is even slightly better than I expected! What are you still waiting for? Go and buy this album now and be prepared to listen to real - straight from the heart metal music!
The Metal Kings have finally returned and are here to stay! Long live the Kings!!!
by Thanos Aggelakis 9/10