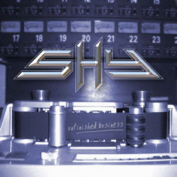 Who would believe that Shy would be back again after so many years, having their original singer Tony Mills, in band again? Who said that hard rock music would never resurrect? Only a fool can believe a thing like that, especially after having listening to the new comeback album of Shy! And for those who don't know Shy, it's better to stop dealing with rock/hard rock music. Besides their ignorance you are creatures that the rock music doesn't want, so get out you losers! It's been a long time since I have stopped dealing with this specific kind of people, and I think that it's the best thing that all of you true rockers out there must do too.
Let's go now to the brand new album of Shy. It's obvious from the very first listening of the album that "Unfinished Business" is a complete album without any weakness. And of course I would dare to say that is maybe the best album that Shy have ever released, and one of the best hard rock albums of the last few years. The guys know how to play really hard music with many balls! Tony Mills sings with a lot of passion and he also gives lessons about the way that anyone must be singing in a hard rock band – hear!hear! The production of the album is ideally and the whole feeling might take you back (sometimes) to the end of 80's.
The songs of the album are magnificent! For what I must talk about! I will choose in random order instead! The song that opens the album, "Skydiving" is without doubt a truly melodic catchy rocker one. Certainly one the best songs of the album, in my humble opinion, is the heavy "Breakaway" that walks on a rope between hard rock and heavy metal music! "Heaven Tonight" is a very tasteful mid-ballad with a beautiful chorus and a very clever bridge. Also the sentimental "Storyline" will surely touch you! I surely must not forget to refer to the wonderful and melodic "no Other Way" that is maybe the best song of the album. Perhaps it would be more right if I present all the songs here but believe me, when you listen to this album there would be no words to describe it!
Why are you still reading? I'll suggest to the true fans of melodic rock and hard rock music to buy this album. It will be for their own good of course! It will be a pity if you lose such a superb release. Shy came back and they really touched our feeling with this album. It's time to support the band even it's a kind of late. But remember: better late than never! Well-done Shy!
Release Date
23 August 2002
by Thanos Aggelakis 9/10