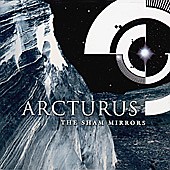 Arcturus was founded in Norway almost 10 years ago, by the keyboardist Steinar Sverd Johnsen (a.k.a. Sverd) and the drummer Jan Axel Von Blomberg (a.k.a. Hellhammer). Before it, the name of their first band was Mortem. In 1987, Mortem released one of the first death/black metal records to ever come out of Norway, the Slow Death 7". Under the guidance of then-guitarist Steinar, the band (including Hellhammer and vocalist Marius Wold) eventually re-named and morphed into Arcturus, looking to create a darker, more atmospheric and theatrical expression. The first documentation of this redirected ensemble took form as the My Angel 7", released in 1991 on Putrefaction in 1100 copies. It is now a highly sought after collectible. After all those their story is a little bit known to everybody.
Arcturus' return! The kings are back! This the only thing that 's crossing your mind when you start listening to their new release. The mega-band, which was formed over 10 years ago by the keyboardist Steinar Sverd Johnsen (a.k.a. Sverd) and the drummer Jan Axel Von Blomberg (a.k.a. Hellhammer), returned with a new album that is going to leave you speechless! Dark atmospheric metal, which is mixed with operatical, theatrical and black vocals and that is full of fast and mid-tempo heavy rhythms, impressive breaks and some electronic elements! Not only the music is stunning, but also the performance by Arcturus is far above any other band. The Highlights are the songs "Kinetic", "Nightmare Heaven", "Star Crossed", "Collapsed Generation" and "Radical Cut" and…well I just remembered that the whole album is really a masterpiece and all the songs are diamonds! I left for the end the more than 10 minute long "For To End Not Again" which is an sentimental atmospheric and theatrical super-hymn! As always Keyboard player Sverd does some excellent things with his keyboard and Hellhammer (the drummer) with his unique playing pushes the album's standarts more high! In my humble opinion the new Arcturus album is basically a continuation of the unique style the band created throughout the years, and contains inspired metal music and some excellent vocals by their charismatic frontman, Trickster G.
To make a long review short, I can only say to you that this album will surprise everyone, as the included material is quite diverse in approach, while the CD in general is from a very high quality. If you own the band's previous releases, then there's no reason why you shouldn't buy this new incredible album of the band. If you don't have anything of Arcturus (it's a crime!), then it's best to buy the band's new release. I will recommend to all of you not to miss this album cause maybe is the Best release for 2002! So save your money and buy this record now!
RELEASE DATES
EUROPE: APRIL 8
NORTH AMERICA: APRIL 9
by Thanos Aggelakis 9/10