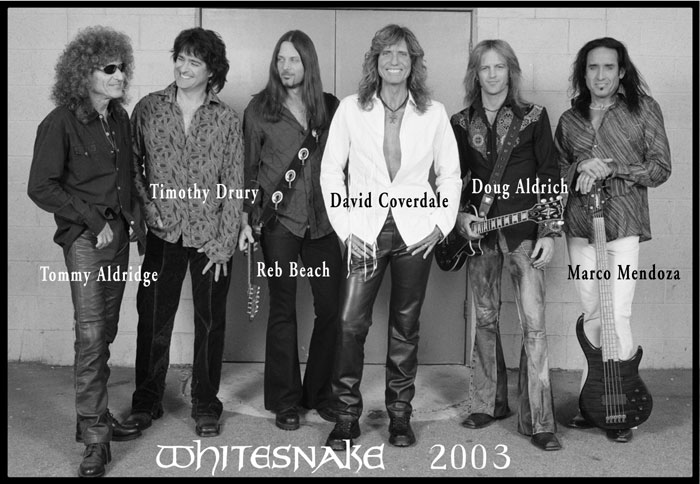 It was about time to see such a big hard rock band in this fuckin' country!!! Yes, it would have been better if we had seen Whitesnake in the 80's, but better late than ever. The band has been reunited to celebrate its 25th birthday. I know that some people think that this kind of reunions are only made for the money etc. Here is what I say: if the band plays well, respects itself, and is not a bad version of its past then why not make a reunion???? And yes my friends, Whitesnake is alive and kicking even in 2003!!!!! I do confess that I didn't expect something that fresh, powerful and energetic from them - how wrong was I!! First of all the band these days consists of David Coverdale (of course), Tommy Aldridge (drums - Whitesnake/Ozzy), Doug Aldridge (guitars - Dio/Lion/Burning Rain), Marco Mendoza (bass - Ted Nugent/Blue Murder), Reb Beach (guitars – Alice Cooper/Winger/Dokken), Timothy Drury (keyboards - Eagles/Don Henley).
Tonight (22 hours after Queensryche's gig) the place is packed! If it wasn't sold out, it was nearly so (more than 6.000 people), while some were hanging like bunches of grapes from the rocks around the theater. What was funny was that I met the very same persons with last night, in almost the same places (you know: "hey, I saw you yesterday" etc). Plus the crowd was embellished by REALLY beautiful girls/women and many old rockers!!! Hooray!!! It's 9:30 and "Burn" is giving us from the speakers the first signs, the crowd sings and then the lights dim, and in thunderous noise comes out the band. It jams for a few seconds, until Coverdale jumps on the stage (as if not one day had passed), and screams, "It was about fuckin' time Athens!! Are you ready to rock and roll???". The riff from "Bad Boys" tears the night sky and the crowd is surrended to one of rock and roll's most historic bands!
People are trying to make a better point of view, and girls act like crazy - it seems that David remains a rock sex symbol! The sound is crystal clear and really loud. The band goes on with "Slide It In" and the crowd is in paroxysm!!!! 6.000 pairs of hands in the air is always a nice view, and that night applause didn't stop. It is needless to say that Coverdale is a gigantic frontman, he plays with the crowd, he dances, calls us to sing along. The rest of the band is also powerful: Mendoza plays with the crowd, while the two guitar players keep headbanging and changing roles in the solos. I have to say that all songs have been played in their "metal" executions - forget the hard rockin' blues days - something that gives me a lot of pleasure. You know people say that the older one grows, the softer one gets. Well Whitesnake proved the contrary, and almost made our ears melt. I have to make special reference to Tommy Aldridge who some time at the middle of the show delivered a drum solo, that I haven't ever seen in the past: he decided to throw away his sticks and continued playing with his bare hands for quite a long time!!!!! It was really impressive!
Coverdale kept talking to the crowd and in between of some songs he was open for people's wishes. He asked people for songs and then he sung them solo (without music), so we listened to "Don't Break My Heart Again", "Mistreated", "Soldier Of Fortune".... accompanied by the enthusiastic contribution of the crowd. The amazing thing was that that night we listened to almost all the classic Whitesnake songs, as the band wasn't out to promote any new album, and the set list was really amazing (I definitely forget some songs, as I was overwhelmed by passion that night): "Walking In The Shadow Of The Blues", "Ain't no Love In The Heart Of The City", "Trouble", "Come And Get It", "Crying In The Rain, "Here I Go Again", "Slide It In, Love" "Ain't No Stranger", "Slow And Easy", "Fool For Your Loving "(panic), "Still Of The Night", "Give Me All Your Love", "Is This Love "(eternal question...), and they might have also played "Ready And Willing", but I cannot remember clearly...
Anyway, you all understand by the set list what we are talking about. I really wish younger bands could play this way. It is pointless to try and describe anything else; it was the perfect rock and roll show!!!! And we all had extra fun that night - which is the substance of rock music: to have a good time!!! Needless to say that the booz was flowing without limit that night.
Slide it in....
by Alex Savatianos