VALLEY'S EVE
"DECEPTION OF PAIN"
There are two things that one can highlight concerning Valley's Eve new album: First, those who were familiar with earlier work of the group will have a surprise, as the progmetal approach of the band has been replaced by a more straight heavy-power direction. Second, the album is a killer/bomber! It seems that Valley's Eve have sensed what they had to do in order to distinguish theirselves from the crowd. They chose to produce a more direct album, which although it follows heavy metal paths, still manages to be different from what we normally hear lately. Indeed this must be the great success of the group: they manage to filter all their influences, and produce an original sound. It is difficult to characterize the sound of the album but by listening to it, it reminded me a bit of Conception, Kamelot, a little Nevermore (mostly in the atmosphere-not in the sound), and Destiny's End. The orchestrations are rich, although the keyboards play a secondary role (only when needed to give depth to the songs). This is due to the great job on the guitars (where the band seems to have spent a lot of time), the upgraded role of the rhythm section and of course the powerful voice of the singer. Listen to songs like the hymnical "Kingdom of Pain" or the creepy "Dark Room" (with the imposing narration in Greek) and you will understand what I mean. I believe that this record can finally be the breakthrough of the band to become a bigger name. They deserve it.
A.S. 8,5/10 T.A. 8,5/10
VOMITORY
"BLOOD RAPTURE"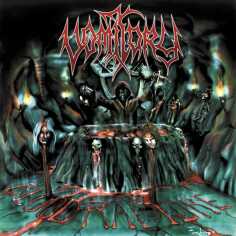 Vomitory is coming from Sweden and "Blood Rapture" is their fourth album that they release. The band is playing death metal which is effected from both European and American scene, but they also have many thrash elements and some songs might remind you the Lords OF Hell - Slayer (mostly in the guitar riffing). The songs tempo is fast (very fast), the guitars are scraping all the time, the drummer shows no mercy to his drum-kit, the vocals of the frontman will bring on your mind zombies that screaming when they search for food and generally this album is characterizing by a death - speed - demonic atmosphere, that only the death metal fans will appreciate. If you consider yourself as a death metal fan and you like the Swedish, the European and the American death scenes then this album is for you. But don't expect to listen to any melodies in this pure death metal release. And if you're looking for melodic death metal then don't try this album at all. Vomitory returned with an album that is harder than ever before.
T.A. 6,5/10
VANDEN PLAS
"BEYOND DAYLIGHT"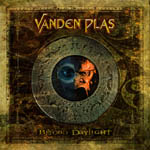 I don't really know how many people are familiar with the German band Vanden Plas but I surely know that their new album "Beyond Daylight" has all those elements that made an album very interesting. Hard rock/Heavy music mixed with progressive elements end up with great songs like "Cold Wind" and "Phoenix". Also they made a very nice revision on "Point Of Know Return" one of the best songs of Kansas. Finally I left the end the homonymous song that lasts almost 11 minutes that's very emotional and technical and I consider this as the best song of the album.
T.A. 7,5/10
VANITAS
"DER SCHATTEN EINER EXISTENZ"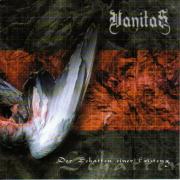 Vanitas is a band that comes from Austria and "Der Schatten Einer Existenz" is their second release. Well they play atmospheric gothic-doom metal with death-brutal vocals. Also in the album there are some female vocals that obviously are great and they have a dark feeling. If the vocals weren't so brutal this album would reach to many more people and maybe they could have made a hit-single cause in the music part those six fellows are playing better than you can imagine. They have the capacities to write beautiful songs with great choruses and with impressive intros, like "Heiliger Schein", "Atem Toene Fluestern Schreien" and "Stillschweigen". To be honest I haven't listened to such a good release for a long time and I was really surprised by the quality of their music. Melancholy meets darkness and despair, in an album that won't disappoint anyone, and that's for sure. The "big" question now is how many of you still like doom-gothic music and bands like Lacrimosa; I hope that you are many cause you are going to love this album.
T.A. 7,5/10
VELOCITY
"ÁÎÉÁ & ÄÕÍÁÌÇ"(VALUE & POWER)
Velocity is a Greek hardcore/punk band. Although, I don't like the specific kind of music, I must say that Velocity plays very well for a hardcore/punk band. This album is referring mostly to the Greek funs of this genre, cause Velocity's songs are in Greeks (except the songs "Athens Crew" and "Skinheads In Stapress", which is a cover from The Last Resort, that they are in English) and they last about 2-2:30 minutes each. The vocalist of the band Havoc is really pissed off with the shits that happen in every human community (even though I don't like the specific lyrical concepts) and his vocals are full of hate! The production of the album is a little flat but you can feel the aggression that those guys want to pass with the music. The fans of hardcore music will like this album and especially the Greek hardcore/punk fans must check out Velocity.
T.A. 6/10