TRANSCENDENCE
"THE MERIDIAN PROJECT"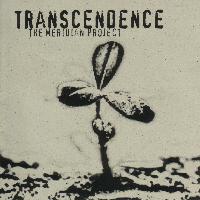 There are some times that when you are ready to listen to an album and you are not in a good mood, you may no pay attention to the songs of the album. But, on the other hand, there are some other (rare) times, that an album that you have just put in you cd player might take your breath away! That is exactly what happened to me, when I was listening to the "The Meridian Project" of the fantastic band, which is called Transcendence, and they are coming from Texas. Just imagine that "The Meridian Project" is currently the first album that they have released! Firstly I have to mention the astonishing and melodic voice of the singer Crey Drew and the extremely impressive guitar playing of Jeff Ford. Well, I must now tell you what kind of music these guys from Texas are playing. That's the difficult part of this review! Even it is very difficult to define and characterize their music style, I could call it progressive metal in the general meaning of this word. Some of their songs they brought on my mind bands like the great Conception and the big Queensryche. Anyway, listen to the heavy "Endless Rain", the emotional "No Trace", "Israel", and to the prophetic "Alpha & Omega" and find yourselves the greatness of their music. Just keep in mind the name of this band cause I'm sure that they're going to do/write many impressive things in the future!
T.A. 8,5/10
THE 69 EYES
"PARIS KILLS"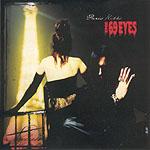 Long time ago (not so long of course), I got a new cd from a band that was called The 69 Eyes. As it was -for me- a completely unknown band I forgot that cd somewhere on my desk. Till the time that I decide to listen to it! And I really regret that I haven't listened that cd for such a long time! Those guys from Finland left me speechless as they manage to release an album that as the title says it really "Kills"! The 69 Eyes are playing gothic music, with many rock/metal elements, which are creating an unbelievably dark atmosphere in their songs. Some highlights of the album are: "Dance D' Amour", "Betty Blue", and also the song "Forever More", that they will enthuseyou. After the last year's surprise with Scream Silence. I didn't expect that any other band in the same music genre would create to me the same feelings in such a short period from the last one! Melancholy, pain, and desperation…for those that are in to the same mood I would suggest them, to check out this album immediately. As it concerns me…I' m looking, desperately, to find the two previous albums of that band!!
T.A. 8,5/10 K.P. 8,5/10
TAD MOROSE
"MATTERS OF THE DARK"
After the incredible last year's "Undead", Tad Morose have just released a very good and powerful album which is called "Matters Of The Dark". This album contains everything that a fun of Good Metal music wants…excellent vocals, brilliant refrains, and dynamic songs such as "In The Shadows", "Another Way", "Sword Of Retribution" and many others. Just give yourself the chance and listen to this album cause it's worth every penny of it! Tad Morose is a very good band and with their new album they will surely be more popular within the Metal Society. Just Heavy Power music. Nothing less or more!

T.A. 7/10 K.P. 6/10
TIAMAT
"JUDAS CHRIST"

Johan Edlund the mastermind of Tiamat, has just returned after almost 3 years and he offers us the new album of Tiamat "Judas Christ". This time Tiamat decide not to change their music style, as they used to do in the past, but they continue from where they had stopped with their previous album. This doesn't mean that "Judas Christ" does not contain good songs and melancholic atmosphere. Here we found the Super hit of the album "Vote For Love" which has been released as a single almost a month ago. Some other possible hits that we picked up, are songs such as "Angel Holograms" or "I'm In Love With Myself". I think that this time they trying to approach not only the Metal fans but also all those who like to listen to good music…Will they succeed?
We'll see…
T.A. 8/10 K.P. 8,5/10
TY TABOR
"SAFETY"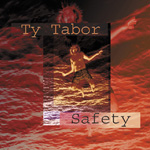 Ty Tabor is King's X's vocalist/guitarist and this is his second personal album after 1998's "Moonflower Lane". What could one expect from Ty? Definitely something with good quality, right? And this is what he produced: first class modern hard rock/AOR, which stands in contrast to the usual mushy releases of the genre. His approach is very serious to be sloppy. Of course the songs remind a bit of King's X. There are elements of modern pop/rock artists like Travis or the latest works of U2, but the album could never be categorized as pop. There are songs-dynamites with heavy guitars (like "Funeral) and good solos that prohibit this album to be under the "pop" shelve in the record shops. After all Ty's guitar techniques and melodies can hardly be imagined by groups of this modern pop/rock movement. This album is a good proposal for those who want to have an easy, good time without headaching, rather daydreaming under some "traveling" songs. Plus it is recommended for summer listening during sunsets on the beach! Ty repays us for the last King's X album, which wasn't that good. Thank God!
A.S. 8/10
MIKE TRAMP
"RECOVERING THE WASTED YEARS"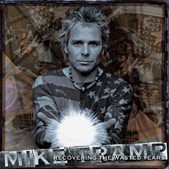 As you all know Mike Tramp is the singer of the super group White Lion. This is he's best solo album (till now) fittingly titled "Recovering The Wasted Years". And judging by the title of the album, Mike Tramp is hungry than ever before to play good hard rock music like he used to do. It seems that not a single day has passed when White Lion split up! Mike is here stronger than before and is rockin' really good! The album has many great songs like "Living A Lie" (White Lion's spirit is alive!), "Mr. Death" a mid-tempo southern rock hymn (just listen to the harmonica!), "Falling Down", the ballad "Darkness" and "Follow Your Dreams" with the excellent lyrical concept. Well maybe I'm biased, but I like this album very much and of course the unique voice of Mike! "Recovering The Wasted Years" is reminding me the good old days when White Lion used to release excellent albums like "Pride" and "Big Game". The fans of White Lion will be pleased when they listen to the new album of Mike Tramp. As for the rest if you like to listen to something really enjoyable and good, then this album is just for you.
T.A. 7/10
TOKEN
"TOMMOROWLAND"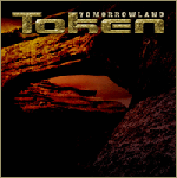 Sweden is the country that nowadays are coming the most qualitative melodic hard rock/metal works. Token are a brand new band from Sweden, and "Tommorowland" is their debut album. The band's playing good melodic hard 'n' heavy music with few neoclassical elements in their sound. Even though "Tommorowland" is the first album of the band, it is full of hard and high-quality songs like the heavy neoclassical "Destination Nightmare", "Think About It", "Darkside Of Fate", the moving ballad "Eternally Yours", "Last To Know" (with the wonderful chorus), and the catchy "Human". In this point I have to refer to the astounding work, which was done by the guitarist Johan Sjoberg on the guitars and also on the brilliant full of passion vocals of the singer H.B Anderson. It's very nice that one more surprising hard rock/melodic heavy album was released in this year by the new band Token, which proves that the specific genre has a lot more to give to the people. I suggest to the fans of melodic hard rock, to check out Token immediately and for sure they won't be disappointed!
T.A. 8/10
THUNDERSTONE
"THUNDERSTONE"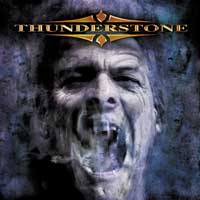 As you might have guessed this is Thunderstone's debut album. Informations about them from Germany talked about the best debut power album since Hammerfall's "Glory to the Brave". To be honest I am afraid of such kind of declarations, as sometimes it's all because of public relations. So I was suspicious before listening to the album. Now, what I can say is that: I am not sure if this is the best power metal debut since 1997, but it definitely a breathtaking release! I am sure that if the band manages to keep their feet on the ground and work hard, we will talk about them some day with the best of words! Their music is a kind of European power metal, but embellished with prog elements and some hard rock influences. This means that the songs do not follow the usual double bass drumming and the cliche harmonies in the guitars. Vigorous songs, with lots of variety, fast outbreaks, melodic bridges and things. The vocalist is quite good too. At times they remind a lot of Helloween, but in a more "modern" and closer to prog approach. Stratovarius' fans will appreciate this record for sure. If you into this kind of European power metal, then Thunderstone is a very good proposition for you, maybe the best for these days. At least they prove that there are more to play in this genre of our music. By the way the song "Virus" is a pure power anthem!
A.S. 8/10
TALON
"TALON"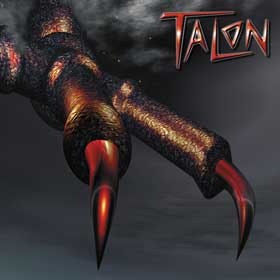 I bet most of you don't know what Talon means. The information argued that these 5 guys from California "are going to save R-N-R"...and when I listen to such kind of big words I hesitate. But this time my hesitation lasted only for 4-5 seconds since I pushed play...as much as the main harmony of "Wrecking Ball" flooded the place!!!! Fuck yeah!!!! These guys have the qualities to take hard rock one-step forward!!! A mixture of good-old Blue Oyster Cult (from the Fire of Unknown Origin period), Iron Maiden (in their 80's days) and Scorpions of the early period is what Talon resembles!!!! The band was formerly known as Voxen and had produced two albums, while this one is their first effort as Talon. The four musicians seem to be very talented as their hard rock is very rich in various elements, while the structure of the songs mirror high technical skills. What can I say?? The one highlight follows the other!!! "Still you Run" with the hispanic intro, "Calling you Tonight" with the amazing catchy/sticky refrain (one of the best refrains of the year) and so the story goes!!! It is really good to know that one great hard rock band has been created in California...which has been rather silent for a few years now. Taking into account that they haven't been promoted as much as they deserved I suggest to at least try and listen to this album. They worth your effort!

A.S. 9/10
TEN
"FAR BEYOND THE WORLD"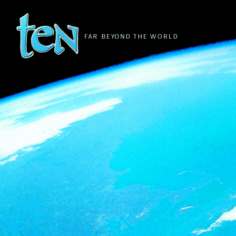 Ten are back with their sixth studio album that contains excellent hard rock/AOR music. So the funs of Ten and generally of hard rock better be prepared for this remarkable album and for hard-rock dynamites like "Glimmer Of Evil", "Strange Land", "Heart Like A Lion". Ten is one of the best hard rock groups nowadays and it's a pity that many people are not familiar with their works. Don't forget that Ten has released incredible albums like "The Name Of Rose", and "Spellbound" in the past. So I suggest you to start searching for the previous albums of this band and for sure you won't be disappointed, and of course if you prefer to buy their new album you will like it very much. Take the chance and try something that is not usual and trendy!
T.A. 7,5/10
THE THIRD AND THE MORTAL
"MEMOIRS"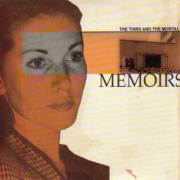 I thought that The Third And The Mortal had split up long ago, but after so many years the band is finally back again with a new album. First of all I have to warn you, that "Memoirs" is an album that has nothing to do with the metal scene. And as you have guessed, all those metal elements that The Third And The Mortal once had, now have gone away. The music that they play nowadays is a mixture of atmospheric trip-hop with many pop/electronic elements! Are you surprised? Well I don't think that this is something new for the fans of the band. They knew what they were going to listen from The Third And The Mortal in the next years. But if you are a metalhead and you remember them as an interesting atmospheric metal band just forget them and stay away from "Memoirs"! This album has some attractive songs like the atmospheric groovy "Thin Dark Line", the depressive "Simple Mind" and the slow-tempo "Good Evening Mr. Q". I think, "Memoirs" will be appreciated from persons, who like groups like Massive Attack cause I don't think that the metal fans will be glad about this kind of music. If you like electro/pop music then check out this album but if you don't…don't even think about it!
T.A. 6,5/10
THE BLACK LEAGUE
"UTOPIA A.D."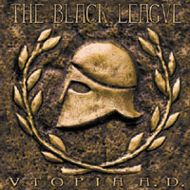 The Black League is Taneli Jarva's (x-Sentenced) current group and this is (according to my knowledge) their second full-length album. Those who are familiar with the band's former work (named Ichor) know what to expect. For the rest, I have to say that the sound of the band reminds a lot of Sentenced's early works with Tanelli in lead vocals and especially the album "Amok". "Utopia AD" is bathed in desperation, something that I feel was one of the band's intention. Most of the songs exude such a dark feeling and Taneli (a vocalist hero for this genre) performs in a dramatic way, while he sometimes convinces you that he needs someone to save him from his drowning into an endless sea of tears (listen to Tedium Vitae). Black is the colour that would characterize the album...but don't be misled that you might hear something resembling groups like Katatonia. In contrast most of the songs are fast and guitar riffing is quite heavy. However in the structure of most of the songs I diagnosed some pure hard rock forms and ideas. In addition I have to mention that the album owes a lot to Paradise Lost (the pioneers of this sound), something that the group reveals in many songs (especially the song Day One). Things are simple here: fans of this kind of sound have to buy this album (and they will possibly glorify it). Those who want to just have an idea of this dark genre of heavy metal, have in their hands a new good proposal to establish their first contact. As for those who persist in pure heavy or power metal...keep out, because two listening of Utopia AD in a row will possibly cause you suicidal tendencies...
A.S. 7,5/10 T.A. 8/10
TAAKE
"…BJOERGVIN…"

Old evil cold Norwegian Black Metal! Yes, that's exactly what Taake play. "…Bjoergvin…" is the second studio album that they release. Almost all the songs of the album are mid-tempo and the voice of the vocalist Hoest is like if you hear angry and full of hate creatures that scream from the frozen woods of Norway! The one and only song of the album "Over Bjoergvin Graater Himmerik" is separated in seven parts (from I-VII) and I liked most the fourth (VI), the sixth (VI) and the seventh (VII) part. Hoest's writings (who is also the guitarist and the mainman of the band) are inspired by the vast Norwegian culture heritage and are based on his personal thoughts and feelings. The lyrics of the album once again are in Norwegian and the whole sound and atmosphere of that album will take you a decade back and will also travel you to the frozen mountains of Norway. "…Bjoergvin…" is a good black metal album and for sure the fans of this genre will be very happy. Black metallers this album is just for you.
T.A. 7/10
TERROR 2000
"FASTER DISASTER"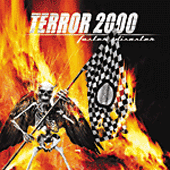 This is the second release from Terror 2000; the band that Speed Strid's the singer of Soilwork has created. Maybe some of you will wonder and think that Strid's might play the same music that he plays with Soilwork. That is absolutely wrong, cause this Swedish quartet is playing pure thrash metal, which reminds me the other big band from Sweden The Haunted and of course the Kings of thrash metal – Slayer. And let me ask you, how much time has passed since you've listened a great thrash album? Well the answer is obvious cause this album is a dynamite and has all those great thrash 80's elements such as killer-thrash riffs/fantastic solos, speed and vocals full of hate. "Faster Disaster" is the best thrash album that I have heard since the last release of The Haunted! It is impossible not to feel the desire to do headbagging, when you'll listen to songs like "Menace Of Brutality", "Stalkers In The Night", "Faster Disaster", "I'm Speed At night", "Back With Attack"(fitting title!) and "Infernal Outlaw"(with the incredible guitar-riff in the beginning). Also the production of the album is very dynamic and it gives you the feeling that the old good thrash days have returned! So to put an end to this review, I'm sure that the fans of thrash metal will be very glad to listen to such a release, which shows that thrash is alive and kicking asses! Don't loose the chance to listen to one of the best thrash-albums that have been released lately!
T.A. 8,5/10