MYSTIC PROPHECY
"REGRESSUS"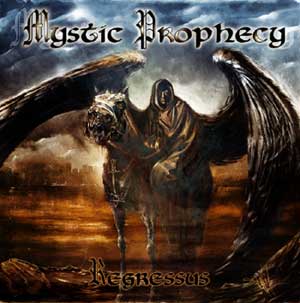 Mystic Prophecy present their second more mature album with the smart title "Regressus" or if you prefer "The Return". Well, to be honest I was really satisfied with this album. Liapakis had told me that "Regressus" is going to be a heavy dynamite but I just couldn't imagine that it could be so damn good!

So as it concerns the music part of the album, it is full of energy, solidity and melody. Lia and Gus managed to write very good heavy/speed riffs and also Lia succeeded to write melodic and memorable vocal harmonies and especially very strong choruses. That's the good thing with Mystic Prophecy. They know how to combine power, heaviness and melody and they can do it pretty well! Lia's powerful voice is offering the strength that a heavy metal band wants, along with the sharp riffs of Gus who knows how to play the right theme in the right moment. In this album also Martin and Dennis have give all their powers to achieve such a terrific result.

Another strong part of this album is of course the solid and powerful production! It seems that Lia also is becoming very good and experienced in the position of the producer. The production that "Regressus" has helps the whole result of the songs. What a solid production and what a damn good sound on the drums and on the guitars! It seems that my stereo is going to explode!

Also the artwork is very dark and well designed and I believe that it goes along with the dark and "strange" lyrics of Lia! As for me I'm listening all the time this album and my favorites songs are "Eternal Flame", "Lords Of Pain", "In Your Sins", "Calling From Hell", "Regressus/Lost Time", "Sign Of The Cross and "Night Of The Storm"!!! Have I forgot to mention any song of the twelve that this album has?!!! Just kidding…this album truly kills…Well in this point I must tell you that the digipack cd has also 2 bonus tracks and one hidden bonus track. The one is a very good cover to Manowar's "Fighting The World", the other also is a very interesting cover to Iron Maiden's "Sanctuary" and the last hidden one is a just a drum beat!!! If you love heavy metal music, then you should not miss one of the best albums in this genre for this year. Heavy Metal To The Bone!!! Well-Done Lia and Gus and Mystic Prophecy generally!
by Thanos Aggelakis 8,5/10