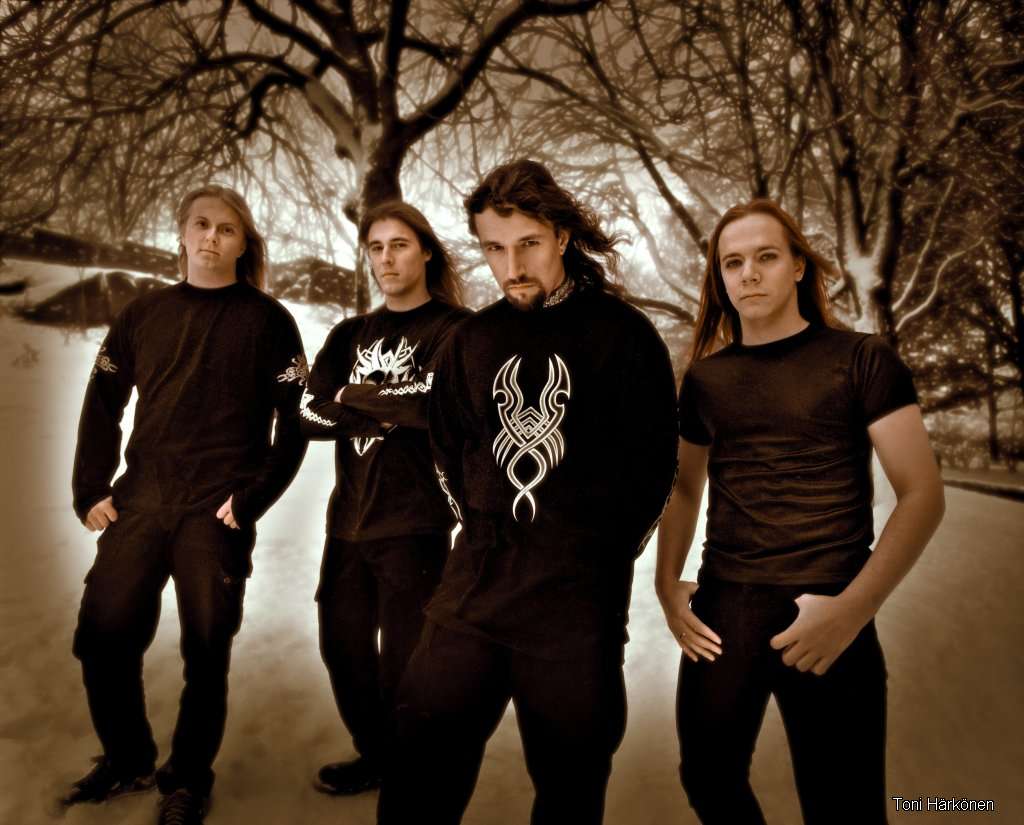 Hi Tommy. Since this is the first interview with a member of Sonata Arctica (and I've been longing that for a long time) tell me how's things on the band after the release of "Winterheart's Guild"?
T: Better than ever. New keyboard player has adapted very well in the band and I feel we are stronger than ever.
Well first tell me why you called the album "Winterheart's Guild"? Is there a hidden meaning behind it?
T: Well on the cover there are four figures standing on an opening in a forest. Each are representing one of the four seasons, winter, summer etc. And since winter is the strongest of the seasons at least here in Finland, it has had the power to name the guild the seasons form winter heart guild.
I want to know also why you named the band Sonata Arctica and what does it mean. It is a really strange name for a band but the way it sounds may gain someone's interest.
T: We live northern Finland near by arctic circle and we, at least in some peoples opinion, play this music with classical influences. So sonata arctica, arctic sonata, descripes us quite well.
I like very much Tony's voice. I think that he is one of the most talented new vocalists. It is very good for a band to have such a great singer. Do you think that Tony is one of the reasons that Sonata Arctica will become in some years one of the top power metal bands?
T: He is not only great singer, but also he composes all the songs for the band. So he is the strongest link of the band.
How do you feel that you are the younger member of the band? Was it your dream to play in a heavy metal one day?
T: When we started I was 14 and Tony 20 years old, so the age spand was quite big, but now we are older and the age is not really issue. I haven't always been a metal head. Infact i got interested in metal music only after hearing Stratovarius´s Episode album. After that i started dreaming of doing this for living.
Well I've been watching SA since their first album, "Ecliptica" and I must tell you that I believe that SA can make really great things in the future. What's your opinion about Sonata Arctica's music direction from "Ecliptica" to "Winterheart's Guild"?
T: At least I have gained 20 kilos!
Do you believe that you have made steps forward as a band or is it something or someone that hold you back?
T: Nothing hold us back. I.M.O. each album has been a clear step forward in some respect.
Can you compare the three albums that you have released since now?
T: Comparing the albums is really hard for me, but there are good songs on each album.
In some songs of yours you are referring to someone named Dana. Who is that person (is she really exists?) and why there is such obsession with her, correct me if I'm wrong.
T: I am the wrong person to ask really. You should ask Tony about it.
Now I would like you to tell me a few words about each one of the songs. Just a line or two for each song…
T: That would be almost 40 songs, so I'd rather list few of my favourites.
From Ecliptica:
Kingdom for a heart: great mid-tempo song.
Fullmoon: this has been one of the corner stones of our career since the early days and it still works today.
From Silence:
Last drop falls: our best ballad and it has got this special feeling to it via the response it has had from the people. Another corner stone. Black sheep: cool melodic song with great chorus. My favourite live song. The end of this chapter: my #1 song from this album. Simply an outstanding song.
From Winterheart΄s guild:
The cage: best sonata intro ever. Thanks to Jens Johansson.
Campagne bath: refreshing song. Different from all the other stuff we've done so far.
Victoria΄s secret: very versatile song with positive atmosphere.
Is there any possibility to see you here in Greece for a live show?
T: I hope with next European tour. It's one of the places we've not played yet. I've heard great things about the audience in Greece.
And some Weird Questions now!!! If you were living in Middle Earth (I hope that you have seen or read the Lord Of The Rings) which character would you choose to be and why?
T: I have not read the book nor seen the movie yet, so I can't really say.
Imagine that your wife/girlfriend is selling your whole album-collection just to buy for her an expensive, good ring. How would you react?
T: If it was a wedding ring I would not really mind!
How do you image that the music world could be, one thousand years from now? And why?
T: I'm not here to see it, so I don't really give a shit…
Ok Tommy! My questions are over! First of all I want to thank you for your patience and I want to wish you good luck and success 'cause you deserve it. So I leave the last words for you. Send a message to the fans.
T: I hope we get to play some glorious day in your beautiful country. It would be about time! STAY HEAVY!
by Thanos Aggelakis