RUSH
"VAPOR TRAILS"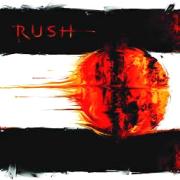 A new studio album from Rush after almost 5 years. How would the holy triad of prog rock might sound in 2002? Fresh, vigorous and pioneering for once more, my friends! One of the most intelligent bands ever is here to provide us with a record, which redefines their position. Those who believed that would hear the "old" rush are mistaken, as their approach has only a few similarities with the "classic" Rush period (see "A Farewell to Kings" etc). The three talented musicians seem to have listened to the new evolutions in our music and have produced one of the most straight-rock albums in their career (and quite heavy too). The guitars are heavier, the drums more massive than in their previous works (the introduction of the album reminded me of the introduction of "Painkiller"), but Lee's voice is still so characteristic...it seems as if not a single year has passed by. The songs are shorter this time (around five minutes each), but they are still characterised by this complex simplicity, that's always characterised them: riffs, harmonies and bridges that are complex and reveal the amazing capabilities of each musician, yet so simple that everyone can follow them. The conception of each song reveals that the band has had tremendous inspiration these days. The music seems to flow effortlessly, while everything is here: Rush themselves, Camel, Led Zeppelin, Tool. Their new sound can be characterised as heavy-psychedelic progressive rock. Once more this super-group has been proved to be progressive in the real meaning of the term. Be brave and follow them with open minds now. Because in a few years time this record will be a monument and a beacon of inspiration for the bands to follow.
A.S. 9,5/10
RAGGEDY ANN
"DREAMCATCHER"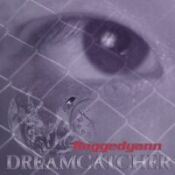 Raggedy Ann comes from America and they exist almost 10 years! And that fact shows that they are not some occasional guys that only play heavy music in order to become rich. These guys know how to write good hard rock/metal songs with excellent vocals melodies! Their music style as I told before is moving between the hard rock and the melodic metal music. The guitar work on this album is super and the singer of the band Brian Carson is simply one of the best voices that come from the U.S (his way of singing will bring on your mind great singers like Tate, Scott Soto and Coverdale). Highlights of the album is the first song "Superhero" that is simply a hard rock/metal hymn!, the melodic rocker "Stop", that will stuck in your mind, the sentimental "One More Time" and the great nostalgic "Show Me The Way". The new album of Raggedy Ann is really a surprise to me and I can't see the reason why big labels don't release albums like this one and they don't sign contracts with super bands like Raggedy Ann. Maybe, I will never find out why, but the only thing that is sure, is that, as long as, so qualitative and melodic bands such as Raggedy Ann exists our beloved metal music will never die! Excellent work guys. You deserve the best!
T.A. 8,5/10
RUINS OF TIME
"TIMETRAVELLER"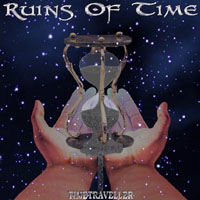 Ruins Of Time is a Greek/Sweden band as it was formed in 1997 from the Greek homogenous Chris Chatzikonstandinos and the drummer of the band Juan Araya. "Timetraveller" is the band's second self produced album and I hope that they will soon sign in a record label. As it concerns the musical style of the band, Ruins Of Time, plays heavy music, with many elements from the thrash / death metal scene, and especially the vocals of their singer is like their coming straight from the 80's thrash (and mainly the German thrash) period. They also brought on my mind the first albums (in the musical style and also as a feeling) of Death. In a few parts of the songs they have some clear vocals and they fit very good with the whole music. The production of the album is quite good but I would specially prefer a much more massy guitar sound. Some very interesting songs of album are the heavy "The Cellar", the strange "The Bellfounder" and the homonymous "Timetraveller". Straight heavy music that will satisfy the fans of the old death/thrash metal scene. Well, I'll suggest to the fans of this genre to support the band and to visit their official website for more informations about them at: http://welcome.to/ruins_of_time.
T.A. 7/10
RUNNING WILD
"THE BROTHERHOOD"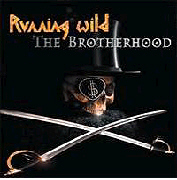 Ok, those who believed that Running Wild would release an innovative album in

2002 are either stuck more than one decade back or just daydreamers! But those who had expectations that Running Wild could release a good album are quite realists...and they are totally right! Because The Brotherhood is a really honest, good album, full of Teutonic-European power metal. The crew has changed once again, but this has nothing to do with Rock 'n' Rolf's obsession to compose metal music with hymnical refrains, melodic solos etc.

The clichés of the genre are here (inevitably), but the album presents a groovier feeling (especially in songs like "Soulstripper" and "Detonator"), in comparison to the last releases of the group. No, this is not an album that will change RW's destiny; neither introduces them to a much bigger crowd.

However it will satisfy their fans (who must have already bought this record), and make some younger metalheads find out a thing or two about this controversial group (although I would suggest them to first buy releases like "Port Royal" and "Under Jolly Roger"). Ah, and I would like to add that The Brotherhood is - according to my opinion - much better than the last 3-4 last albums of the group. All aboard!!!

A.S. 7/10 T.A. 6/10

RAVENTHRONE
"ENDLESS CONFLICT THEOREM"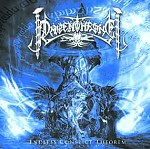 When Raventhrone released their debut album almost four years ago, left to me the best impressions! "Endless Conflict Theorem" is the second work of the band and in this album we can find beautiful epic atmospheric heavy-black metal songs like the melodic "Among Whispering Walls", the heavy "Soulstorm", the folk "The Dragon Of The Nightsky", the black with the eastern melody & rhythm "A Night Among The Ruins Of Basra" and the homonymous epic "Endless Conflict Theorem" (the outro of the album is excellent!). I don't consider Raventhrone as an epic black metal band anymore and also they shouldn't consider themselves as a black metal band cause that would be a limiter for their music and it will mean the end for the band. Raventhrone is a very capable band and they shouldn't be categorized to a specific kind of metal music. If they want to be one of the top bands in the atmospheric metal genre, they must let the music guide them and they also must be free from the black metal stereotypes. I like this album very much but I'm waiting for the next release to see if they'll choose to make the step forward as a band.

T.A. 7,5/10 K.P. 7,5/10
ROT
"ROT"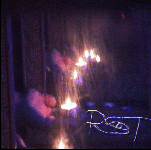 There are sometimes (rare I must admit) that bands appear in your way with something really interesting to suggest. This of course happens with everything in life, it happened with music before and consequently happened with metal about a decade ago… Anyway, Rot obviously are very talented and hard-working. This becomes apparent from the beginning of their demo-cd, which includes 9 tracks (!) plus computer data, concerning band info and pictures. A very carefully directed artwork completes a generally well looked after project from Greece. The band's influences appear to be Tool, System Of A Down, Rage Against The Machine, and even late Sepultura and are obvious in their music, which is very well produced and presented. Especially songs like "Dark Lashes" and "Here Inside" will be loved from the fans of the bands that I referred above. Contact Rot now!!! To order their audio cd/cd-rom at: rot@rot1.com and visit them for more details at: www.rot1.com. The thing that is the most interesting about this band is their future rather than their present. I'm really curious to see how this band evolves during the next few years.
D.F. 7/10 T.A. 7,5/10
ROTTING CHRIST
"GENESIS"
Well, first of all I ought to say that I was always a big fan of Rotting Christ, since I've been watching the band from their beginning. So, it was very natural to wait impatiently for their new work to see the next step that they would make. But, after I have listened to the album many times, I can say that it was not as I was expecting it! And that is not a very pleasant conclusion for Rotting Christ. After their previous very good album, which was called "Khronos", I was expecting something much better. But instead of this I listened to "Genesis", and found in it songs and vocal melodies that have no inspiration at all and they are very predictable. Why that thing happened? Where are the wonderful riffs that they used to write? I obviously cannot answer to those questions. Anyway…the band is moving in their known death/black style and the songs of the album has no variation, as the tempos are repeated as all are between high and mid tempo. One or two songs that I managed to separate from the album were "Nightmare" and "Dying". Nevertheless, the whole result of the album is flat and so far away from the high standards of their previous works. I'm very sorry but I was really disappointed of the new Rotting Christ's album. I hope that "Genesis" will be a bad-break to the whole discography of this great Greek band.
T.A. 6/10 K.P. 5,5/10
RIOT
"THROUGH THE STORM"
As you all know, Riot is a steady value in the metal music. So once again they offers us a very good and qualitative album. It is true that Mark Reale knows how to write interesting songs and heavy thunderous riffs and also Mike Dimeo has become a part of Riot's music. The album has some excellent hard rock/metal songs like "Lost Inside This World" and "Burn The Sun" but the song of the album and one of the best ballads for this year is for sure "Let It Show". This song will touch your lonely souls! In the other hand, the album has one cover from UFO's "Only You Can Rock Me", and one acoustic cover of Beatles' "Here Comes The Sun". Both the covers are very good. Also the production of the album is very clear and the guitar sound is quite massy. Some points more to the whole result is giving the dark and beautiful artwork. The Riot's fans have no reason to be anxious about their beloved group. Riot have never disappointed us and I don't believe that they would do such a thing. Speaking in general "through The Storm" is a high-quality album and has many good songs. Trust Riot cause they really worth it!
T.A. 8/10
RITUAL CARNAGE
"THE BIRTH OF TRAGEDY"

Out of this world!!! This is fuckin' Bay Area Thrash! Ritual Carnage brought back the sound of Bay Area again in the 00's! Heavy riffs, up-tempo songs and paranoid vocals. In a moment I believed that I was living in the mid 80's. They remind me a little bit of Forbidden and Death Angel. All the fans of this genre should listen to dynamite songs like homonymous, "Paradox Of Democracy", and "Dawn To Decadence". Also the production of the album is heavy enough and has an uncontested 80's feeling. "The Birth of Tragedy" will make you do headbanging again but especially to the older ones will remind them their youth! I don't know if any of the new metal fans have listened to or like this kind of music, but they must give a chance to their selves to see how Bay Area thrash music was played in the 80's. Moreover I have to say that the cover to Death's song "Infernal Death" is very good. And one more thing is that the dig pack version of the album has two more bonus tracks. It is sure that all those who love the Bay Area scene will buy right away this very worthy album. We're talking about speed/thrash metal music and nothing else. So if you are not into this kind of stuff stay away, or else get now Ritual Carnage's "The Birth Of Tragedy".
T.A. 7,5/10
ROSE TATTOO
"PAIN"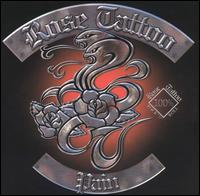 This comeback was really unexpected! Rose Tattoo, after almost 18 years, are back again with a new studio album. The album of that great band is titled "Pain" and it has 16 songs! And for once again, they play dirty old rock 'n' roll music, which has many influences from, AC/DC. The band is in a really good shape and especially Angry Anderson, sings like he is 25-years old! Rose Tattoo wrote once again impressive rock 'n' roll songs such us "House Of Pain", "The Devil Does It Well" "Heat Of The Moment". Don't expect many changes in the musical style from the band. If you love rock 'n' roll or if you are fan of Rose Tattoo, then this album will make your head banging! Support the band and listen to their new album. Rose Tattoo are back and all that you have to do is to follow them!
T.A. 7,5/10
ROTTING FLESH
"DREAMING…THE UNDERWORLD"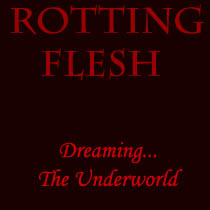 Rotting Flesh is a band that comes from Thessaloniki (Greece) and plays atmospheric black/death metal. Due to "Dreaming …The Underworld" they managed to sign a contract with the German label "Kmg/System Shock". So this album will be released officially from "Kmg/System Shock" in the beginning of 2003 so this time, it will be remastered in another studio somewhere in Germany. About the musical style of the Rotting Flesh, as I have said before, they play atmospheric black/death metal music. Their music, seems to have many influences from the very known -in Greece and in Europe also- Greek bands Rotting Christ and Septic Flesh. Also I've noticed some elements from the Norwegian black metal scene, especially in the high tempo songs. The songs that I liked most were "Twisted Demons" and "Throne of Thor", but also all the songs in this album are well written and played. The production is quite good but I hope that the remastering will make the whole sound of the album better. If you like the Greek and the Norwegian black metal scene also (and especially those groups that I have referred to above) then you must check out Rotting Flesh. You can contact the band at: rottingflesh93@hotmail.com.
T.A. 7,5/10
RAGE
"UNITY"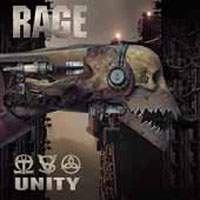 One thing is sure about this band: It has the ability to be reborn from its ashes! I never believed that they would continue after the "Missing Link" album and the withdrawal of their first guitar-player. And they produced they dynamite "Black In Mind"! Then I never thought they could get out of the mud they were into during the last years and especially after Peavy remained alone in the band! And now they produce this great album "Unity"! What can I say? Peavy made the right choices with Victor Smolski (guitar) and Mike Terrana (drums) and the chemistry between them seems to work just fine! After all both the newcomers contribute to the songwriting. Ok it might not be their best album, but it is a great comeback that will definitely satisfy their fans and not only them. The approach has changed a bit from the "classical" one of the previous albums that proved to be a deadlock for the band. The new songs are more straight and heavy, yet with the nice familiar Rage melodies. Charlie Bauerfeind's production to the album is crystal clear and dynamic and pushes forward the great moments of the album. Hansi Kursch and DC Cooper participate as well, a fact that works for the band giving a depth to the refrains. Highlights? It's difficult but "Set the world on Fire" and "You want it, you'll get it" just blew my brains! Welcome back my friends!
A.S. 8/10
RAIN
"HOUSE OF DREAMS"
"House Of Dreams" is the debut album of Rain, which is a German/Norwegian band. The vocalist of Rain is Michael Bormann (!) and it seems that he took it personally, and he does everything that is possible to spread the melodic rock/AOR music to the entire world! So let's see the whole thing from the start: Michael is an excellent singer and composer and it is understandable that he needs to sing and to write songs in many bands cause he is something like a "wild" spirit! Some of you may wonder, ok with that, but can Rain offer us good melodic rock songs once again with this album? This is obvious! The answer is Yes! And of course I must not forget to refer to the two guitarists of Rain, who are Tore Moren (guitars) & Lars Forseth (guitars), cause they have wrote many exciting songs on this album and they have, as well, made a wonderful work on the guitars. "House Of Dreams" is an album with many brilliant songs such as, the catchy big-hit "Anyway the Wind Blows", the emotive rocker "Ain't Found Heaven Yet", the heartbreaking ballad "Can I Say If" (the album also has other two incredible ballads, which are "Everytime You Go" and "Sentimental Sunday"), the radio-friendly rocker "Talkin' To My Heart", and the gloomy rock "Make A Break" (on which Michael, will remind you Jon Bon Jovi). Well "House Of Dreams" is a damn good album, which is highly recommended to all melodic rock/AOR fans and also to those who don't listen to this kind of music! This album will change your mind!
T.A. 8,5/10