POISON
"HOLLYWEIRD"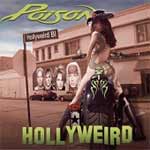 Poison is maybe the best poser metal band in the planet! Now they are back in the 00's to continue offering us their great party-metal music! Poison recorded "Hollyweird", with the original line up, that they always had, and they seem to have the same power and fun they had in the 80's. Nothing is missing from "Hollyweird, which in my opinion is regarded as one of the best works that Poison ever had. They are still writing incredible songs for beautiful-hot women, party-orgies and in general about their way of living. Songs like "Wasteland", "Shooting Star", "Devil Woman", (which starts with harmonica), and the absolute hit "Home", are already Poison's classics and they could be included in the known super album that they had released in the past and it was called "Open Up And Say…Ahh!" Another great note is that Bret Michaels sings with a lot of passion and he seems like he wants to get back all those wasted years for the band. Also CC DeVille rocks with his guitar very badly! All of you out there that you love beautiful women, metal music and dirty lyrics about human relations and all other kind of stuff better listen to the new impressive album of Poison! The gamins from Hollywood are back with a lot of inspiration and dominance…just try to follow their way of living!
T.A. 9/10 K.P. 8,5/10
PYOGENESIS
"SHE MAKES ME WISH I HAD A GUN"

The great mysteries of life...Who would ever believe that Pyogenesis would end up playing punk/radio rock??? Surely not me! We are talking about total change of style, as there is nothing to remind the old death metal band they once have been! Even their image is different, as they appear with red ties and things...What can I say? They possibly realized that they didn't have any great future with death metal and changed their style in order to make a break to larger audience. If you are still one of the romantics who judge music according to motives, then don't touch this CD. If you are death metal fan (and especially fan of the group in its previous days) and you cannot accept this change, then don't touch either! Because here we have typical punk rock songs, targeting to cheer you up, without any need to "deepen" your listenings to the album. "1-2-3-4" songs, up-tempo, melodic/catchy refrains etc. Is it good? Yes! I think if you isolate the history of the band and you perceive them as a brand new band, then the album is quite good. Ah you also have to like punk rock, otherwise you will swear at them all the time. As for me? I prefer their new style much more than the old one! At least they cheered me up...and I know that this CD will visit my stereo very often.
A.S. 7,5/10
PEGAZUS
"THE HEADLESS HORSEMAN"
All right, don't tell me that you don't know what you are going to listen to from Pegazus. Old-school heavy metal, deeply rooted to the 80's but with fresh production that makes it attractive and pleasant to listen to it even these days. To be honest the album is full of cliches but it doesn't bust your balls when listening to it, something that seems to be really surprising. It seems that the songs are good enough to make time pass easily and with joy. Pegazus enforce their amalgam of Maiden-meets-Accept-meets NWOBHM-meets Running wild and carry on as if they are living in their own world. Those who are fond of traditional heavy metal with heavy riffing, galloping themes will possibly like it. For me the best part of the album is the song "Ballad of a Thin Man"! No, it's not a cover to bob Dylan's song, rather a dedication to our crazy kings Thin Lizzy!!! The structure of the song is Lizzy-like, with the usual guitar harmonies and the lyrics is a patchwork of Lizzy's lyrics. Yeah!
A.S. 7/10
PRETTY MAIDS
"PLANET PANIC"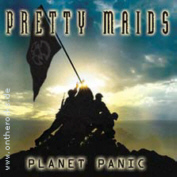 Too many come backs this year huh? Well, this is a dynamic one. I have in my hand this CD for more than two months now, but I was reluctant to listen to it, as I thought that it would be a boring old-fashioned album....and now I feel so embarrassed!!! Goodness, Pretty Maids can blow your brains out with this album. I feel so awkward for neglecting it for so long. Fresh and vigorous, the tracks of the album grab you from the neck and leave you in a state of panic! I cannot distinguish if this is hard rock or heavy metal. I think it is hard rock played by HEAVY guitars with thunderous riffs. I have to mention that the production of the album is modern, making the songs sound fresh and heavy. No, don't even thing about any nu-metal elements here. We are talking about heavy music, fast melodic, with catchy refrains, loads of variety between the tracks, great ballads. Ho-ho this is a CD with huge balls my friends! You definitely have to listen to this. My only objection is the cover of the album which is so unoriginal (Van Halen and Savatage have used this cover in the 80's), that might mislead someone...and it would be such a shame! It's unfair to mention only 2-3 songs from this album, as all of them are great. But if you need to listen to only one to just have a taste of what you are going to buy...then try "Playing God"...and you will definitely go to the cashier!!!
A.S. 8,5/10
PRIMAL FEAR
"BLACK SUN"

"Black Sun" is the new album of Primal Fear. And as you have guessed the band is playing powerful heavy-power metal, mostly affected by the 80's metal scene. It's obvious that the band love Judas Priest and especially Rob Halford is something like an idol for the singer of the band Ralf Scheepers. And if some of you are still wondering for what they may listen in this album, I will put it simply enough: Heavy guitars, fast rhythms, powerful screaming vocals and some forceful songs like "Lightyears From Home" , "Armageddon", the mid-tempo "Magic Eye", the melodic "Silence" and "Revolution". Another thing is that "Black Sun" is a very well produced album with a heavy and sharp sound. So, the fans of the band should already have "Black Sun" but this album is as well recommended to the fans of Judas Priest, Eidolon and generally in the heavy-power metal freaks! Primal Fear are a very good band and with every new album that they release they gain more popularity in the metal community. I hope that they will continue to offer us, in the future, such good quality albums like "Black Sun".
T.A. 7,5/10