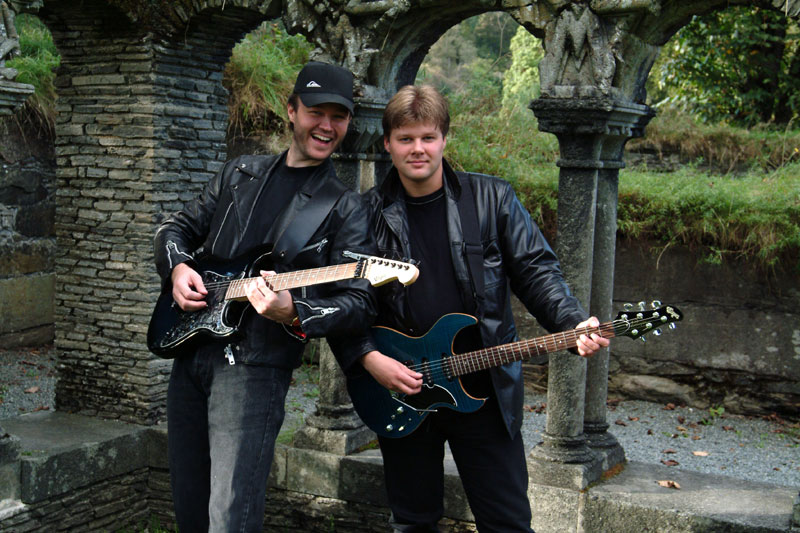 Hi Terje and accept my congratulations on "On The Rise". As you already know we've chosen On The Rise's debut album as the best of February!!! Tell us how did you decide to form On The Rise? Please introduce us the band.
T: It all started when I got the inspiration back in the year of 2000 by writing AOR songs again. I felt I had been away too long from the reason why I've always been playing. I started to record demos at home and at the same time I was involved in different projects. I was engaged in doing some background vocals and a guy in the studio played one of Bennech's songs. I liked what I heard. Me and Bennech became a part of a project we did for fun, but in the end he didn't had enough time to do it. I continued to record songs at home and one day I called Bennech and I asked him if he wanted to join the project that I was working on. On The Rise became a reality in January 2001.
Zsolt Meszaros (drums) : has been on the local music scene since the late seventies and has gained a reputation as one of the best and most experienced drummers around. He has been engaged in various projects ranging from jazz to metal. His latest contributions to music has been, besides "Rising Force", with artists like Diabolos In Musica, Ronny Heimdal and Waste Lagoon.
Jan Martin Kleveland (bass) : has also been on the local music scene in Bergen with different projects. He's known for his charming and brilliant "One Man Show" on bass. He left the scene in the 90's and returned even more inspired a few years later. He's been getting the groove back in shape together with Zsolt . They're both steady, technically and brilliant in their performances.
Asbjorn Vie (keyboards) : started early in the 80's by anticipating in local bands in Forde. He's done that ever since and learned the hard way of living as a musician.
As far as I know there are two only full time members on On The Rise. Are you thinking of the possibility to get some of your session musicians or even new ones as a full time members in your band !
T: Today we're a duo and the musicians on the album will join us live!! Time will show what happens.
What about the idea of playing in a live show? Are there any plans?
T: It might be sometime until we're ready to go live. I don't like the process that makes a draught of musicians. The best thing is to make things work out right from the start. So we're still in a process of completing the line-up.
How did you get the name "On The Rise"? Who's idea was?
T: We came up with a lot different suggestions together with Serafino at Frontiers and together we decided to use ON THE RISE !!
How would you characterize the music style that you play?
T: Our music is basically AOR/melodic rock. You may find some small fractions of other styles in it as well !!
And what are the influences of On The Rise?
T: My influences in music are Van Halen, Deep Purple, Whitesnake, Bryan Adams, Def Leppard, Ronnie James Dio, Ritchie Blackmore's Rainbow, Journey, John Farnham, Steve Perry, Kiss, Gary Moore & Toto. In early days Bennech's musical influences was Bruce Springsteen. Later on he discovered bands like TNT, Journey, Def Leppard, Bryan Adams, Dokken, Iron maiden, Lynch Mob, Toto, Van Halen and some others....
I believe that you and Bennech are excellent songwriters. Do you compose together the songs?
T: Independently we both are writing, but we co-operated on some of the songs. Most of the songs were already written when we started to work on the album. We made the choice from a lot stuff from our own collection.
I must tell you that one of the strongest elements that On The Rise has are the terrific vocal harmonies. Is there any secret behind it?
T: Thanks. There's no special methods or secrets. I've just got a passion of making background vocals, and I like to make them mighty and wide.
Is there any story behind a song that's worth to be mentioned more than the others?
T: "Running In The Night" is an old song of mine and it's part of my history/collection as a songwriter. Lyrically it's about a guy who tells about his reflections of the way and the fights that surrounds us everyday in our ordinary day of life. It's about how hard it is for the young ones to grow up and the experience of establishing friendships and how to be accepted in a new neighbourhood in a town. It could take place anywhere and even the story of this guy who's got the guts and confidence, can't be sure if that's enough in a world who's not too safe. I got this story and inspiration from what I've seen and experienced in the UN-force in Lebanon.
And could you tell us some things about the artwork of the album?
T: The artwork on the album is designed by Giulio Cataldo at Frontiers. Actually it was a pretty cool process. Some suggestions went back and forward until we agreed about the finished result. We like the work that he's done. It's a little different from all the other cd-covers in the genre of AOR/melodic rock.
Do you believe that the melodic rock/AOR genre is becoming popular again?
T: Something is happening that's for sure. There's a lot of reunions of old bands and artists, and it's pretty nice to hear and see that they're still sounding great and they're showing that they're sounding even better today.
I think a big problem of the today's music industry are all the CD copies people do with their computers or the music they can download from the Internet. How do you think about this problem??
T: It's sad! We can't ignore that it's a destructive process for the music business. There are no good arguments to let this still go on like it does. I hope the records companies will find a cure. For the time being it seems like it's about putting safe codes on the albums, or it might be better to make a financial solution that will keep everybody happy.
And some Weird Questions now!!! If you were living in Middle Earth (I hope that you have seen or read the Lord Of The Rings) which character would you choose to be and why?
T: Naturally it would've been Arragorn. He's the one with strength as a leader, he's a survivor and he still manage to be human and care for others as well.
Do you believe in luck and in coincidences or do you believe that the human mind and will can affect all the things in life?
T: We're a part of a world with luck and coincidences that's for sure, but I don't think no one will ever have the answer why it happens and what's predeterminated or not. We're all a part of a society who's ruled by a wall of officialism, governments, the power of leaders and politicians, who are affecting us all with their decisions. Ironically and only in majority we can affect the mind of these chosen people that we decide to rule and who makes the decisions for us. Strange thing though if you take your time out and evaluate how things are made and works out in our ordinary day of life, then I believe you'll get the same conclusion: It's a crazy world we live in that's for sure. ;-)
How do you imagine that the music world could be, one thousand years from now? And why?
T: Technically there will be a lot of developments and changes in different systems that we can play the music on, as well as smaller cd's/dvd's and so on... I believe that a lot of the music will be distributed and marketed on the internet. Hopefully I hope we can still go in shops to buy what we want of music, but I'm afraid not...!!
Ok Terje, I wish you the best for you and for On The Rise. The last words of this interview belong to you.
T: It's been a great time promoting the album and we're still flattered about all the positive compliments/comments we've got so far. It seems like a never-ending story. We appreciate it a lot. We hope there will be a chance for us to play live for the ones that enjoy our music in the future. Until then keep on rocking.
All The Best,
Terje.
by Thanos Aggelakis