Well, it seems that the time to talk about the great (or shall I say the greatest?) work of Vangelis Papathanasiou has finally come. The official state about this work was saying that Mythodea was written after NASA's request to Vangelis to compose music about its new mission: "Space Odyssey 2001". As you all remember that mission was searching for alien life in the space and specific in the Mars planet. I do not disagree with the official state of NASA and with the Hellenic Ministry of Culture but there are some other many things about Mythodea that most of the people do not know. I shall say a part of them cause it is improper and impious for me to say them all!

So let's begin with the obvious. The show took place in the ancient temple of Zeus in Athens. The choir was dressed in the way that our ancestors (Ancient Hellenes) were dressing. While the movements were playing behind the stage there was a big video-wall in which all the time were showing pictures from the space but mostly from the Ancient Hellenic History. And about the lyrics…just try a little bit to understand them! There are a lot well-hidden meanings that we are being asked to find!

Vangelis as far as I know composed the whole music work within an hour!!! He composed it from the very start to the end! This is impossible, (those who are composing music can surely understand better what I'm talking about) how did he managed to do such a thing?! It is clear that I cannot answer to that question. The only thing that I can do is to express my admiration and to say CONGRATULATIONS to Vangelis! We are not talking about a single music work here but for the ultimate eternal unique music in the way that Ancient Hellenes meant music and the musicians. He who has an eye he will see and he who has a soul he shall (or shall I say must?) feel the messages and he will feel the chill inside his body. Just show respect!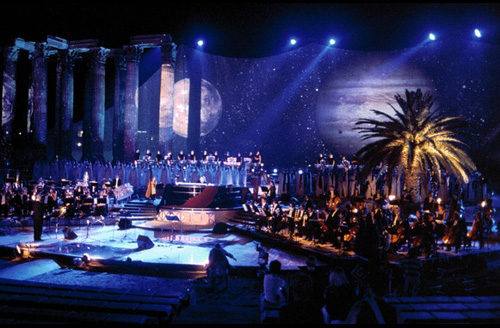 Although we are talking about the cd of Mythodea I must tell you the Dvd is far better than the cd. Not only for the special features that it has, which are also very basic …but also the most important is to see and to feel like you were in that place, and the period that you will choose is up to you! See, think and imagine that you were there and let your senses guide you to another distant times!

Listen to the music that Vangelis is presenting and try to become one with it! Mythodea is a music ode, a music hymn, and an epic sound to Hellas, to Hellenes, to the world and to the ancient Gods. World's Suppliants you will feel that the time is about to come…. "Zeus is coming…. Is coming to us…"
by Thanos Aggelakis