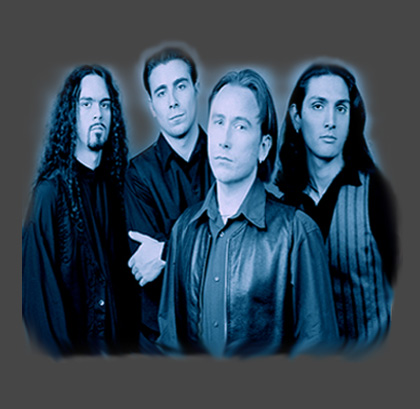 1.Hi my friend. Well I have to admit that your new album "A Work

Of Art" was really a surprise to us all. Introduce us the band. Tell

us the latest news from the band.

A: Hi Thanos, I'm happy to hear we surprised you with the album,

hope it was a nice surprise! The latest news are, that the album

is still so fresh that we simply await some reactions to it. We

are doing interviews and answering fan mail, and on the 22 of April

it will be released in Sweden.

2.How would you describe the sound of Mind's Eye to those that haven't heard you before?

A: Oh, it's obviously hard to put a label on. The two key words would

probably be: Tight and tuned. I've heard complaints from some people

that it's to clean and well-played. Those people normally like

a dirtier sound. Any fan of rock music could be our fan, but maybe

our music demands I would say that anybody who has been an active

musician could appreciate our music.

3.Tell me what funny thing do you remember from the "recording days" of your new album?

A: We had booked the studio to begin vocal recordings on 1 August

2001. But a terrible cold struck me my that same day, so we had

to postpone everything for five days. Then when we started to record

the vocals for " A moment of honor", you could still hear that that

my voice wasn't totally clear. But we gave it a try anyway, and

there are a few places in that song where at least I can hear that

I΄m not totally well. But we realised it suits the song pretty good,

since it's about being imprisoned in a cold cell...

4.I know that your bass player Johan Niemann used to play with

Therion. Did he leave the band? How the idea for Mind's Eye came?

As far as i know he is one of the former members.

A: Johan is still playing with Therion, and very busy with other projects

as well. Lots of people are after him ,so whatever he chooses to

do , I wish him all the best. He's a great guy, and very very talented.

He came up with the idea of the band name "Mind's Eye"

5.Back to the album again. "A Work Of Art", nice title, do you

consider this album as an Art progressive release? What's the idea behind the title of the album?

A: We had about 20 different suggestions, and first we were gonna

call it "On a personal voyage", but then Fredrik came up with "

A work of art", so I'd better pass that question to him.

6.I like very much your way of singing. Can you tell me, who are

your favorite singers and from whom you have been influenced most?

A: Thanks!! Well...I have lot's of influences, many from the hard

rock scene such as Glenn Hughes, Dio and Rob Halford, but also

from other styles such as Stevie Wonder, Carl Anderson and Richard

Page. I could give you 30 names that influenced me, and if you put

them all together in a melting pot, you'll probably get the basics of what I'm made of.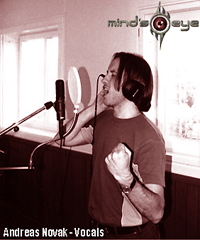 7.Can you describe us the lyrical backround of the album? Is this a concept album?

A: This is not really a concept album, even though some songs follow

each other ( Room...+Shallow...)

When it comes to the lyrics to "Courage Within", which I was quite

a lot involved in, I try to describe the society we live in today,

where everything we know and hear is what the media scene wants us to know.

8.Do you think that people should try and see with their minds

(Mind's Eye) and their hearts and not with their eyes? Maybe the

world would be much better then.

A: Something like that, yes, but maybe Johan can answer that question

better, he came up with the name before I joined the band

.

9.And now we go on with the "Weird Questions"!!!.Which are the

5 albums that you wish that you had written them? And why?

A: It's hard to mention just 5, but I'll give you 5 that meant a lot to me when I grew up, which I also consider to be some of the best albums from the 80΄s:
Toto - The seventh one
Yes- Big Generator
Def Leppard - Pyromania
Van Halen- 1984
Ac/Dc - Back in Black

10.Can you remember an album that you have bought and when you

heard it you wished you never had bought it and you wanted to play Frisbee with it? And why?

A: I buy lots of records, often just by chance, so sure. One of them is

D.A.D:s "helpyourselfish" Don't ask me why I bought it. That kind of music ain΄t my style.

11.Thx for your time Andrea. The last words of this interview belong to you.

A: Thanks Thanos! May the force be with you...

by Thanos (Mc)