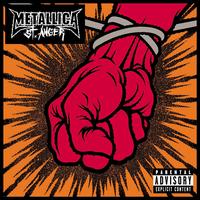 Is this what Metallica offer to their fans and music community after 6 years of absence from producing original new work? If this is not a joke, I feel really sorry as soon (if not even now) they will understand how humiliating it is to sign such a work with the name Metallica. For me the band is clinically dead since 1991. "Load" and "Reload" have been two boring albums, and let me clear this: I don't criticize their wish to change their style, image etc. An artist must explore new paths, and honestly nobody would ever want them to produce 3 or 4 "Ride the Lightning". My objection is that in their two previous albums they just produced bad music. The experiment "I want to be Sabbath in Sabbath's place, with Jimmy Hendrix in the guitars" was a failure, as in order to do it you have to be -at least inspired, a state of affairs that Metallica is missing since 1991. And this is proved to the highest extend by "St. Anger", where the best song of the album (if it can be called "good" such a song), the self-titled one, is based on Megadeth forms, especially in the refrain.

I've heard that the album was bad before I listened to it, but I never expected something THAT terrible! The band has adopted a nu metal/hardcore approach, which doesn't work for the group, has nothing to offer and - I don't know how else to say it - is just bad music: no rhythm, fake drums (listen for example when Lars plays double bass, where you can distinguish a third bass drum!!!!), lack of composing ability (it mustn't have taken them more than five days to "compose" these songs), total absence of solos (if they think that they are Fates Warning and can produce albums without any solos, please wake them up), but even the "riffs" sound like scratching the pick on the strings and nothing else. The songs present a non-structure, they are fractured, no space to evolve some good ideas (a fact that underlines the shortage of inspiration). In a few words Metallica these days seem like four guys banging their instruments without any meaning - and at least they don't even do it with style!!

And the worst of all is Bob Rock's production! This must be a joke, as I don't see any reason for a balanced musician to release an album with such a miserable production, which buries the songs even more (we are talking about six feet under!). Only to mention that the drums remind me of the glory days, before I form my high school band - and before I buy my drum set - when I used to play drums with my mother's stew pans and pots!

I really don't understand what are the motives behind this lamentable release. At least to me it seems like downgrading my intelligence: Metallica know that they would sell millions of copies even if the album was blank, so they released something just to amuse their selves by watching people buying shit as a trade for a name. The band, which became rich by copying Diamond Head and Mustaine's ideas, plays bad jokes on the fans who made them what they are.

But you know what, time will tell.... However it's such a shame on the one hand for other groups to sweat and bleed to produce a good record for the world to listen to it - and probably go unheard, and on the other hand to have Metallica desecrating the art of music, because they know that they will sell a few million CDs anyway. The album might be of use only for immature ages, children with lots of "energy" and testosterone to consume and no other place to channel it...But even in such a case I'd suggest Spiritual Beggar's "On Fire"...music with guts, no bullshit.

I would grade the album with 1, but my grade makes a better connotation with my view for the CD. I am going to listen to the new Queensryche now. Real art, no shit!
by Alex Savatianos 3/10