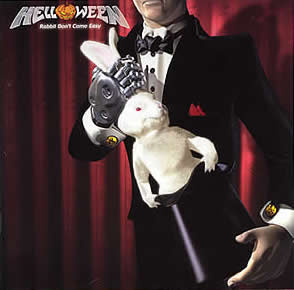 True Event - A Historic Gap: A couple of months ago I met a younger metal fan who liked power metal a lot. He had all Stratovarius albums, many Edguy etc. When I asked which is his favourite Helloween album he replied that he had never listened to anything from this group, he only knew the name! I was shocked, copied for him at my expense two CDs with "The Keeper...", and I am still wondering how unfair music industry is....

Journey to the Past: 1988 and Helloween is ready to conquer the world. The 5 smiling guys from Germany have invented a new way of playing metal music, what came to be known as teutonic/euro power metal, after the release of the two Keeper albums. Their gigs are a magnificent, powerfull show (listen to "Live in the UK") and there are many voices arguing that Iron Maiden can rest in peace, as their descendants have been found. And suddenly everything came upside down. Kai Hansen left the band - we never really learned why - and Helloween fell apart. Not because Kai was everything for the band, but because the chemistry didn't work anymore. Roland Grapow who took his place was never good enough for the band (he has signed some of Helloween's worst songs ever - "Crazy Cat", "Still We Go", "Escalation 666"). the group released two really bad (according to their standards) albums - "Pink Bubbles..", "Chameleon" - and that was it. I think that the fans never forgave these moves and forgot about them. After Deris took over the vocals the band produced very good albums (with, according to my oppinion, best one "The Dark Ride") but everything was lost. Of course Helloween made a great come back, but they never became what they deserved.

Present and future: The new album finds the group refreshed with a new guitarist (Sascha Gerstner in Grapow's place) and Mickey Dee behind the drums. And this is something we (the fans who have been wearing the black t-shirt with the keeper since 1989 - it has faded to be honest after all these years) have been looking forward to. The group seems in amazing shape and overloaded with inspiration - taking us back to the glorious early days. Inspiring power metal by those who invented it my friends. "Just A Little Sign" proves the fact that Helloween have always opening tracks, which seem like bombers - already a classic. The masters are here to teach everyone how power metal should be played: thunderous, slow breaks, solos from Heaven, stormy drumming, harmonies that stick to your mind, doom introductions to evolve to majestic songs, progressive and rock and roll elements, high vocals, dark parts, and above all intellectual uplift to the max!!!! If Helloween had released this album after the two Keepers it could really have dethroned Iron Maiden.

If you are about to buy one power metal CD this month, forget all the others and invest in the pumpkins. They deserve it, and it is your chance to bridge the historic gap. Honour your roots in order to have a future.
Pumpkin fly free!!!!!!
Release Date
May 5th, 2003
Alex Savatianos 9/10