MECHANIX
"REGENERATOR"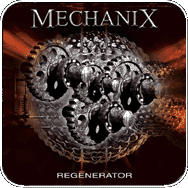 Mechanix is a band that comes from Arizona and plays melodic hard rock, just like the way it used to be played in the 90's. Their music has also many influences form the heavy metal music, and that is very logical, cause the line between hard rock music and heavy metal is very thin. The production of the album is very good for that kind of music and the band seems to know how to write good hard songs that fits perfectly with the melodic voice of the singer John D' Angelo. The songs of "Regenerator" are very interesting and in some parts we can enjoy polyphonic compositions in were all the members of the band are participating. Mechanix seems to have many influences from bands like the U.S. Fortune (especially them) and from the guru Leatherwolf (due to the polyphonic parts) in some songs. Highlights of the album are definitively the great "Night Of The Dancer" and the fantastic ballad "Another Night". Enough with the descriptions my friends!!!. If you like melodic 90's hard rock/metal music, then "Regenerator" will surely make you paint the town red! Albums like Mechanix's "Regenerator" shows that the specific kind of music is not dead and that will return better than ever very soon!
T.A. 7,5/10
MAGNUM
"BREATH OF LIFE"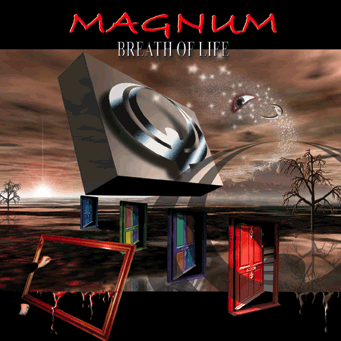 I've been wondering for years why Magnum were condemned to compose great, lyrical songs, without earning the fame they deserved. I am afraid that this will happen again with their new album: those who know and love the band will find one more great record of quality British hard rock, whereas the rest will keep ignoring them. I wish I were able to right this wrong when the band released albums-masterpieces like "Chase the Dragon" or "On A Storyteller's Night". The new album doesn't reach the inspirations of the aforementioned reckords, but it contains songs trademarks of the band like "Cry for You" and "Still". The whole album is characterised by the quality standards of the band that guaranty a good time while listening to it: catchy refrains, nice melodies, keyboards "dressing" the songs, and this symphonic atmosphere haunting them. The fans will love the album. As for the rest...there's never to late to redress a wrong.
A.S. 8/10 T.A. 7,5/10
MIND'S EYE
"A WORK OF ART"
To be honest I didn't know this band so far. What a big mistake! This is their third full-length album (I have not heard their previous works "Into the Unknown" and "Waiting for the Tide"), and I have to admit that it is a really mature, complete, magnificent album of prog rock. But don't you get carried away by the term. The songs (although have roots in the 70's prog rock movement) are approached by a more modern perspective and they also last shorter (average 6 minutes). Therefore Mind's Eye have the ability to be embraced by all rock/metal fans, and not only the "prog freaks" who have no problem in listening "12 minutes songs". I have to say that the songs are complex enough but not "too large" without having nothing to say. In order to get an idea of their sound, imagine a mixture of Enchant, Arena and Queensryche. However the band has created its own personality imposed by magnificent guitar melodies followed by multiple voices and a lyrical atmosphere. It would be a mistake to write that the band has potentials to evolve to something great. The fact that they don't have the recognition that other bands of the genre enjoy, doesn't mean that they are not great already. I am sure that we will hear amazing things from this band in the future. Follow suit now and help them to evolve.
A.S. 8/10
THE MUSHROOM RIVER BAND
"SIMSALABIM"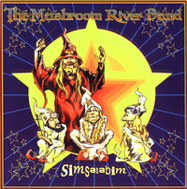 This is one of the big mysteries of life: Why did Spice leave Spiritual Beggars when they were one step before becoming a super-band (in recognition terms, as they are a superband already). Who knows? And now that he released this dynamite with his band, who cares? We are talking about an album that goes directly on the top of the releases of this genre! Which gerne? Eh, come on! What did you believe that Spice would play? Heavy rock, delving to the 70's, with "large" riffs, very close to the Beggars' sound. It would be a mistake to compare it with the aforementioned group though. Spice made his decision (I don't know why) and now he belongs to The Mushroom River Band. And you know what? With what I am listening to now, it might be best. Because this way we might have two super-groups in the genre! All those who follow this "stoner" sound will bow to this album. Don't even think about missing this if you liked the recent albums by Orange Goblin or Grand Magus or you are a Beggar fan.
A.S. 8/10
MERCENARY
"EVERBLACK"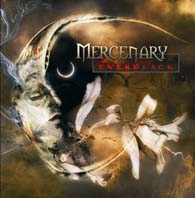 This is another promising band from Denmark. Their style I must confess that is very strange! They seem to get many Death-Thrash influences and most of them are coming from Sweden. I think that they love the Swedish death metal scene. Anyway here we got a very interesting album with very good production and also with beautiful changes on the vocals from the clean ones to brutal and vice versa. Amazing melodies and guitar riffs create incredible songs such as "Darkspeed", "Rescue me", "Seize The Night" and many others…well an absolute heavy death melodic album that will surprise you in many ways. I believe that we should expect more good albums in the future from Mercenary. All you have to do is to follow the band in a journey through powerful-Metal-melodic music and trust me, won't regret it!! Do you dare??? Mercenary just shows the way…
T.A. 9/10
MASTODON
"REMISSION"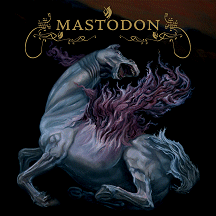 Mastodon is an extreme metal/deathcore band from America and "Remission" is the first full-length album of the band. As I said before the music style of the band is a mixture of extreme and deathcore music but not only! In fact they play a "strange" and extreme kind of music. Their music has much death metal and few jazz (!!!) elements! In this point I must inform you, about the drummer of the band, Brann Dailor. The guy is really a "beast"! His technique is very high on the drums. I noticed that he can play anything that he wants! Also the vocals of the singer are very sharp and brutal. Another thing is that Mastodon composed very interesting songs in this album, like "Ole Nessie" (a truly paranoid song!), "Trainwreck", which is a mid-tempo "sick" song, and the 8-second instrumental "Elephant Man". Just imagine, that if this is the debut album of the band how much more they can offer in the extreme music generally. I don't know how to characterize "Remmission", but I can assure you that this album is full of surprises. The fans of the specific genre must get "Remission" right away!
T.A. 8/10
MY SIXTH SHADOW
"SACRIFICE"
My Sixth Shadow is a new band that comes from Italy and they were formed back in 1998. The music that they play is a "strange" mixture of gothic metal, with some dark electro elements. "Sacrifice" is a mini-cd, which contains 5 tracks. To be honest, in the beginning I had no idea of what I should expect from My Sixth Shadow, but after I listened to the mini-cd, I can tell that it is really good. All the songs of this cd are really nice and especially the homonymous "Sacrifice", the heavy "Aeteria" and the catchy "Die In Me". I don't know if the band signed with a record label, but I have to tell that a Label, which is dealing with gothic metal music, must sign them right away! My Sixth Shadow can write very interesting and catchy melodic songs, so all that they need is someone to promote their music. You can order "Sacrifice" by contacting with Victor, who is the guitarist of the band at victor@mysixthshadow.com, or by visiting the official site of the band: www.mysixthshadow.com. If you are a gothic metal fan or if you love strange dark music, order as soon as possible this mini-cd. Support My Sixth Shadow, cause they really worth your attention. I'm just looking forward to listen to their new full-length album.
T.A. 8/10
METALIUM
"HERO NATION– CHAPTER III"

The Metal Hero Metalium has returned within the third chapter. German power metal with beautiful bridges and multiphonetic refrains. Maybe that will sound a little cliché to any of you but we don't need to expect from bands like Metalium many and radical differences between their albums. Metalium can offers us albums that features many good and powerful songs and that exactly what they do and with their new record "Hero Nation – Chapter III". The songs that I like most of this album are "Odin's Spell", "Odyssey" and the sentimental ballad "Infinite Love". The funs of power metal music will like this album but for the others I suggest them to try somehow to listen to the album before they bought it.
T.A. 7/10
MOTORHEAD
"HAMMERED"
Ho-ho-ho, uncle Lemmy is back!!!! And this new record leaves us both a big smile on our faces (and much pains on our necks)!!! Lemmy preserved a steady line-up for Motorhead for a few years with Phil Campbell (guitars) and Mickey "hello compatriot" Dee (drums), which brought about beneficial results for the band. The climate and the relations between the three musicians seem to be top class and this is mirrored on the songs they compose. Motorhead seem to be in horgasmous shape during the past few years, producing albums-diamonds of dirty hard rock music!!! After the monumental previous album (We are Motorhead) I was afraid that they wouldn't be able to even release something close to its standards...and how wrong I was!! The new album is equally qualitative, full of songs dynamites (it is a shame to mention a couple of songs as all of them are great) in the familiar style of the band (although if you listen to the new hard rock hymn "Walk a Crooked Mile" you will probably realize that it has one of the most melodic refrains of Motorhead's history). No one expected to listen to anything new from them, and this is why we love them: because (like AC/DC) they are able to produce albums in the same style without becoming boring, and still looking vigorous!! The only ones who might have problems with this album are my neighbors (hope yours too), who will have to put up with Lemmy's barks, Phil's thunderous riffs and Mickey's bombardment!!! By the way Motorhead with every album prove that they are the kings of dirty, heavy sound and they obliged all those "bad", "heavy" and "evil" groups to go find a place to hide. Motorhead, we salute you!.
A.S 8,5/10 T.A. 8/10
MYRIADS
"INTROSPECTION"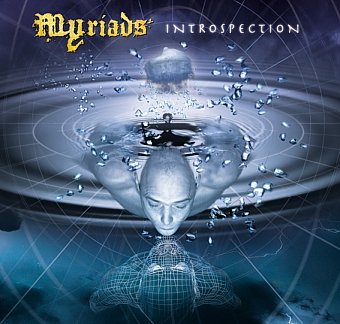 Myriads -for those who don't know- is a Norwegian comer band that was formed in 1997. Since then they are becoming better with every work they release. With the new album "Introspection", the band has proved to it's fans, and not only, that metal music can be a mixture of classical and folk elements, and that can contains industrial parts without loosing the metal feeling that it's diffused to the entire album. With faster heavier but more atmospheric tracks, than in the previous album Myriads won't disappoint the "open-minded" metalheads! The vocals (clear but also death vocals) and the lyrics are the strongly parts in "Introspection". Those, in combination with some inspired guitars riffs (acoustic, and string sextet) are enough to make the album interesting. "Miserere Mei" is a song that although it's length I liked it a lot, since it was a mixture of different sounds and melodies with amazing instrumental parts. Of course they still have a lot of work to do in the composing and technical part of their music. The production of the album and also the mix was made by Myriads, and I'm sure that this band will surprise us in the future with a new album even better than "Introspection".
K.P. 7,5/10
MONTANY
"NEW BORN DAY"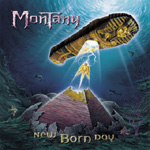 Montany is a Dutch newcomer band, which plays good teutonic power metal a la Gamma Ray, Helloween and Freedom Call. They play pretty good, some songs are very interesting such as "Here In The Light", "Pyramid Of Cheops" with the very melodic chorus and, in my opinion is the best song of the album, "Sentenced". Also I liked very much the voice of the singer, the good guitar work and the dynamic production of the album. The problem with this band is that they have no originality in the musical and also the lyrical part. Personally I consider this not a very big and important problem as long as a band has written (or can write) good songs. And the songs of this album are very enjoyable. So if you are a very district critical fan who does not accept so easily all those quite good, but not original, bands in the power metal genre, please don't expect something ingenuity from this album. But if you don't care much for originality, try and listen to this album cause you might like a few songs
T.A.6/10