KING DIAMOND
"ABIGAIL II - THE REVENGE"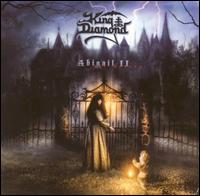 "Abigail II The Revenge", continues from where the first "Abigail" almost 15 years ago has stopped. So King here offers us another interesting and dark story which it's dressed with excellent music background. Of course musicians like Andy Larocque , Mike Wead and Hal Patino are guarantee!!! King once again managed to make a brilliant album not only in the music part but also as far as it concerns to the concept theme. I cannot tell if this album is better than the first "Abigail", but I can definitely tell that "Abigail II The Revenge", is one of the best albums that King has ever made.
T.A. 7/10
KHOLD
"PHANTOM"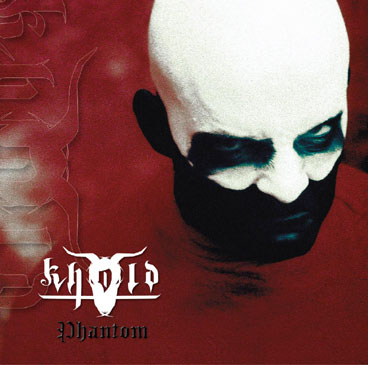 Khold is a Norwegian band, which plays (so hard to imagine that!) black metal. The songs, in general, are mid-tempo (and will remind you Katatonia in their firsts album) with a few fast-tempo breaks, the vocals are so predictable (and the vocal melodies), and finally the production of the album is good (even though I don't like much the dirty-sound in the guitars). So if you try to listen to this album at a single stroke, you will surely get bored very soon. I don't say that this album is totally bad, cause some of you might like it or you might find it different (and it is different from the typical fast Norwegian black metal) than other black metal releases, but personally I think that this is a boring album that's has songs with no personality. The choice is up to you.
T.A. 5/10
KALMAH
"THEY WILL RETURN"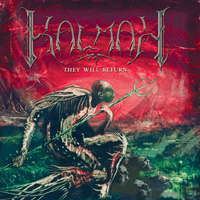 Finland's attack!!! Kalmah is another top band from Finland and their new album is really a masterpiece! They play thrash/death melodic metal with many black metal elements. In this point I have to refer that the guitarist of the band is Antti Kokko ( the quitarist Of Eternal Tears Of Sorrow) and the singer and also the other guitarist is Pecca Kokko, Antti's older brother. I knew Antti from EtoS and when I noticed him in the line up of the band, I expected to listen to a very interesting album. And I was right. An extremely good heavy aggressive record, with great songs, unforgettable melodies and with an impressive production! I cannot tell which song is better than the other but honestly you will love every song of this incredible album. I consider this band as one of the great hopes for the future of extreme metal music. Everyone should listen to this unique album and to revise his opinion about groups not yet very known but with great music quality! One of the best releases for 2002!
T.A. 8,5/10
KOTIPELTO
"WAITING FOR THE DAWN"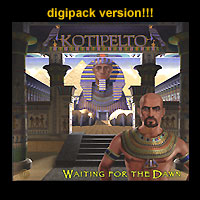 I always look at side-projects with suspicion, because most of the times they are disappointing. I understand that some musicians want to express themselves in a in a different way, other than what they do with their normal band, but sometimes this results to music "murders". The even stranger thing is when musicians produce a solo album that its music is quite similar to what they do with their band! Well, this is the case with Timo Kotipelto's (Stratovarius' vocalist) CD. But you have my word that despite the loss of originality, this album kicks butts!!! The music is European power metal, but it is fresh, innovative, with quite impressive ideas and less "symphonic" from Stratovarius' material. The songs hit straight to the target, reminding a lot of Helloween's glory days. Two are the most important things here: first that although Timo plays a kind of music that seems to have been satiated, the songs are not borring at all and you enjoy listening to them. Second the album must have been composed in a really good mood, something that is evident in the songs that manage to carry you away with their strength and enthusiasm. I like this album more than Stratovarius' last couple of works to be honest. Congrats Timo.
A.S. 8/10 K.P. 8/10