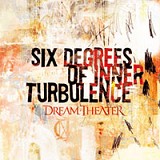 Dream Theater is probably the best group in the world nowadays, and the guys in the band seem to have understood that. Therefore in their new album they appear as a mega-band, which because of knowing its importance doesn't need to feel that it has to prove anything. As a result they released their probably most mature album. This maturity characterizes their sound and the way they structure their songs. Unlike other bands their more mature approach doesn't mean "softer" songs. On the contrary the album is the heaviest one they ever released (yet quite different from "Awake") In fact this is their first album, which can be embraced by all pure metalheads, as although the songs haven't lost their complex structure, they are at the same time straight enough. This shouldn't discourage their earlier fans, who might think that the album is not "progressive" and complex enough, as that would be misleading. The group has delved into creating long songs (average 10 min long-except for the SDOIT song which lasts 42 min and occupies the whole second CD of the release), in which it can give birth, breed and accomplish all its ideas.

The band has moved on from any limitations and has concentrated in creating MUSIC in the terms they understand it and express it. The sound of the album is quite far from the previous releases of the band(and this might be the most encouraging thing), but it still manages to carry all the DT trademarks. In order to make my self clear: the new album doesn't sound at all like the power approach of "When Dream and...", it is much heavier than "Images.." (Although it carries the lyrical qualities of that), it performs different approach of heaviness than "Awake" in that the new album isn't that "dark", and the riffs are not that Pantera-ic. Those who have followed Petrucci's releases (with DT or elsewhere) can understand the evolution of his riff-ology. In the new album it reminds me Ron Jarzombek's and bands like Watchtower and Gordian Knot, but Petrucci's solos are quite different and original. It might be in vain to start criticizing each individual member's performance. I doubt that during this year we will hear in terms of performance anything close to SDOIT (except maybe if Watchtower release their "Mathematics"). All songs are characterized by a variety of sounds and moods. But I have to separately mention the SDOIT song, which is a pure masterpiece. 42 minutes of lyrical music, and by the end of the song you realize that the 42-min have passed like two seconds, and of course you press "play" again. The song is performed in eight parts, with the opening one to be the group's first effort to compose classical music. I believe that if they compose a pure reggae song in their next album they must have played almost everything!! What is amazing is that the album is so full of music that still after one month of consecutive listening I discover new things...and I am sure that this will go on.

Of course the Cassandras already argue that DT have copied bands like Tool, Metallica etc. and to be honest I don't understand why would ever DT need to copy anyone (not that I intend to subordinate the aforementioned great bands). DT have made their own way through more than a decade and they have been the beacon for hundreds (if not thousands) of groups. The fact that DT are influenced by other great bands doesn't mean that they copy them. After all the result in all their albums (the new one too) is 100% DT and no one can defy that. The thing is that DT are able to sound like anyone, whereas no one has the ability to sound like them. Music is always different after every release of them. So, don't lose any more time: the curtain is lifted, take your seats, because the show in this Dream Theatre is about to begin!
Release Date:
January 29th, 2002
by Alex Savatianos 9,5/10