JACK FROST
"SELF ABUSING UNGLYSEX UNGOD"
Jack Frost (what a really smirk name for a band…also they had nothing to do with the known guitarist Jack Frost.) is a band that is coming from Austria. I don't know, how things are going up there with the rock/metal music, but Jack Frost seems to have found what they really like to play. They play gothic music, which has a lot of influences from dark wave and also some rock elements are appear. The sound of the guitars is really heavy and the vocals of the singer are pretty hypotonic! The fact with this band is that you cannot characterize them as an absolute gothic band, cause they have nothing to do with great gothic bands like Scream Silence or Joy Division. The songs that they have written are quite simple and their vocals melodies are so incredibly common. I've listened to the whole album 6-7times or maybe more, but I still cannot remember a single vocal melody or a guitar riff! The production of the album is quite good and clear for their kind of music. Another thing that is annoying is the very "stuoid" title of the album! Maybe the best song of the album is "Unseen Insane I" but the rest of the songs are a kind of second-rate songs. The fans of this specific genre will maybe like the album, but as for the others better stay away from Jack Frost. I strongly believe that they are not a bad band at all but they need more work to become a really successful band.
T.A. 6/10
JEFF SCOTT SOTO
"PRISM"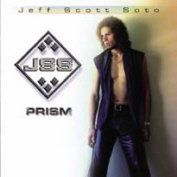 I'm sure that you all know and you also consider Jeff as one of the best singers of our time! And that is absolutely correct, if you just think that Jeff has worked with great musicians such as Malmsteen and Marcel Jacob. Well, "Prism" is the second personal album that Jeff releases and if you listen to it you will also understand that Jeff is also a very good composer. The album has great songs like the melodic up-tempo "Eyes Of Love", the brilliant ballad "Heaven Knows", the excellent balladesque "Holding On", which is being release also as a single and for the end a cover to the Sly & The Family Stone "I Want To Take You Higher" where we can hear a vocal duet between Jeff Scott Soto and the "great old man-rocker" Glenn Hughes. It's true that Soto's carrier is going from better to best and he always releases good melodic hard rock albums. And to tell the truth I cannot tell a single album that Jeff has participated and I didn't like it or I considered it as a failure! Also I must say that "Prism" contains a video of the song "Eyes Of Love" which is very good. To cut it in a few words, Jeff's new personal album is an excellent heard rock one and as well has some great ballads. Soto is releasing albums that have quality and melody. The man is a guarantee!!!

T.A. 8,5/10