INFERNAL POETRY
"NOT LIGHT BUT RATHER VISIBLE DARKNESS"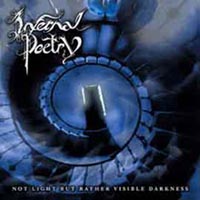 According to my informations about this band, Infernal Majesty are coming from Italy (if I'm not wrong), and as you have already guessed from the band's name they don't play power metal! So, the band plays death/black meal with some thrash riffs, which has also some influences from Death and very few from Cradle Of Filth. The members of the band play really good technically and their music has also a progressive feeling. The vocals of the singer are quite brutal and especially a few screams nay remind you Dani Filth. Some songs that are really good are "Deviation In Sacrality" and " but I believe that the band must work more if they want to have a better result than this album in the future. They are not bad at all, but they must take advantage from the fact that they can write good melodies (something that is obvious if you listen to the instrumentals songs of the album) and they should orient their music style in a more melodic death/black way. If you listen to "Not Light But Rather Visible Darkness" you may find several good elements in their music, especially if you are fan of this genre. This album isn't something very special but as well not something if truth were told, badly.
T.A. 6,5/10
INSOMNIUM
"IN THE HALLS OF AWAITING"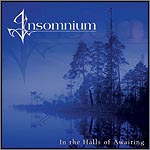 Insomnium is another great band from Finland! This brand new band can be one of the greatest Finnish bands, if you just consider that this incredible album "In the Halls Of Awaiting" is their debut release. They play melodic death metal in a way that I had many years to listen to. They might bring on your mind the other unique and great band from Finland Amorphis, (in their beginning when they use to play death metal), but their sound even now, is personal I can say and will become more personal, of course, in the near future, when they will release their next album. I know (and they should know also) that they must use in the next releases more clean vocals so that their music could become more aproachable among the metal fans. This album is full of melancholic, melodic and memorable songs such as "The Elder", "Black Waters" with the very good guitar melodies, "Shades Of Deep Green" with the acoustic guitar, "Medeia", and the amazing almost 11 minutes "In The Hall Of Awaiting". Insomnium have the ability to write heavy melodic and catchy songs and I consider them as one of the best (if not the best) newcomer bands for 2002! I'm sure that this band will surprise us pleasurably in the future with their music and with every new release.
T.A. 8,5/10 K.P. 7,5/10
IMPELLITTERI
"SYSTEM X"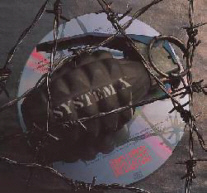 Impellitteri, the guitar virtuoso is presenting his new work, which is titled System X, but this time with Graham Bonnet in the basic vocals. For those that they may don't know, those two men have worked together again, some years before in the second work of Impellitteri (the first full length album), which was titled "Stand In Line". The new album is quite heavy and as it was expected, it has those wonderful riffs and amazing solos of Chris in combination with the hard vocals of the singer Graham Bonnet. Very interesting are songs like the melodic "She is A Nighttime Lover", (which might remind you the famous Deep Purple's Highway Star,) the nightmarish "Why Do They Do That", and also the "Falling In Love With A Stranger". Chis made the production of the album and the result it's really fantastic. Especially the sound of the guitars is so massy and it seems like it will blow up your stereo! I' m sure that those who love Chris will buy and really enjoy this album. Even if System X is quite far away from the classic first homonymous Impellitteri's E.P. or the great "Stand In Line", I must underline that it is a very descent and remarkable work.
T.A. 7/10