HUGHES TURNER PROJECT
"HTP"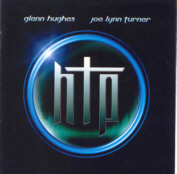 Founding out that Glenn Hughes and Joe Lynn Turner were about to release a new album, would make one think that two dirty-old men gathered in order to remember the good old times, create a big potato and earn some easy money. However having heard Turner's good recent album "Slam", I thought "hey let's hear the project first, it might be good". And I was half right, because the album is not good. It is magnificent! No joking now guys, if this record was released under the name of Rainbow, Whitesnake or Deep Purple, everyone would talk about "the masterpiece of the 00s", "the best come back possible" etc. So why not say the same thing for the two talented musicians? We are talking about a great album of British hard rock, with a variety of sounds and influences, catchy-yet qualitative refrains, a modern production, which avoids bore us to death with retro sounds. We are talking about a record with huge balls! The thunderous first track "Devil's Road" doesn't leave you any chance to ignore this album and leads you to the fantastic world that the two singers have created. Their performance is beyond criticism. I'd only like to add that the whole project brings back memories form records like "Burn", "Come taste the band" and "Difficult to Cure", but everything is filtered through a more modern approach. I also have to cite John Sykes' participation in the composition of the amazing song "Heaven Is Missing an Angel". Good to hear him too after all this time. The album cannot take anything less than...
A.S. 9/10 K.P. 9/10 T.A. 9/10
HARLAN CAGE
"TEMPLE OF TEARS"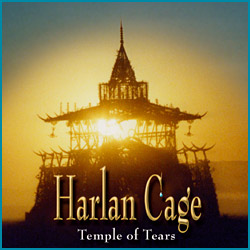 Now I'm pretty sure that in this year, have been released so many good and excellent melodic hard rock/AOR albums, and this specific genre is getting back all the popularity that once had. To prove you all those things that I said above, I provoke you to listen to the new fourth studio album of Harlan Cage. "Temple Of Tears" is a really fantastic album! The album is full of great melodic hard rock songs such as "Any Port In The Storm", "One New York Morning" which was influenced by the terror attacks of September 11th, "On The Nickel" with the southern atmosphere and the slide guitars - a very impressive song, "Just A Face In The Rain" with the melancholic melody in the chorus, "Sin City" a very smooth but energetic rock song, "As You Fly" a deep sad emotional ballad, and the up-tempo melodic dynamite "Later Than You Know". As you have already guessed, Harlan's Cage new album has left me breathless! I wish that Harlan Cage will continue to offer us in the future great albums like "Temple Of Tears"; cause people need to listen to really good melodic songs. Harlan Cage released one of the most beautiful albums in their genre for this year. Melodic hard rock is alive and kicking!
T.A. 9/10
HORIZON
"THE SKY'S THE LIMIT"
The singer/guitarist Patrick Hemer and the drummer Krissy Friedrich formed Horizon in 1998, and "The Sky's The Limit" is the debut album of the band. In the musical part now, although (as it is logical) Horizon are searching for their own style, it is not hard to tell that they have many influences from bands like Rainbow, Yngwie.J. Malmsteen and also if you listen to the album many times you can find some prog-metal elements (from the Dream Theater's school). The album has some very interesting songs, such as, the heavy "Living In Danger", the excellent ballad "Don't Hide In The Shadow" (Patrick's voice will remind you all those "singer-heroes" of the 80's, the guy has a great voice!), and hard-rocker "Keep On Fighting". To tell the truth Horizon is a very promising band and "The Sky's The Limit" is a very remarkable album, which all the fans of hard rock & melodic metal should listen to. I bet that Horizon in the future will surprise us all, cause they can write very good songs. And just imagine that if "The Sky's The Limit" is their debut album how much better will be the next one! Horizon have a lot to give in the hard rock/metal music and with this album they just made a good start!
T.A. 7/10
HAREM SCAREM
"WEIGHT OF THE WORLD"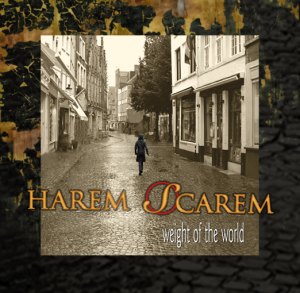 Holy shit! I am still trying to gather up my pieces after this! I don't even know how I am going to make you understand the consequences of listening to this album-dynamite!! All I can say (and although the Webmaster is complaining - using a whip - about this) is that this CD has stuck in my CD-player and it won't come out!!!! For those who don't know them (their first album was released in 1991-this is their seventh studio album) the band plays hard rock-AOR with huge balls crawling on the floor, proving how qualitative such listenings can be. The songs are based on the amazing guitar harmonies and the melodic refrains with the multiple voices. What is stricking is the variety of the songs, which are full of surprises, acoustic cuts, heavy outbreaks, fancy bridges, solos-like-thunder. Of course the production is crystal-clear, modern, yet reminding something from the past. The album leads you through green valleys to stormy seas of pain, in order to wash you ashore in a golden beach, where you will take the long way home amidst roses and fallen yellow leaves and with a wonderful sunset ahead of you. I am still standing like a fool, whispering the words of "Outside Your Window", believing that it is the best refrain of the year so far, and being sure that the album will be among the five best releases for 2002. I know the good releases in this genre are numerous these days, but if you are going to make only one selection, then make it be Harem Scarem's "Weight of the World" and you won't regret it.
A.S. 9,5/10
HUMANIMAL
"HUMANIMAL"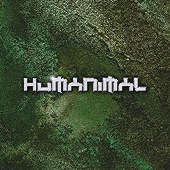 I bet most of you must know Jeff Scot Soto, and especially his works with Yngwie Malmsteen (his works with Talisman are also recommended). Well, for those who have missed him, here is his new band! You are asking if this is good? What a question! Do you know many releases with Jeff on the vocals that are no good? I don't. One more excellent album of melodic hard rock, which sometimes becomes hard enough to flirt with the metal scene. Jeff's vocal melodies have the leading role here and using them as a pillar the band has created magnificent songs. The are guitars also worth mentioning, as the riffs seem to be "sticky", and the solos, without being virtuoso solos, match perfectly with the whole atmosphere here. Come on, you know: fancy bridges, catchy refrains, but above all high standards. I've said this again and I insist: thanks to releases like this we can prove that one can combine catchy songs with top quality at the same time (it is not easy though - you need to have talent!). The most funny thing is that they have "borrowed" Red Hot Chilly Peppers' "The Other Side" for the introduction of "Find my way Home", to such an extent that up to the point that the song changes I thought it was a cover....but then they turned it into a whole different song...much better according to my opinion. Well, Jeff is here...talking is cheap!
A.S. 8/10
KEN HENSLEY
"RUNNING BLIND"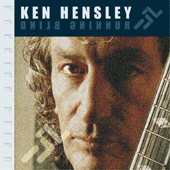 It might be useless to write much about Ken Hensley. What could one say about one of the mainmans behind Uriah Heep's legend?? He has offered numerous eternal anthems to our music and his contribution is priceless! Having nothing else to prove but yet being willing to satisfy his creative spirit he returns this year with one more personal album. The listener shouldn't be carried away by his name branding the CD and believe that the songs are Uriah Heep-like. Ken here seems to be free from all the shadows of his past and produces rock music but not of that epic-rock style he used to play with Heeps. The songs are less complicated, more easy-listening and some of them approach pop forms. As a matter of fact the songs of the album present such a variety that one cannot argue that the CD represents one musical style. For example on the one hand we have the instrumental "Prelude: A Minor Life", which is close to the Uriah Heep sound, and on the other hand "Finney's Tale", which is pop and nostalgic. And the big question: is the album good?? Well, if you are not stuck with Heeps and you can accept that Ken wanted to express himself in a different way, then yes the album is good! In fact it includes some amazing songs like "Out of my Control" and "It's up to you". I liked the album very much and what I would like for the end is that it has loads of quality!
A.S. 8/10
HONEYMOON SUITE
"DREAMLAND"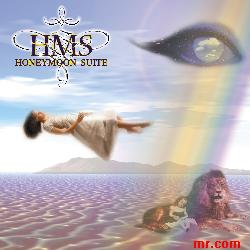 How many of you are familiar with Honeymoon Suite? …Well is about time to find out the great music that Honeymoon Suite play. "Dream land is the new album of the band, which contains some new songs and the best songs of their last year's Canada release "Lemon Tongue". The band again is playing fantastic melodic rock, which, I think is one of the best soundtracks for the relaxing and cool days of summer. Highlights are the superb hit "Still Lovin' You", the catchy rock "So Hard", the likable "The Way I Do", the melancholic modern rock "Undone" (it's not bad to be influenced from the modern rock of our age and from bands like Goo Goo Dolls) and the simply magnificent "Lagavulin" with the deeply touching melodies and the emotional vocals of Johnny Dee. This ballad can become a big radio hit! So, do not spend your valuable time to find out a good and listenable melodic rock album for the summer. Honeymoon Suite released that album and it would be a pity if you missed it. No more talkin' then: buy "Dreamland", relax and let the music play!… So here I am, lying here missing, wherever you are…I'm still in love with you!
T.A. 8/10 K.P. 8,5/10