Firstly congratulations on "View From The Top"! I think that this is the
first time that Grand Illusion having an interview for a Greek webzine. Is
that right? So introduce us the band.
A: Yes, this is the first interview for a Greek webzine. But all the guys in the band, as many other Swedes, are really crazy about Greece. We really like to go to Greece and relax in your beautiful and friendly country. Myself for example I love the islands of Naxos, Patmos, Samos, Chios and Santorini. I have been to many other places in Greece but those small islands are my favorites. The band consist of two brothers; Peter Sundell, lead singer and Christian Sundell, drums, Per Svensson, vocals, Anders Rydholm, guitars, bass, keyboards and Ola Karlsson, lyrics. Four of us has played together since 1986. It's just Ola that only has been with the band the last 5 years.
Who is that he is watching the "view from the top"? What is so special when you have to see the view from the highest place? Are you referring to something specific with this?
A: "View from the top" is a continuance of our last record "The book of how to make it". We tried to find a funny title that was like a next chapter in our life. It sounded much more fun to be on the top than in the other end of the line. Our biggest problem will be to find the next album title. From the top there are only one way to go. Or???
Can you mention some things about the lyrics of "View From The Top"?
A: Ola has written lyrics about many things on this album. There are songs about Bill Gates and his Microsoft. The right to be obstinate! Junkies! Love ballads! Loose women! Soap operas! Quite wide and different lyrics if I may say so.
The artwork on "View From The Top" is great. What's the connection between the artwork and the lyrical concept?
A: The biggest connection is between the title of the album ­ the cover and the photos. There are no lyrics on the album that refers to "View from the top". On the last album we had a song that also had the same name as the title of the album "The book of how to make it". But for this album we didn't think that any of the song titles were good enough to make it as the album title.
What makes the Illusion so… Grand? Can you tell us what's the story behind the band's name?
A: We have two very good lead singers that compliment each other very well. Peter has an extreme high-pitched voice and he sings higher than anyone I ever have heard. Live or on any record. His range is unbelievable. Per has a more powerful and harsh voice and he sings very emotionally. Together they sound gorgeous when they do background vocals. So we try to use their abilities to sing as much as possible. Good songs with a lot of melody is also very important to us. I want people to be able to hum or sing along with the song almost immediately. I don't want to tell people that you have to listen to the album 10 times before you will come into it. Nobody has the time for that anymore. Music that doesn't awaken any feelings I will never come back to for a second listening experience.
Do you think that "View From The Top" is a step forward for the band, in comparison to your previous albums?
A: I think that this album is a step in the right direction for the band. The songs are much more consistent than on the last album and Peter and Per sings better than ever before. But it's important to try and continuously move the boundaries and make better and better music. If I would think that this is the best I can do ­ how could I then go on? We will of course try to take it to a new and even higher level on the next album. Otherwise is no use to try to record something more.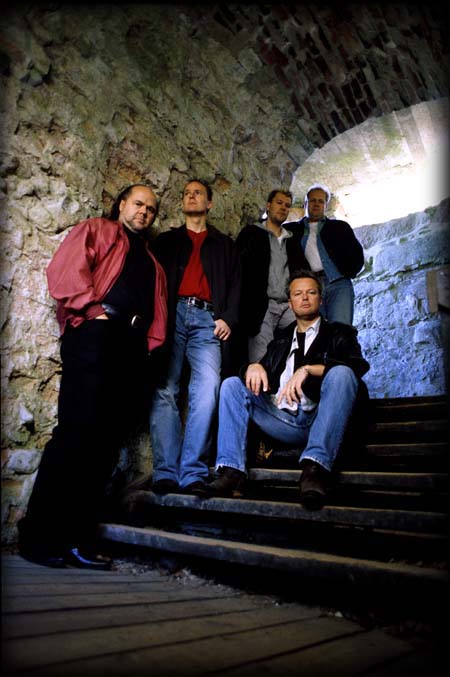 What are the things that inspire you to write such a great music?
A: It's the ordinary things in life that starts my process of writing music. Things that make you feel good or miserable. That in-between condition when you just are feeling ok is no good for writing music, it's the extreme conditions that create the best music.
What are your influences as band when you're composing your music? I' ve noticed many music influences from bands like Styx, Kharma, Toto and Queen. Do you agree with that?
A: Toto, Giant, Styx, Queen, Kansas, Journey, Survivor, Mr. Mister are bands that has meant a lot to the band members. We still listen to these bands both new and classic material because they have made a lot of really good albums.
Where do you think hard rock/metal music is heading?
A: It looks like the trend with heavier and not so much melodic bands are makin' it big now. I am not so much into that. For me the melody always comes first. Rhythm or lyrics is not that important.
Which will be the trend in the future and which records show more clearly this "evolution" in your opinion?
A: If I could answer that question we would be world famous and I would be rich. I hope that the future would bring us a lot of melody based rock'n'roll and heavy metal. But I am not so sure that's the trend for tomorrow.
And now we go on with the "Weird Questions"!!! Imagine that your wife is selling your whole album-collection just to buy for her an expensive, good ring. How would you react?
A: I wouldn't be surprised because she "loves" everything that glitters but I probably would have to divorce her. Music is everything to me and it's important to share the best things in life with your partner. If she can't respect that then there's no ground for a marriage. My wife loves gold and jewels but she also loves music so I am positive that your scenario above never would happen. But I once dated a girl that tried to decide on what days I could write music. She's no longer on my dating list.
Well, those were my questions. Add anything you want for the end. I hope the best for you and Grand Illusion. Take care my friend.
A: Thanks! We could just hope that Greece gives Grand Illusion a chance by listening to our music. And soon you will meet the guys of Grand Illusion on a beach in Greece. We really love your country. Peter,
the lead singer, should have been on Crete this week but he unfortunately had to cancel his trip due to some family reasons.
Take care
Anders Rydholm
by Thanos (Mc) Aggelakis & Kyriaki Petraki