GRAND MAGUS
"GRAND MAGUS"
Well first of all let me tell you a short story. Once upon a time there were three persons from Stockholm, Janne (vocals-guitar), Fox (bass), Trisse (drums), who lived in the 00's and they believed that not a single day had past from the 70's, so they insisted to play pure 70's hard rock! Now you can guess what's the name of this band! Grand Magus! Their style is a mix of hard rock with blues and with a little dose of stoner rock. The funs of the 70's hard rock and of the Stoner will be very glad if they listen to such a release. Really this album can take you back almost 30 years, but without becoming boring or being old-fashioned and without loosing the freshness of the 00's. If you like hard/stoner rock and bands like Mountain and Cream and Spiritual Beggars, this record is just for you. Personally this kind of music is not one of my favourites, but I can tell that songs such as "Legion", 'Never Learned" and " Lodbrok" have a true hard rock 70's feeling and Grand Magus have also the quality that a few bands have nowadays!
T.A. 7/10
GLUECIFER
"BASEMENT APES"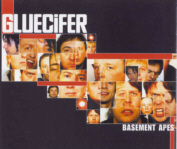 This might be the best album of the guys from Norway. An album full of straight, dirty rock-n-roll, embellished with heavy riffing. I am sure that Gluecifer is one of the great names of the genre these days. Short songs that stuck directly in your head and remind you a bit of AC/DC, Motorhead, Hanoi Rocks, Ratt etc. Furthermore some songs carry punk influences, something of a cliche for this kind of music. It's a good album, but sometimes I have the feeling that I am listening to the Kings of the genre, The Hallacopters. And to be honest I prefer listening to the original. However it is not fair to compare Gluecifer with The Hellacopters. If you are into this sound and you are looking for a good hard-n-heavy album, then "Basement Apes" is a good proposition for you. By the way the song "Losing End" is a hymn!
A.S. 7,5/10
GOLDEN FARM
"ANGEL'S TEAR"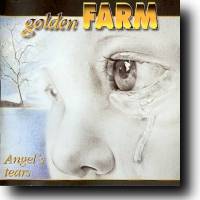 I have noticed lately that many bands (new and the old ones) are releasing very good and excellent melodic hard rock albums. And that is something that I really like cause the specific kind of music is one of my favorites and also this is against all the seers who said that good and quantity hard rock music doesn't exist anymore. Maybe I should recommend them to listen to Golden Farm latest album "Angel's Tear". This an album full of excellent hard rock melodic songs, like " I Can't Tell You", Tears Of Loving", "Everything Sometimes", "Why These Years" and the unique rock-ballad "Time After Time", which you're going to love from the first listening of this admirable album. Of course a few songs of this album such as "I Want To Know", "They Say" and "When The Morning Sun", have all the presuppositions to become radio -hits and generally those songs can't be written from anyone and everyday! If still I haven't persuaded you to buy or at least to listen to this album…well it's ok with me but you're gonna loose some of the best and sentimental songs of this year and not only. And something else that I want to add is that if you like hard rock/AOR music and you haven't listened to a really good album for a long time now, Golden Farm's "Angel's Tear" will compensate you and that's a fact!

T.A. 8,5/10
GENEROUS MARIA
"COMMAND OF THE NEW ROCK"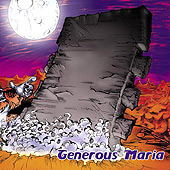 This band struck my attention because of the name in the first place. Quite an unusual and intelligent name for a band, right? But then the title of the album is a bit silly..."new rock" ...bullshit! There is only one rock music. Furthermore their rock music is totally not new! They play old-fashioned heavy rock, or what came to be known as stoner rock, which sometimes reaches the doom frontiers. Guitars are tuned low, the songs are mostly mid-tempo, and the music is as if it is crawling in the mud. Thank God the vocals are rather clear, something that makes the listening pleasant. Now, do they have to offer anything new to this stoner movement? I don't think so. The album is quite good for what it represents, but I doubt that they will trace any new roads with their music. But does every band open new roads with each album? Definitely not. So why do I mention that? Maybe because by listening to the album I get a feeling of being incomplete. I expected throughout the album for something great to happen, but it never did. The band plays "safe" without daring much. There are some really good songs like "All Good things" and "Bridge out of time", but at least to me the album is missing something. However this Maria is much more generous than many others that I've known, so...
A.S. 7/10