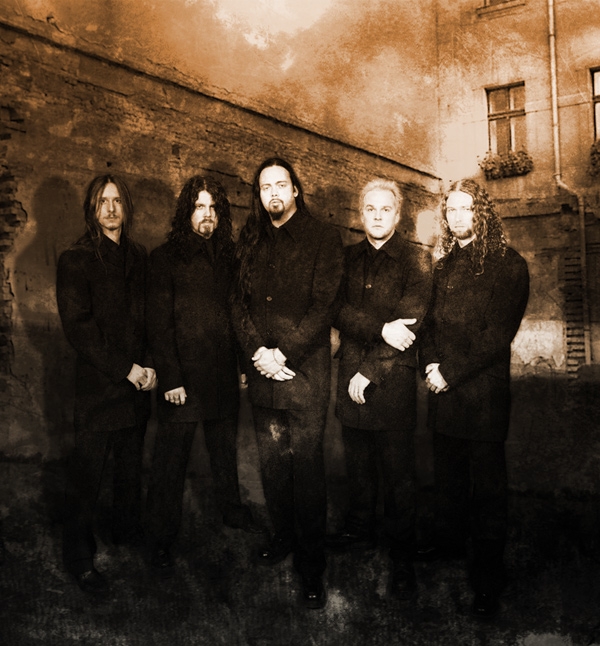 Hi Henrik and congrats on "Recreation Day". What's the response of the album so far?
H: Hi there Thanos and thank for the nice words too, bro... The response has been fantastic so far and all fans and press have been giving us very good ratings and the sales are up like never before so everything is fucking great thank you.
Do you believe that "Recreation Day" is the best album that Evergrey have released till now?
H: I would say that "Recreation Day " is our most direct and powerful album to date and the sound is better than ever as far as production and engineering goes. This is what Evergrey is about in a live show and that's raw and no bullshit...
I have noticed that Evergrey have created their own sound as a band an you can understand an Evergrey's song from the first seconds of the song! How do you managed to achieve such a thing? What do you believe is the secret for a band to create its own sound?
H: I think you need to believe in your own self when it comes to writing songs and lyrics. You can't check out what all the other bands are doing at the moment and what kind of metal is "in" at the time...If you play/ write the style you wanna play and listen to the trend will come to you and not the other way. I hate when a band that I like try to be nu-metal when they started out as an death metal band or when a good old rock and roll band try to be an angry hard core band because its not true and it shines trough...be your self and write song you wanna hear period...and hopefully some other people like it as well but ALWAYS write for yourself first and fuck the trends…
When do you think that "Recreation Day" will come and how?
H: Everybody has to recreate their souls once in a while…cleanse yourself!
Evergrey's music has always a sad and melancholic feeling. Is there any particular reason for that or it's just a way that you express your selves?
H: Like I told you we just make good music, next quiz please...
Who is the "Great Deceiver" that you refer to on the opening track of the album?
H: The great deceiver can be anybody ...Everybody has been fooled by people that you think /believe are nice and good people but turns out to be false and real backstabbers just using you and fucks you over and then moves on to next target ...I know all lot of great deceivers...it could be an old band member....
Do you really believe that there is an "Unforgivable Sin"?
H: Yes the song is about a catholic priest that is a child abuser hiding behind his religion and in my book that's an unforgivable sin... they should thrown out of church and burn alive those fuckers...Hell I would lit the torch myself…
Once more you manage to have a really "strange" cover. Who is responsible for it and how does it fit with your album?
H: Me and Tom and this guy named Mattias Noren co did the cover ... We found the picture of the crying kid and Mattias took it from there and then I and Tom came up with suggestions. I think the cover suits the album really good…
Now I would like you to tell me a few words about each one of the songs. Just a line or two for each song.
H: 1. "The Great Deceiver": A real powerful song and a great opener on the album. Subject already been talked about...
2. "End Of Your Days": This is also song number 2 in our live set now …a real good straight forward rocker…Lyrics is a bout a father having a kid with cancer and they only have a couple of days left together...
3. "As I Lie Here Bleeding ": Still an even flow of power and this song have to of the best solos on the album. Lyrics talk about a guy hanging him self but he wants somebody come rescue him from it …
4. "Recreation Day": One of the best songs on the album. Starts of with heavy detuned guitars and then leans in to one of the greatest song we ever made, very beautiful and soulful. Lyrics is about getting on with your life after a great loss…
5. "Visions": Probably the most prog stuff on the album. Very dark a horror chorus and an eerie feeling over the whole song great drumming from Pat…
6. "I'm Sorry": A great cover song that we made even greater....
7. "Blinded": Straight forward take no prisoners kinda song this is our song number 1 in our live set these days and its a killer song…Lyrics is about false people. Written about an old band member...
8. "Fragments": Very dark and sadful song about memories from the past haunting you…feature the first death metal scream from Tom on a record the first guitar fills was a real bitch to record tight...
9. " Madness Caught Another Victim": All acoustic song mostly recorded in Tom's kitchen. Lyrics about having to make a choice.
10. "Darkest Hour": A nice little tune with a real strong chorus and some real nice Pink Floyd parts and Carina singing her ass off and great playing from Richard.
11. "Unforgivable Sin": Last song on the album and a very strong topic that we talked about before…A great last song that leaves you wanting the next album real bad...
And some Weird Questions now!!! If you were living in Middle Earth (I hope that you have seen or read the Lord Of The Rings) which character would you choose to be and why?
H: I wanna be Aragon because he is a very righteous man and he has the most beautiful women loving as well...(interviewers note: If you mean Liv, I totally agree!!!)
Do you believe in luck and in coincidences or do you believe that the human mind and will can affect all the things in life?
H: I really don't know but I believe in hard work and dedication and then you will make it...
Imagine that your wife/girlfriend is selling your whole album-collection just to buy for her an expensive, good ring. How would you react?
H: I can't answer that question without coming of as and real brutal asshole and I'm not but I would probably throw her out and start to fuck all her friends… hahaha!!! (interviewers note: What an excellent reaction!!!)
How do you imagine that the music world could be, one thousand years from now? And why?
H: Strange quiz bro... I think that all the instruments still exist and beautiful is coming out of them just like now cuz music will always be here with us.
Ok Henrik! My questions are over! First of all I want to thank you for your patience and I want to wish you good luck and success 'cause you deserve it. So I leave the last words for you. Send a message to the fans.
H: OK people thanks for taking your precious time and read my bullshit. Check my band Evergrey out and hopefully I see on tour real soon…Hail Satan!
by Thanos Aggelakis