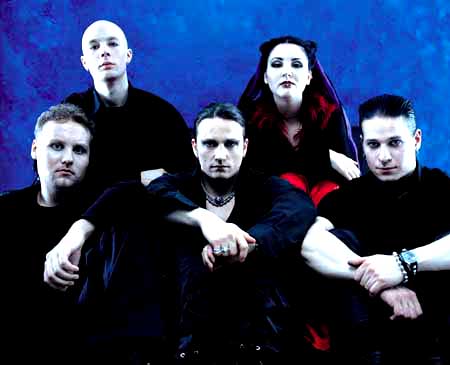 1.First of all accept my compliments for your new album. Tell us all the

latest

news from Entwine and introduce us the band.

A: Thanks! The current line-up is:

Mika Tauriainen –voc

, Tom Mikkola –guitar

, Riitta Heikkonen –keybords

, Jaani Kδhkφnen –guitar (the new guy of band)

, Joni Miettinen –bass

, and me Aksu Hanttu –drums

. Latest news.. On the release week "The Pit" single got straight to top 6

position on finish official single chart and also on the release week "Time

of despair" album got straight to top 24 position on finish official album

chart. 29.4. we start a European tour with Theatre of tragedy and Ram-Zet.

We have 18 gigs around Europe. Here are the tour dates:

29.04.2002 Hamburg (D) Markthalle

30.04.2002 Offenbach (D) Hafenbahn

01.05.2002 Halle (D) Easy Schorre

02.05.2002 Zwickau (D) Alarm

03.05.2002 Wien (A) Planet Music

04.05.2002 Salzburg (A) Rockhaus

05.05.2002 Gerolzhofen (D) Geodrom

06.05.2002 Pratteln (CH) Z 7

07.05.2002 Paris (F) La Locomotive

08.05.2002 Vosselaar (B) Biebob

09.05.2002 Bochum (D) Zeche

10.05.2002 Bad Salzungen (D) Kalle Werke

11.05.2002 Malmφ (S) KB

12.05.2002 Gφteborg (S) Musikens Hus

13.05.2002 Stockholm (S) Klubben

14.05.2002 Oslo (N) Rockefeller

15.05.2002 Bergen (N) Hulen

16.05.2002 Stavanger (N) Folken

. Our permanent bass player can΄t come on the tour because of his personal

things. So, we had to educate a session bass player to tour. But don΄t

worry, this guy is also very good bass player and he also looks very cool on

the stage!

2.You are in Entwine since their beginning. Which of the dreams you had for

the band have and which haven't been realized yet?

A: So much is already happened.. Actually I΄m already pretty satisfied to

nowadays situation concerning the dreams of Entwine. But of course hungry

grows up all the time.. And of course we want to get as far as it΄s ever

possible with Entwine! But really, it΄s good enough for me when I can play

drums, fulfil my self and can go to professional studios to make albums with

good budget.

3.Do you imagine Entwine without you in them? Could there be such a

possibility,

since you are one of the founding members?

A: ..No.. Our singer Mika sometimes says that there are no Entwine without

me.. It feels good. One thing is a fact, Entwine would have never born if me

and Mikkola hadn΄t met!

4.which is the perfect place that you suggest for someone to enjoy your

music?

A: Oh, there could be so many different places.. There are as many different

places as there are atmospheres on our music. It depends what song I want to

introduce. If the song is "Until the end" for example, the right place could

be some beautiful rock beach with sun set and everything but if the song is

"The pit" for example, the right place could be some more different place..

On some party for example..

5.How did the idea for the name "Entwine" come about? Who's idea was and

what does it mean?

A: When we started to play that kind of new style we just tried to find a

new name which suits to our new style as well as possible and also probably

could tell something of our music. Our guitarist Mikkola proposed that name

and it felt very good and so we decided to take this name. Entwine means

same as embrace.

6.Can you tell me your opinion about the Internet and the ease that anyone

can promote himself over it?

A: Internet is very important to me. Connecting people and everything.

Actually mostly I just use Internet to connect people.. And of course it΄s a

very important way to promote one΄s own band. I don΄t know about the case

that people promote their selves over it.. I haven΄t ever dash to it.. Or

that΄s what I think..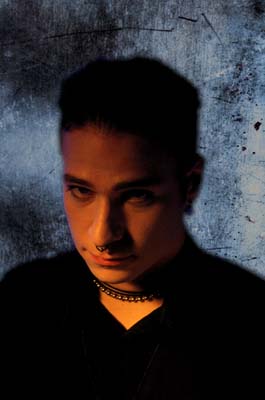 7.Which are the plans to support the new album? Are there any dates or shows

booked yet? Which is your favorite song of the new album?

A: As I already mentioned, we΄ll start an European tour with Theatre of

tragedy and Ram-Zet. Favourite song of the new album.. It could be "Time of

despair". Very melancholic and beautiful song with a lot of atmospheres and

feelings. On the lyrics there is a lot of bitterness and despair. Music and

lyrics suites very well to each others on this song. I liked it very much

already on writing process but the other dudes didn't΄t like it so much. I

felt already then that it sounds like the last song of the album. The

feeling and everything.. The producer Anssi Kippo forced Mika to change his

vocal melodies on the verses and then it sound even more better than

earlier. Finally every dude liked this song very much.

8.And now we go on with the "Weird Questions"!!!…..I will give you 5 words,

and you will tell me what album do you believe that describes best each word.

a)Darkness , b) Pain , c) Melancholy , d) Hate , e) Tears

A: Maine Gott! Why your words are also so difficult..? OK. I΄ll try.. a) The

treasures within hearts, b) Time of despair, c) Gone, d) Time of despair, e)

Gone

9.If you were the DJ on a "high society's" party where it was full of VIP's,

which 5 songs would you choose to play in order to wake them up and make

them

"high", or make them to freak out completely?

A: Hahaha! This is a funny one..!

Rammstein –sonne

, Machine head –davidian

, W.A.S.P. –wildchild

, Slayer –dittohead

, Brutal truth –walking corpse!

10.If Aliens kidnapped you and you were forced to give them 3 albums of

Metal music so they could finally discover why that kind of music is so genius,

powerful and divine…Which ones you would choose to give them? And why?

A: Haha! I really like your questions! Anyway,

Rammstein –Mutter. German precise heavy metal. Sooo fucking good album! One

of the best ever!

W.A.S.P. –W.A.S.P. Classic. Just so classic album!

Sentenced –Down. Best album from these Finish metal maestros! Best album to

describe the true finish melancholy and bitterness!

11.Ok, Aksu, the last words belong to you…thank you for your time! Keep on

the good metal work!

A: As we already talked about the promotion on Internet, I have to advertise

of our websites..

So, please, visit on our websites www.entwine.cjb.net and if you haven΄t

heard our music yet, you can download mp3 samples from our website. There

are also merchandise link where you can order some entwine stuff (CDs,

shirts, posters, etc…). Feel free to contact us by email:

entwine_@hotmail.com or by letter: Entwine PL 95, 15141 Lahti, Finland.

See you soon on tour!

ROCK ON!!!

by Kyriaki Petraki