ENCHANT
"BLINK OF AN EYE"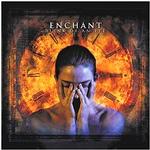 Enchant is one of the secret treasures of prog rock. I really don't know why they don't have met much more success, rather remain "hidden". Anyway, I think that this CD can be a breakthrough for them, as it might be their best release so far (I think this is their 6th album), even if I am still stuck with "Blueprint of the World". For those who are not familiar with their music, I can tell you that they play modern prog rock. For those who still didn't get the point, imagine a mixture of Marillion, Spock's Beard, Arena embellished with Genesis and Soul Cages. However Enchant have created their own musical stigma, so that one who has listened to one of their albums can definitely recognize them at once in the future...it is this feeling in the guitars, the all around melancholy of their music and of course the voice...In this new album they haven't changed their style, neither present anything really new. However, it seems that they just wrote some of their best songs ever. As a matter of fact the songs here seem to be more complete, better structured with clear beginning-middle-ending. In short they are much more substantial. Don't ask me to propose a couple of songs. You have to listen to the whole album to understand it and get into its meaning...as happens with most prog releases after all. Just open your ears.
A.S. 9/10
ENGINE
"SUPERHOLIC"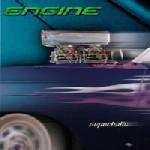 Engine is the solo project of Fates Warning's singer Ray Alder. For the beginning I have to say that Ray according to my opinion is one of the best singers I've ever heard! But don't be misled as in this album he doesn't sound like Fates Warning at all. For those who have heard the previous Engine album, they know what to expect. Industrialised, heavy, Tool-like in parts music. Even Ray's vocals are much "harder" and in some parts a bit distorted - not brutal. To be honest I do understand Ray (and Joy Vera who plays the bass here) who wanted to "escape" from Fates' sound. After all this is what side projects are for. However my obsession with Fates (one of my 5-6 favourite band of all time) doesn't allow me to be devoted to this effort. The CD is very good and the songs well structured (what strucks the attention is the amazing rhythm section which is as tight as cement on the foundations of a skyscraper), without being boring or anything like that. In fact fans of this sound might appreciate this album a lot. As for me, I wait with anticipation Fates' new work.
A.S. 7/10
ELEGY
"PRINCIPLES OF PAIN"

Elegy seems to be veterans of the genre. I think they must have a 10-year history on their back. I have to admit that I always liked their kind of music, this prog/power based on Henk Van Den Laars's magnificent guitar work. However their last couple of efforts were a bit disappointing. Not that the records were bad, but for sure below the huge capabilities of the band. I anticipated listening to their new work, as I had the feeling it could be a really good album. And it is more than that! Elegy seems to have returned for good with a fresh, smashing record. There aren't many experiments with their music here. They play what they play best: prog metal with power outbreaks. They remind me a lot of their "Supremacy" album but I dear saying that the new one might be better, as it sound much more mature and Ian Parry's vocals are pretty enchanting. The songs have this quality that with each listening you get to penetrate more and more into them. So the record becomes better and better with each listening. The keyboards contribute to the maximum towards the creation of paranoid/mysteriousatmosphere...I strongly recommend you to listen to the magnificent anthem "The Inner Room", which might haunt you for long! Choral parts embellish the songs here and there. We are talking about a really complete album. Try it.
A.S. 8,5/10
ELECTRIC WIZARD
"LET US PREY"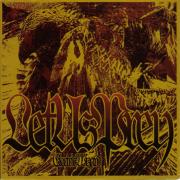 Electric Wizard is band that comes from England and "Let Us Prey" is their new work. I was never into this band and I was easily getting bored from their long play monotonous songs. And now with their new work this doesn't change at all: Long boring playing songs (a riff can be repeated for 9 and more minutes! And I really can't see a purpose on doing something like that), insipid vocals and a really noisy production, where you must make a good try to listen to the vocals and understand the lyrics. In few words, monotony characterizes this album, and the only song that saves the whole situation is the psychedelic and "sick" "Night Of The Shape" which is based on a piano melody. If you are not fun of this kind of music (doom/extreme metal-no this is not "stoner"), you'd better stay away from this release. Also if you are fan of this band and you love doom metal, maybe you'll like this album very much. Personally doom metal is not one of my favorites music kinds, and especially I'm getting bored very easy when I'm listening to such noisy and monotonous albums like "Let Us Prey". Maybe I'll never like this band.
T.A. 3/10
ENSHADOWED
"MESSENGERS OF THE DARKEST DAWN"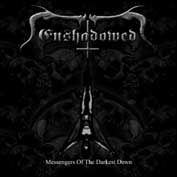 Enshadowed is another Greek black metal band. But although this band comes from Greece they do not follow the beaten track that Greek bands play black metal music. They have many influences from the Norwegian black metal and the songs are mostly fast-tempo. Even though their music style is old-fashioned, they have some songs that you might like, like "Northbound". The album is surrounded by frozen atmosphere and is full of evil screams! My only objection is, that I don't like the old-fashioned black metal image, which is outmoded, and the silly lyrical concept but also the artwork of the album. The times have changed! All those things were really trendy in the beginning of the 90's but nowadays? You might be called ridiculous if you do such things. Black metallers try somehow and listen to the new -debut album of Enswadowed and let's hope that in the future they will fix all those problems that hold their music back.
T.A. 4,5/10
EVIDENCE ONE
"CRITICIZE THE TRUTH"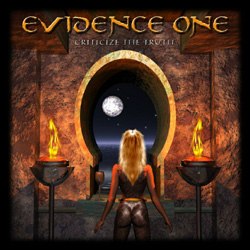 Evidence One's debut album was a really surprise for me. So for those who might wonder who are Evidence One I must inform them that this band is a side project was formed by the guitarist Robby Boebel (Frontline), the vocalist Carsten Schulz (Domain), the bassist Thomas Bauer (Frontiline), and the drummer Roger Tanner (Shakra). So anyone who knows the bands above might understand how good is "Criticize The Truth"! And surely it is! Evidence One is not another side project that has nothing to offer to the music, but it was formed to offer us one of the best debuts for this year. I'm sure that if you listen to the album, it would be easier for you to find out what Evidence One means. "Criticize The truth" contains many incredible songs such us, "Trust Vs Heart", "frozen In Time", "Fool's Gold", "different Worlds, Different Times" and "Heavy Heart Betrayed". As it concerns the music style of the band, I would characterize it as melodic hard rock/metal music with some power metal elements. I believe that from what I said above you may have a very good idea of how Evidence One sound. But trust me cause when you listen to the album things will be much better! Is one of the biggest surpises for 2002. Don't miss the chance to taste it!!! I hope that the band's further releases will be as amazing as this one!
T.A. 9/10 K.P. 8,5/10
EIDOLON
"COMA NATION"
Well I was looking forward for a long time, to listen to the new album (Coma Nation) of Eidolon; cause the previous release (Hallowed Apparition) from the band was very good. And here we are again: The album begins with a very interesting intro, which is called "Nemesis" (Nemesis is the ancient Greek Goddess of punishment), and after that, the homonymous song from "Coma Nation" begins. A speed-almost thrash song where we can listen to, for the first time, the voice of Pat Mulok, the new vocalist of Eidolon. To tell the truth I prefer Pat in the vocals than the previous one, cause he has more abilities in the way of singing and his voice fits better with Eidolon. Another excellent song is "Scarred" (maybe the best of the album), almost mid-tempo (the tempo in this song changes so many times!) I could say, with a very beautiful acoustic break in the middle of the song. In this point I have to say that the album is very heavy with many speed/thrash elements, and that is something that I didn't expect from the band cause the sound of Eidolon, till now, was closer to the heavy/power music. The production of the album is extremely good and the work that they've done on the guitars (what a sound!), the vocals and the drums is incredible. Some other - killer songs are "From Below", "The Pentacle Star" and "Lost Voyage". Coma Nation is a very interesting album from a band that with every new release is growing bigger.
T.A. 8/10 K.P.7/10
ELFMAN
"COMMON SKY"

If I'm right, "Common Sky" is the debut album of Elfman. The strange thing with this band except their name of course, is the music that they play. To be more specific I will say that sometimes they approach the 90's rock sound (with some electro elements) followed by many nu-metal breaks in all their songs. Maybe reading what I said before confuses you, but things here are quite simple. Elfman seems to be searching to find their music style and that's why their first work it may confuse many of you. But it would be a pity not to say that the have some very good ideas in some songs like "Why Don't You Say" and "Glory D." (Where they appear to have many influences from Rage Against The Machine) however they also have a long way in front of them. But first of all they must clear their musical influences. Well, I'll suggest to the fans of nu-metal and especially the fans of RATM and System Of A Down to try somehow to listen to "Common Sky" cause they many like it or they may find many interesting elements in their music. Judge on your own.
T.A. 7/10
EASY RIDER
"REGENERATION"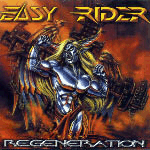 Even though their name will bring on your mind the almighty 70's rock and hard rock period, I must warn you that the Spanish Easy Rider they play pure heavy/power! The band seems to have many influences from the great band, which is called Judas Priest! "Regeneration", is the fourth album that they have released and although the whole result is not so genuine we can listen to some really heavy and good songs such as the homonymous, the "Stranger" and the "Spectre Of Sorrow". Also I have to refer that the singer of the band seems that he loves the one and only "metal god" Rob Halford! Also in the song "Freedom Fighter" the solo is being played by the virtuoso guitarist Patrick Rondat (Jean Michel Jarre, Elegy, Consortium Project). If the band will manage to create a moreauthentic sound, they will be in position to release something better than "Regeneration" in the future.
T.A. 6,5/10 K.P. 6/10
ECHOBRAIN
"ECHOBRAIN"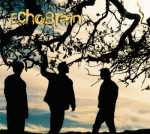 EchoBrain is the band that Jason Newsted (ex- Metallica) has formed, after he left Metallica, and here we got their first homonymous album. To tell the truth I was expecting from Jason to play Metal in his personal band, but I was wrong. Their style is modern art - Rock with nice vocals melodies something that makes this record very listenable. But I must confess that this is not my favourite kind of music and the elements that connect this album with Metal music are very few. Some remarkable songs of this album are "Colder World", "Keep Me Alive", and "We Are Ghosts". Let's hope that Jason will remember his Metal roots and will be back with a Heavy album in a couple of years. Till then… EchoBrain is a band that the metal fans won't like very much. In the other hand the fans of Foo Fighters and Radiohead, and not only are going to like this release.
T.A. 6/10