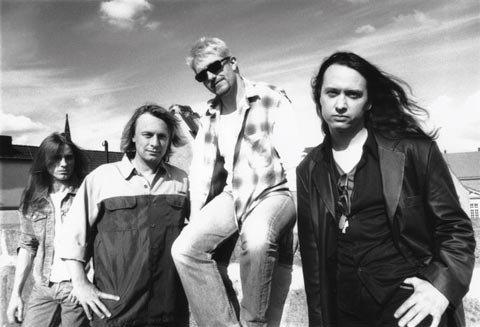 Hello Jochen and let me tell you that I'm sorry that Demon Drive were "forced" to split up. Can you tell us something more about the reasons of splitting up? Reasons that are not included in the official statement of the band?
J: Well, to sum it all up, I guess "frustration" is the keyword! Frustration that develops from lack of CD sales plus a "burned-out-syndrome" from fighting windmills for so long ... All four members agreed on the decision to split up and do something new without any hard feelings. Just sadness I have to admit, though. Sales for "... four play!" were so ridiculously low, that we didn't see any chance for a future album. You wouldn't believe how little such a "highly reviewed" album (the majority of the reviews were over 85%) sells ... it's not even funny anymore compared to the energy it takes to produce it and get the message out to the people. Not to mention that extra video we shot for it ... When we brought DD back to life in 2000 with the "Heroes" album we wanted this band to grow with every album. Let me point out once again, that we were a real band with four equal members. Rehearsing and meeting at least once a month, writing songs, hanging out, discussing the future ways ... unlike so many other bands that release albums who have never even met each other just dropping names and performances ... The whole infrastructure behind the band like management, promotional office, musical department, website and of course labels grew very naturally over the last three years. Got more and more professional since everybody in the band and the people around us did what they could do best. Everybody had his job in the company Demon Drive. The only thing that didn't increase were albums sales. Well, all of a sudden you find yourself putting in way more than you would ever be able to get back. That's when you have to draw the line ... and we did!
Now let's go to "…Four Play". Would you like to tell us a few words about the meaning of the title? Why do you decided to "play" in the title with the expression "Fore Play"? If I'm not wrong.
J: You're right! There are several reasons we just HAD to use that title! After we had "Rock And Roll Star" finished in 2001 we sent a copy to our friend, legendary producer Michael Wagener. He already told us back then, that the album will make people upset and that many listeners will not understand what we were trying to say with our music. One time I talked to him and he said something like: "... don't think about the reviews … just let these FOUR guys PLAY"!! That was clue no. 1! Besides that, it was our fourth album and it was meant to be the start, the foreplay, of greater things - albums - to come. Well, it ain't gonna happen. (Interviewer's note: That's really bad for the fans of melodic rock music…)
How does the artwork of the album is connected with the title "…Four Play"?
J: We were sick & tired of all these colourful, drawn, fantasy covers that are sweeping over the scene, identifying every album as "melodic rock". We wanted to make sure, that nothing would distract people from the music and the message of the album. Back to the fundamentals of every part of rock music. That's why I chose a very basic layout and artwork ... black and white pics, of course, too ... hahaha ... We always hated that "melodic rock" tag, which the industry & media puts on everything. That never worked for us. "Heroes" was the start of what we thought could simply be a rock band, writing and performing music based on the 70s handmade rock with a modern, but still raw sound. Well, it worked fine for us. We still love our "Rock And Roll Star" album and ".. four play!" was a worthy follow up!
Can you also tell us why do you decide to call the band Demon Drive? Is it an expression or something like that?
J: Back in 1995, when Michael Voss & Angel Schleifer started the band as a side project while Casanova was taking a break. I think it was Michael's idea to pay tribute to our 70s heroes like Suzi Quatro. A mixture of two of her songs: "Daytona Demon" and "Devil Gate Drive". A Demon Drive is when you sit in the passengers seat while somebody is driving like a maniac!!!
Do you believe that nowadays Demon Drive's (or every other band that plays in the same way) music style could be the same commercial at it use to be in the late 80's?
J: No! We've all grown up! Our lives have changed, so has our musical taste. Progress is the keyword. Or would you like to live in the same apartment you lived fifteen years ago? Drive the same car you drove fifteen years ago or do the same job you did fifteen years ago? I don't think so. We're all heading towards the future ... longing for every progress possible, but when it comes to musical acceptance ... I don't know!
Now let take you again in the reasons that you split up. Did your label ask you to do so or you decided yourselves?
J: It was our decision, of course. And it was everybody's wish (in the band) to bring it to an end! Our label was actually pretty pissed about our decision!
I think that it is very bad for a talented and so great singer like Voss not to sing in a band.
J: Tell me something I don't know ... (Interviewer's note: What else can I say???!!…)
You and the other two members of Demon Drive are looking for a band to play. Why don't you form a band? And then I have an idea…Why don't you take Michael Voss as the singer in that band?! (A dream but who knows maybe it will come true!)
J: It would be Demon Drive and the same reasons would lead to the same decision.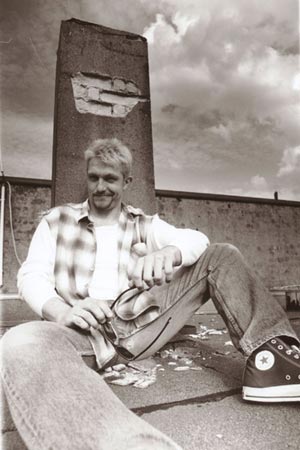 Let me also take some years ago and ask you which were the basic reasons that Casanova split up? Some people, including myself, still think that this band had all the potentials to be a first rate hard rock band. I still think that your first two albums are so great! And why did you decide to make a cover or better should I say a remake of the rare "Here Comes that Feelin' Again"?

J: You're damned right! Casanova had everything to look forward into a bright future ... before grunge came! We were at a very delicate state of our career when it happened.

Back in those days before Eddie (Vedder) came along, preaching and weeping that same sad song over and over again ... The reasons why Casanova split up were mainly because of musical differences and different views of the bands future.

"Here Comes That Feelin' Again" was a B-Side of a Casanova - single, never released on an official album… and simply too good to be forgotten. Like you, everybody always refers to the first two Casanova albums whenever they speak about the band. What people don't considerate is the fact, which new, naturally grown Casanova music would sound like Demon Drive. Even more modern, maybe like INXS. We all know, that the people who are supposed to buy this kind of music would hate it because it would be unexpected and different. And we would have to split up again because of lack of CD sales, hahahaha ... Unless we grab our spandex pants and hairspray and "construct" an old 90's album, hahaha ... (Interviewer's note: What a wonderful era!!!…)

And some Weird Questions now, so to relax somehow!!! Which is the biggest unfulfilled aim or wish for your further life?

J: Dinner with Gene Simmons, sell out the biggest concert hall in my hometown and stay healthy till I die!

Imagine that your wife is selling your whole album-collection just to buy for her an expensive, good ring. How would you react?

J: She's got every right to do that! She paid for most of my CDs anyway... (Interviewer's note: Jochen rulezzz!!!…)

If you were living in Middle Earth (I hope that you have seen or read the Lord Of The Rings) which character would you choose to be and why?

J: Bob Catley, but with an even bigger hat!!!

Well maybe this interview is the last from Demon Drive, so is there anything you would like to mention, but I didn't ask you?

J: Thanks so much to the people who always supported "our little Rock & Roll band", either buying our albums our helping to take DD to the next level. We know who you are! Actually we almost know everybody personally who bought the album ... hahahaha ... (Interviewer's note: What a really incredible guy!!!…)

(Interviewers note: In this point I'd like to say a great thx to Jochen who is really one of the best musician that I have talked with and he has also given me a great help. Jochen thx for your help and be sure that we'll be in touch...)

by Thanos (Mc) Aggelakis