THE BEST ALBUM OF DECEMBER
HANOI ROCKS
"TWELVE SHOTS ON THE ROCKS"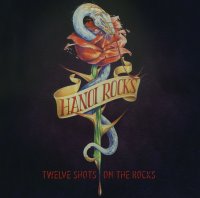 It's already a fact! Hanoi Rocks are back! That great band has returned with an excellent new material! What a superior way to end a very good year such as 2002, with a new album of Hanoi Rocks!!! Believe it or not "Twelve Shots on the Rocks" is one of the best albums that Hanoi Rocks have released and also one of the best comebacks of this year. It is true that a few great bands from the 80's returned in the 00's with brilliant works.

So lets take the whole thing from the start. Hanoi Rocks are continuing to offers us great melodic rock 'n' roll songs such as, "Whatcha Want", "People Like Me", and the super hit of the album "A Day Late, A Dollar Short". Also the album includes two very good covers: the one is the rocker "Delirious", originally by Heavy Metal Kids and the other is the slow "Winged Bull", originally by Daryl Hall and John Oates. Furthermore it would be a crime not to mention the two superb ballads of the album. "In My Darkest Moment", with the saxophone solo in the middle of the song, and "Designs on You" that they will surely touch you! In this point I must tell you that saxophone is being used in many songs and as well the rocker song "Gypsy Boots", is a song, which has a lot of harmonica.

It is very hopeful to see amazing bands like Hanoi Rocks to release wonderful comeback albums and to show to the people that the old ones knows exactly how and why to rock!!! All those who hate them will continue to hate them (you losers!) and all those who love them will find another good reason to love them more! To cut it sort in their own words: You think you've seen it all - Watch This - The Best is yet to come!!!
Release Date
2 December 2002
by Thanos Aggelakis 9/10
CURRENT LINE UP

Michael Monroe:
Vocals, saxophone, harmonica, guitars, synthesizers, percussion

Andy McCoy:
Guitars, backing vocals

Costello:
Guitars, backing vocals

Timpa:
Bass, backing vocals

Lacu:
Drums & percussion

TRACKLIST

1.Obscured
2.Whatcha Want?
3.People Like Me
4.In My Darkest Moment
5.Delirious
6.A Day Late, A Dollar Short
7.New York City
8.Winged Bull
9.Watch This
10.Gypsy Boots
11.Lucky
12.Designs On You