DEF LEPPARD
"X"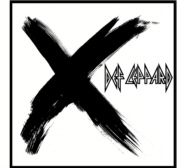 After their long absence of the hard rock scene, Def Leppard are finally back with "X", a new album, which shows that no matter how long, some things are always the same! The band seems to be in a good shape and the 13 new songs will definitely satisfy the fans of Def Leppard. I would range the album between hard rock and rock genre with some pop/rock elements (in songs like "Gravity") and that seems to be my only "objection" in the whole result. Highlight of the album is definitely "Now" (which is also the first single) Even if "X" is far away from "Hysteria" or "Pyromania" there are some songs that have a similar...taste…like the very nice "You're so beautiful" or "Four Letter Word". The Leps also improve once again their talent in writing incredible ballads. Listen to "Let Me Be The One", "Long Long Way to Go", or "Everyday" and you'll see what I mean! I don't know what you may think if you get this album, but as far as it concerns me, I think that Def Leppard know very well the recipe of making damn good albums!
K.P. 8/10 T.A. 8/10 A.S. 8/10
DARK TRANQUILITY
"DAMAGE DONE"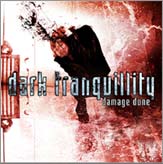 Dark Tranquility's new album is not as atmospheric as their previous one. But I don't think that this is absolutely bad. In the other hand "Damage Done" is a quite heavy album with very few atmospheric breaks and without any clean vocals. It seems that the band remembered their past and heavier days. It is sure that you are going to like songs like "Hours Passed In Exile", "Single Part Of Two", "The Enemy", the very interesting instrumental "Ex Nihilo" and in general all the songs of the album cause they all are have killer heavy riffs! If you are fun of the band then you will surely like, or you will have already buy "Damage Done". It is a fact that Dark Tranquility is a very qualitative band that releases only good or extremely good albums. I don't think that they ever going to disappoint their fans. Also the production of the album is as good as it should be for a band that respect itself and knows how to write wonderful songs. It is useless to say how good band is Dark Tranquility and what kind of music do they play and etc. If you are fun of heavy and melodic music and you also like N.W.O.S.D.M. movement then you will already know, that Dark Tranquility is a super band!
T.A. 8,5/10
DOGFACE
"IN CONTROL"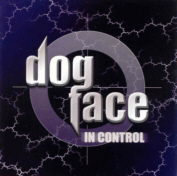 Hmm this band is a very pleasant surprise for me! To be honest I don't have much information about them...in fact I only have their CD in my hand! I don't know if this is their first effort (I think so though), or where they are coming from. But who cares??? The album is pure hard rock dynamite!!!! And by hard rock I mean really hard...not any AOR elements or blues traces here!! I might be sacrilegious but in moments they remind me a lot of Deep Purple during the Mark II and especially Machine Head album! Exaggerating??? Not really, at least you all know what I am talking about now. The songs are characterised by the heavy guitars and the melodic solos, the extended use of old-fashioned keyboards (sounds like a Hammond!!!) and are embellished with multiple voices contributing to the creation of a great atmosphere. The singer is really good: although his voice doesn't resemble Ian Gillan's, he is directly influenced by him and sings in the same way (with extended vowels - and loads of "auch", "oh-oh" and things). Especially in the ballad "Look into my Eyes" is as if I am listening to Deep Purple. But please don't think that they are just cheap imitators!!! They have enriched their music with more elements and the production is modern. Just try to listen to "Not Wanted" and you will understand what I am talking about. Good work! Congratulations!!!
A.S. 8,5/10
DORO
"FIGHT"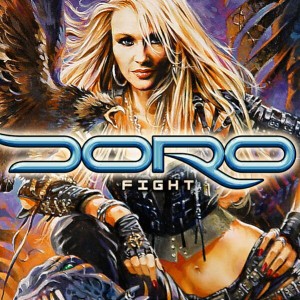 Here is the return of the lady who proves that heavy metal is not only a "man's thing" during the last two decades. Doro Pesch strikes back with a good album full of energy. After all, the German singer deserves our respect for all her contribution to the rock/metal scene. The new album is close to her usual sound: straight, on-the-road heavy metal with guts. No it isn't as good as the "Doro" album, but it surely deserves your attention. There magnificent moments here like "Untouchable" and the "weird" "Salvaje". However one of my favourite songs is "Descend" where she makes a duet with Type O Negative's Pete Steele..really dark touchy song! I don't know what else to write about this album. If you don't like Doro (either in her solo carrier or with Warlock), then I don't think that this CD will conquer you. Nevertheless, if you are open enough you can realise that there are still ladies with guts out there! Give it a try.
A.S. 7/10
DREAM EVIL
"DRAGONSLAYER"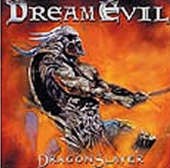 How much time has passed since you've listened to real heavy metal music? And I don't mean all those "true metal bands-bullshits"! But I mean real heavy metal, in the way that was played 15 years ago? I bet that you have a very long time to listen to good metal music. But don't you worry cause Dream Evil are here and offers us some really melodic heavy metal music. But let me first of all tell you that the producer /guitarist/keyboardist Fredrik Nordstrom and the very talented Greek guitarist Gus G formed this band. The other members of the band are: the legendary drummer Snowy Snaw, Niklas Istfeldt on the vocals and Peter Stalfors on the bass. "Dragonslayer" is an excellent album that is full of superb melodic heavy metal hymns like "The Chosen Ones", "Kingdom Of The Dead", "Chasing The Dragon" and " Losing You" one of the best ballads of this year. Also the production of the album (Fredric - the magician) is extraordinary good!. For sure this album is one of the best debuts that have been released in the last 5-6 years! And I'm sure that "Dragonslayer" will be loved from very metal fan in the world. This band plays the music that we all love (and they love) and comes straight from the heart! That's the real meaning of Heavy Metal music! Don't even think not to listen to this album. Dream Evil are here to stay and I believe that if they want they can become leaders in the specific genre! So, slay the dragon and follow the Dream Evil!
T.A. 8,5/10
DIO
"KILLING THE DRAGON"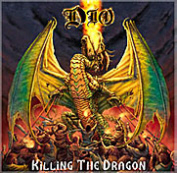 Dirty old Ronnie seems to be in great shape during the last few years. Proof of that? After the very good previous album "Magica", he and his band return with the magnificent new work "Killing the Dragon"! We are talking about a huge boulder, casting a deep shadow on some kids who want to produce "fantasy" stories and cover them with "epic" music. The godfather of mystic, majestic, fantasy metal is here for good. Doomy songs (Throw away the Children) are mixed with fast dynamites (Better in the Dark) and mid-tempo hymns (Scream - Rock and Roll) and I believe this is the best album of the short guy in a long time. It might be needless to say that his voice is in perfect shape: he manages to sing high and low fluently, but the most amazing thing is his expressiveness, as he narrates (not only sings) his fantasy stories. Astonishing is the variety of the album which seems to combine something from every step from Ronnie's big carrier - don't forget that he was behind albums-monuments like Rainbow's "Rising" and Black Sabbath's "Heaven and Hell". It might be unfair to mention some songs from the album as all of them are original diamonds. However I cannot resist mentioning the monumental opus "Throw Away the Children" with the children choir at the end...maybe among his best songs ever. I don't think that you expect anything else to be convinced that this is a damn good new release. Congratulations!
A.S. 8,5/10
DOWN
"DOWN II"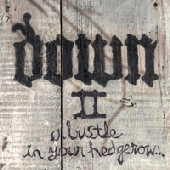 Down is a super-band that comes from New Orleans (Is a dying whore?!), consisting of Phil Anselmo on vocals (Pantera), Pepper Keenan on the guitar (Corrosion of Conformity), Kirk Weinstein on the guitar (Crowbar), Jimmy Bower on drums (Eyehategod, COC, Clearlight), and the recently added Rex Brown on the bass (Pantera). This is their second release after almost 7 years, and it is very complicated. What do I mean with the word complicated? Well this not an album that you're gonna love it from the first time that you will listen to it. You may need to listen to this album many times to catch the feeling and the atmosphere that those five "crazy" guys want to give you and have in my mind. The music of this album is a combination of 70's blues/southern/rock music with the heavy riffing of the 00's. Phil's vocals become aggressive only when they have to and the vocal melodies that he sings are coming straight from the 70's! The highlights, of this album, are "Learn From This Mistake", a heavy slow tempo, with a great lyrical concept, hymn, "Landing On The Mountains Of Meggido" a psychedelic (full of 70's prog-psycho feeling) song with a very clever orchestration, the heavy-blues diamond "Lies…" and the southern "Where I'm Going". The fans of Down have already bought this album and many of them have understood the quality and the heaviness that Down and this album hides! The rest of you, give yourself a chance and try at least to listen to an album, which in many years from now might be considered from lots of people as a cult classic release. Only time will tell…
T.A. 8/10 A.S. 7/10
DRAGONLAND
"HOLY WAR"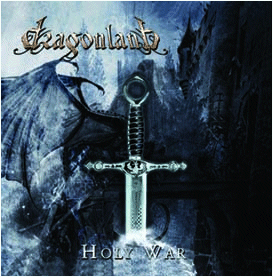 Dragonland is a quite new band (they were formed in 1999) from Sweden, which plays symphonic power metal. And this thing is not unusual at all, cause many bands that come from Sweden play power metal. So you may think what's the fresh thing about this band? Well, Dragonland even though they seem to have many influences from bands like Stratovarius, Rhapsody (especially them) and Sonata Arctica, they manage to play with passion and they give the impression that they really love this kind of music. Of course there are no new elements that you can find in their music, except the real feeling and dedication that they have for the European power metal. There are some really good songs in this album such as, the very interesting ballad "Forever Walking Alone", the powerful "Calm Before The Storm" and finally "A Thousand Points Of Light" which is, for me, the best song of the entire album. In my opinion they must enrich more their music so they will avoid the cliches of this specific music style. In general they are not bad at all and time passes really good while listening to this album. As it concerns me, I'll wait for the next Dragonland's album, to see the progress that they will make.
T.A. 7/10
DANZIG
"777: I LUCIFERI"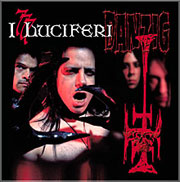 Glenn Danzig is a cult figure for our music (and not only) scene. He has a long successful journey through the years and he is free to do whatever he likes, without giving report to anyone. This is what he actually does all these years. But I am not to say anything more about him, as this is a critique for his new album. Those who are familiar with his former works, should not have any troubles guessing what he is playing here: Darkness, horror, evil atmosphere, heavy (really heavy) riffs, psychedelic songs, with his husky voice and growling leading the first role. Those who like his works and music will definitely be thrilled with this album - to be honest it is more or less one of the same with his previous works. As for me, I'd rather listen to something else, as this album bores me and I doubt that I will listen to it many times in the future. It is not that it is bad, but very monotonous...I have the feeling that I am listening to the same noise for almost an hour with extremely few changes in the rhythm. Of course there are good songs like "Angle Blake" and "I luciferi", but if all the songs resemble to each other to such a high extend, I don't see any point in it. I know many people for what I write will blame me, but this is my opinion. If you are a fan, go buy it. If not, try to listen to it first before you spend your money.
A.S. 6,5/10 T.A. 7/10
DARIO MOLLO & TONY MARTIN
"THE CAGE - II"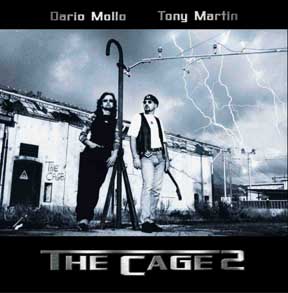 When the Webmaster told me that he would send me a CD by Dario Mollo and Tony Martin I said, "wow, this has the potentials to be a great album", but then I thought, "who is Dario Mollo"? Unfortunately I wasn't aware of their first album "The Cage" (with Don Airey on the keyboards). Well, Dario is an Italian guitarist with loads of years of experience on the scene something that becomes evident on the new album, which is the follow up to the first "Cage". Except for Tony and Dario, the rest of the musicians are Tony Franklin (Blue Murder, The Firm) on bass, Roberto Gualdi on drums and Dario Patti on keyboards. The result? Amazing!!! I hadn't heard such a rich album in a long time. Their music can be called as melodic heavy metal, but it is confining. The songs present an unbelievable variety, jumping from pure heavy metal to hard rock, to AOR, industrial (Terra Torria) to progressive sound (for example the main part of the amazing "Life, Love and Everything" reminds me a lot of Queensryche's "Disconnected" - but then the refrain becomes quite catchy!!!). The songs are based on the guitars, as Dario Mollo's techniques and playing is quite impressive and so he has the ability to support and built amazing songs on his riffs and his solos-like-nails. Special reference should be made to Martin's interpretations, which remind me of the good old times of Sabbath's "Headless Cross"!!! Fantastic vocal melodies in every song. It might be unfair, but I cannot resist mentioning the powerful ballad "Wind of Change" and the lyrical "Poison Roses". Yes this is an album that because of it's variety and quality can stick to your CD player for long. Be prepared!
A.S. 8,5/10
DEAD SOUL TRIBE
"DEAD SOUL TRIBE"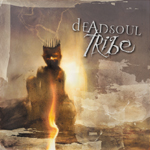 Here we are! This is the new band of the singer/frontman of the broken up Psychotic Waltz, Buddy Lackey, who in fact has changed his name to Devon Graves. I've been waiting for this album for long, as Psychotic is one of my beloved bands (it's a shame that they never got they breakthrough they deserved), and I thought that Devon could prolong their music and atmosphere. And I was right. We are talking about a great, intelligent album, which although could have been released by Psychotic, is still a bit different and can reach a bigger crowd. Mysterious harmonies, undergound melodies and haunting riffs is what you can find here and yes you should try this. The sound is a mixture of Waltz (more of their "Bleeding" album), Black Sabbath, Jethro Tull, Tool and...I don't know!!! It's Dead Soul Tribe! You have to listen to it to understand, I only can say that they have adopted this magnificent Waltz atmosphere, which works really well. The songs are short (average 5 minutes), which anables even the not experienced listener to follow and understand the music. And yes, Devon's flute appears here again. The album gains you more after each listening and I am still not sure that I can appriciate it properly. Waltz's fans don't even thing about missing this album! As for the rest...try to listen to something really different from what has flooded the scene these days.
A.S. 9/10
DOOMSWORD
"RESOUND THE HORN"
I think this is the first effort for the band...and it's not bad at all to be honest. The cover of the album introduces you to what you are going to listen to hear: epic/power metal. And this is it my friends. Pure epic metal they way we like it. The whole package reminds me a lot of the old mid-80's days, when Manowar's eagle dominated the horizon. Bloodthirsty warriors are ready to invade your room and the feeling of the battle is present throughout the album. Don;t expect to listen to European power metal here. We are talking about epic-power in the path of the American way. They remind me a lot of Manowar (of course), Manilla Road, Omen, Trouble (sometimes). The atmosphere of the album is similar to Domine's first record (Chamipon Eternal), but their sound is quite close to the cult legend Heavy Load, although Doomsword's songs are much more doomy. By the way I should mention that most of the songs here are mid-tempo, creating this feeling of intellectual uplift. If you are a fan of this kind of sound, then this record might calm your thirst. My only objection is the length of the songs. Almost all of them exceed the 7 minutes of duration, without any obvious reason for doing so. The result is that towards its end, the record becomes a bit boring. But what is that in comparison to the battle feeling weget from the album? Grab your swords!
A.S. 7,5/10
DANGER DANGER
"COCKROACH"
Well "Coackroach" was meant to be released between 1992 and 1994, but due to business problems that the band had with their former singer Ted Poley and with their record Label Sony, didn't allow them to release this album. They also recorded it with another singer whose name is Paul Lanne, but once again they didn't manage to release it. So, after almost 8 years, Danger Danger has overcome those problems and they are now free to release the album, as adouble cd. This thing happened because in the two cds are includingboth versions with the two singers of the band. The differences between those two versions are very few and the Paul Lanne's version has one more song that the other version does not have and it's an acoustic ballad, which is called "Time In A Bottle". "Coackroach" has many great pure 90's hard rock songs like the incredible "Coin Goin Gone" and the astonishing Walk It Like Ya Talk It. The fans of the band should buy this album right away and also all the people that once loved 90's hard rock/hair metal bands should try Danger Danger's new album out.
T.A. 8/10
DEMONS OF DIRT
"KILLER ENGINE"

The music style that Demons Of Dirt are playing is very weird. I say so, cause their music can be described as a mixture of Swedish death/thrash metal with Pantera and some rock 'n' roll elements!!! Many parts in their songs will remind you the super-band Pantera (especially the mid-tempo parts) but fortunately this album, in general, is unequal cause doesn't have good many musical compositions, and the good ones are very few. Songs like "Devil By The Horns" (death 'n' roll!!!), and "Disrespect" are representing the music style that Demons Of Dirt must follow in the future if they want to be more interesting as a band. Let's hope that they'll work it out well in the next release.
T.A. 4/10 K.P. 3/10
DOKKEN
"LONG WAY HOME"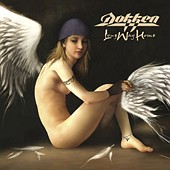 Dokken are finally back! This is very good, cause I really like Dokken and I know that I'm not the only one. So let me, frst of all, inform you about the line up of the band. Just see who is who without comments: Don Dokken (vocals/guitars), John Norum (guitars), Barry Sparks (bass) and Mick Brown (drums). Well I think that the names above have their own great story in the hard rock music, so there's nothing more to add. And what more we can expect from Dokken than excellent hard rock songs and superb ballads? "Long Way Home" has everything that you want! Hard rock dynamites like "Sunless Days" (this song will be the first single of the album), the eastern "Little Girl" (where you can listen to the cymbals and the eastern rhythm in the middle of the song!), the very listenable "Heart Full Of Soul" (pay attention to the cymbals that playing in the song), the melodic "Magic Road" and the divine "There Was A Time" (simply one of the best songs that Dokken have ever written!). Also the album has two great ballads, the sentimental "Goodbye My Friend" and the magnificent "I've Found" (with the very good lyrical concept). I'm convinced that the almighty hard rock music has returned and every month we listened to, so many good releases and that is very encouraging. The fans of hard rock must be very glad, especial when great bands like Dokken are releasing new albums.
T.A. 7,5/10 K.P. 8,5/10
DRAKKAR
"RAZORBLADE GOD"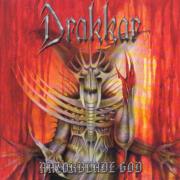 Just one more power album? No way! This is really good. Their previous work had struck my attention, but I believe this new album of theirs is even better. This is not the usual type of euro-power metal, although it has some elements especially in the refrains and the amazing melodies. Their sound resembles the American epic metal in the steps of Manilla Road, Jag Panzer, Omen etc. With this album Drakkar can make the breakthrough to a larger audience, as they seem to have worked a lot in order to produce it. Mystical, atmospheric, melodic but also heavy and thunderous. The riffs are well developed and on them the band finds good soil to build its songs. The rhythm section is solid as a rock and the keyboards appear in moments when the band wishes to "deepen" its songs and give a lyrical atmosphere (listen for example the magnificent cut in the middle of "The Next Generation"), but contribute also to the solos. The CD also includes the video clip of the single "To the Future", which makes the whole package more attractive (its a plus that the drummer wears a "rage" t-shirt!). Don't expect to find a brand new approach to epic-power metal here. However the whole album preserves very high standards, presents a variety, which makes it flowing without becoming boring. I can say that it is one of the best releases I've heard for the genre so far for 2002. Plus "Galadriel's Song" is one amazing, atmospheric ballad influenced by Tolkien's writings. Yes, you can trust Drakkar for quality power metal!
A.S. 8/10 T.A.7/10
D:A:D
"SOFT DOGS"

Do any of you still remember D:A:D? And with that question, I'm referring to the "old" hard rock/metal fans. Well to tell the truth, I used to listening very often to D:A:D and especially I'm still listening to the incredible album that they have released back in 1989 and it was called "No Fuel Left For The Pilgrims" (an album that all the fans of hard rock/heavy metal music MUST have!). Anyway those things don't seem to matter anymore. "Soft Dogs" is the new album of D:A:D, and in this album they play soft (with many American elements) rock music, and in some songs like "What's The Matter?" (Possibly the best song of the album) they becoming a little bit harder. Unfortunately D:A:D can't (or they don't want?) play like they used to play back in 1989 and that is something that I'm still waiting for the band to do (may I'm a dreamer then…). Nevertheless "Soft Dogs" is a very interesting album for those who like American rock (a la Red Hot Chili Peppers) music. And the album has interesting songs like, the homonymous "Soft Dogs", "So What?", the melancholic "It Changes Everything", the catchy rocker "Un Frappe Sur La Tete" and "Human Kind". It is possible that D: A:D will want to sell more copies of their album and they are trying to become more popular to the people. That's ok with me the. And that's the reason, which I'm still listening to this album and also writing the review. The good thing is that "Soft Dogs" ain't a bad album and for the music that D:A:D play, is very catchy and good. If you are fan of D:A:D, listen first to the album and then decide, but if you love American soft rock, then buy "Soft Dogs" now!
T.A. 8/10 (for the new music style)