CHARON
"DOWNHEARTED"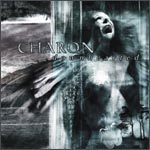 Last year Charon released "Tearstained", a remarkable album and this year with "Downhearted" are resuming the good work on the gothic metal area. "Little Angel", the first single of the new album is already a hit and we are convinced that Charon is a band that is working hard with its music and they are continuing to prove this with every new album they release. "Downhearted" is an album that it's worth your attention as it contains very good gothic metal songs. Charon is a very talented band that's working very hard, and they try to improve themselves and their compositions in all their albums. We hope that with this album, Charon will have the success and the popularity that they deserve.

T.A. 8/10 K.P. 9/10
DREAM WEAVER
"SOULSEARCHING"
Dream Weaver is a quite old band in Greece, as they were formed back in 1992. They almost exist 10 years now, but they didn't manage to release a full-length album in the past. So, "Soulsearching" is a promo 7", that shows the progress that Dream Weaver have made all those years. That promo contains only 2 songs from the first full-length, forthcoming album, which is going to be released by the end of 2002. As far as I know the guys have already complete the whole album. The band plays powerful heavy metal music, but I also noticed some prog elements in their sound. They know how to write beautiful songs and good catchy melodies, and the singer of the band just fits perfectly in that specific kind of music and he has as well a very good voice. If you can't wait, and you want to listen to the new material of the band just contact them and order the "Soulsearching" 7". But I'm sure that their album will be really good, so be patient and buy the album whenever it's going to be released. Support the band cause they surely deserve it and they work also very hard. Visit the band's official website at: http://www.truemetal.org/dreamweaver.
No points till the whole album is released.
CANNATA
"TAMOROK"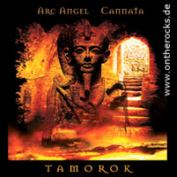 Cannata is the personal band of the singer-keyboardist (in this album he plays also the guitar and the bass!) Jeff Cannata (ex-Arch Angel). This is the new album that he released after almost 9 years! I mean that his last album "Watching the World" was released in 1993. Jeff Cannata's new album "Tamorok" features 7 new songs and 7 older songs, which were taken from his two rare albums "Images Of Forever" and "Watching The World". So the fans of the band will surely know those "old" songs and also they will be ready to listen to fantastic and emotional AOR/Rock. Brilliant songs like "Tamarok", "Prisoner In The Holy Land", "Fortune Teller" and the emotional ballad "Let It Be", shows that Jeff is in a good shape and he offers us once more a very listenable and "easy" album full of great songs. Some of them are gonna stuck in your head from the first time that you will try to listen to this album and you're gonna sing them all day long! The fans of AOR/Rock scene better check this album immediately cause it's really difficult nowadays to find so qualitative works from any band.
T.A. 8/10
PS: The song "Stars 2001" is a re-recording of the Arc Angel "Stars" back in 1983.
THE CROWN
"CROWNED IN TERROR"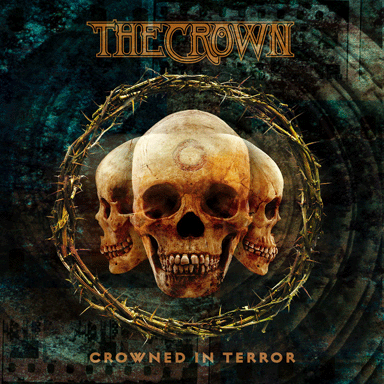 "Crowned In Terror" is the new album, which The Crown (ex-Crown Of Thorns) released after almost three years. And what can we expect from the Crown? What else, than fast new Swedish (with some elements from At the Gates) death metal. The vocals of this album belong to Tomas Lindberg (ex-At the Gates) and once again are excellent and very brutal (Recently Tomas Lindberg parted ways with The Crown, due to personal differences). So I don't know who will sing in the next album of The Crown or who will join them in the tour. Also, the album features songs like the homonymous "Crowned In Terror", the mid-tempo "World Beyond", "The Speed Of Darkness" and "Death Metal Holocaust", that the fans of Swedish death metal and generally of death metal are going to love. "Crowned In Terror" is a very interesting album full of speed and blastbeats but only for the fans of this specific genre. The Crown is a very good band and I'm sure that we will hear from them many good works in the future.
T.A. 6,5/10
CROWN OF THORNS
"KARMA"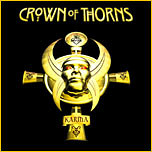 I strongly believe that Crown Of Thorns made a bad decision by putting so many modern elements in their previous work "Destiny Unknown". That move has been finally proved that it was wrong and it's very good that the band understood it immediately. So, the new album of the band "Karma" is a pure melodic hard rock one and shows that they returned back to their roots. It is also true that the album contains many good songs such as, the up-tempo "Believer", the mid-tempo rocker "Before It Slips Away", the super ballad "Once In My Life" and the unique "Shed No Tears", which is a duet between Jean Beauvoir and the German Doro Pesch. I've always considered bands like Crown Of Thorns among the most qualitative and hard working ones. "Karma" is an excellent melodic hard rock album that it will appeal to many fans of this genre. Hopefully, the hard rock genre will never die as long as bands like Crown of Thorns releases so good albums and the only thing that we can do is to trust all those bands that are really trying to keep the hard rock flame alive. Go and buy "Karma" and be sure that if you love the specific genre this album it won't disappoint you.
T.A. 8/10
CALEDONIAN
"ACOLYTE"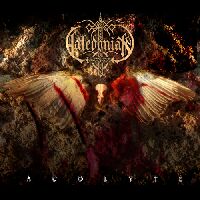 When I fist saw the album's artwork and the band's logo, but also as I didn't know Caledonian before, I though that maybe they would play Norwegian black metal. But after I have listened to the album I can surely say that Caledonian have very few common things with the black metal genre, even though the vocal style of their singer is close to black metal vocals. Anyway, Caledonian play atmospheric metal with some gothic elements and the change from brutal black voice to female vocals seems to be very good. One of the strongest points of this band, which is also the thing, that like it their music, is the atmospheric parts that they had in their songs and the female vocals. About this last note I must say that Caledonian should write more atmospheric songs and give more time for Riina to sing. This could be the only way that would make them to sound different from other bands of this genre. Songs like "Lust For Celtic Dark", and "Depth Of Her Love", shows that the band has many good ideas and I think that they must take advantage of them. Mikko Paavilainen has done an excellent work on keys and generally has given to the whole album a great atmosphere. So, if you are into this kind of music and you like atmospheric metal with brutal vocals, then you should try out Caledonian. The only point that is sure, is that this band have released a nice album and they have a good future ahead of them!
T.A. 7/10
CRUACHAN
"FOLK - LORE"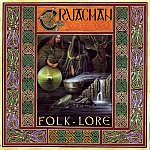 Cruachan is a very good but not very known (till know I guess) band. This is their third album and of course they play Folk-Metal music but in this record the folk elements are much more than the Metal ones. The song "Ride On" has been also released as a single and it's definitely one of the best songs of the album. I haven't heard the original edition of "Ride On" (it's an Irish folk song) but the review that Cruachan have made is excellent. So if you like folk music and you want it to be mixed with Metal elements, this is an album for your taste. A soft and relaxing album for the sunny days of Spring.

T.A. 7/10
CORNERSTONE
"HUMAN STAIN"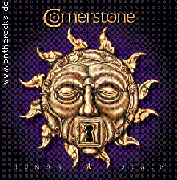 Oooh Yeah! Fucking good record!!! I hadn't heard anything about them so far and so the surprise was really big! They blew my brains to the wall!!! The mainman behind this band is Doogie White (the singer on Rainbow's "Stranger in us All") and also has the contribution of Royal Hunt's bass player. How can I describe their sound without categorize them? It is really difficult to do it as they play an amazing mixture of "guitar" heavy metal in the path of Ozzy's earlier works, Y&T etc, embellished with a few AOR bridges, in the way Royal Hunt use them, and with the keyboards contributing to the maximum to create an amazing canvas for the rest to develop their ideas. Some called them "symphonic hard rock" and I say why not? Very good work that I recommend to everyone who likes this kind of stuff. I know that there are many good records on this genre these days, and it is hard to follow all ofthem. But what can I say? From what I've heard so far, Cornerstone's album is one of the top class releases in the genre for this year so far.
A.S. 8/10
CRYSTAL BALL
"VIRTUAL EMPIRE"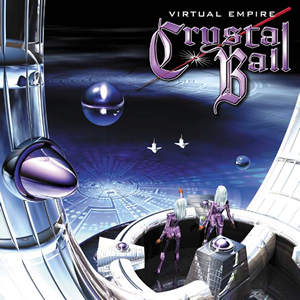 Crystal Ball is a band that comes from Switzerland (they formed back in 1995) and "Virtual Empire" is their third work. They play melodic hard rock/metal and I'm sure that this album will be a nice surprise for everyone who likes melodic metal music. The production of the album is very good, it sounds very fresh although it has a nostalgic 80's feeling (when this genre was very popular) and of course that is a plus for the album. Highlights are the astonishing "Am I Free?", the sentimental ballad "Look In My Eyes" (Just listen to the crystal voice of Mark) "Virtual Empire", "Blind Side" the faster and the most powerful song of the album (one of my favorites songs), the melodic mid-tempo "Talk In Circles", "Find Your Ground", "Hands Of God" and…and…. the rest of the songs! In the other hand, I have to say that every time that I listen to "Virtual Empire", the same thought came up to my mind: "What an excellent album"! Maybe some of you will think that I'm exaggerating. But believe that "Virtual Empire" is the best album that Crystal Ball have ever released and that is obvious from the first listening of the album. Just take a chance and listen to the new album of Crystal Ball and remember that bands like them are considering by many (including me) as great hopes for the future of our music. One thing is for sure: "Virtual Empire" deserves your time, your money, and of course your attention. Well-done guys!!!
T.A. 8/10