BLIND GUARDIAN
"A NIGHT AT THE OPERA"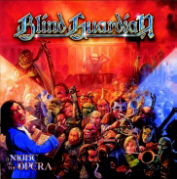 Before writing this critique, I would like to emphasize this: I consider myself as a music fan (and especially heavy music-whatever it is called) and not a music critic. Therefore whatever I write accrues from what I receive from each album as a fan and nothing else. No need to hide that I am a Blind Guardian fan for many years now and that it was to my pleasure to see the group evolving and becoming a big name, as they've worked hard and they deserved their success. Having listened to the new album several times (that's why it took me that long to write this critique) I have concluded to this: the album isn't bad, but it has some specific flaws and it is definitely below the high standards of the band. I think that the band was trapped under the question "what do we do now, after the unique success of the previous album (Nightfall in Middle Earth)?". BG decided to change a bit the approach to their music (I would characterize them "more aggressive") and not re-produce a second "Nightfall..". Having the balls to do that is a plus for them but is not enough to save the situation. The new songs bear indeed the familiar sound of the band, but in my hears they sound "too much". What I mean with that? The band composes very complicated songs loaded with "multi-multi vocals", guitars here, guitarsthere, harmonies low-harmonies high, melodies changing so fast yet being so many, that I cannot follow them, understand and digest them. It is characteristic that after listening to the album five times, I could hardly remember any song and melody. In its effort to embellish the songs and make them rich enough, the band loses the game of hitting the spot of the listener, rather creating to him/her a feeling of confusion. I will be honestly amazed if they manage to produce all this sound live and even if they will remember all the parts of the songs without losing the way. By the way I will see them live in a month and have a chance to find out about it myself (you'll be able to read my impressions form the gig via this site). In sum I have to say that the album isn't bad. It has some really great songs (like Under the Ice), epic atmosphere, but it loses the game of capturing the listener because of its unnecessary complexity, which leads to nowhere. Grading the album is really difficult...
A.S. 7/10
BILOXI
"RIGHT THE MUSIC"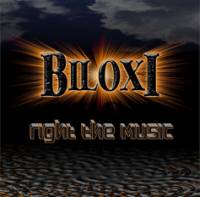 After almost nine years from their excellent debut "Let The Games Begin", Biloxi released their second album entitled "Right The Music". Don't be surprise when you'll find new names in Biloxi cause the whole line up of the band has change except the singer and also the leader Clyde Holly. In spite this their music remains the same! And what can we expect from Biloxi? Nothing more or less than great melodic hard rock songs like "Listen", "Lay", "Ocean" and the majestic "Vampire", which are songs that all the rock/hard rock fans will adore. Also in this point I must tell that I liked very much the cover on "Have You Ever Seen the Rain". They gave to the song a really strange feeling and they also change some hooklines of it. As you can see my friends' things here are very simple. If you consider yourself as a rock/hard rock fan that likes to have all the pretty albums that are being released from time to time, then, you must have Biloxi's new (and old) album. I truly believe that every fan of that specific genre will like Bolixi's "Right the Music". 2002 was really an excellent year cause many great albums were released. Biloxi is another band who helped on that!
T.A. 8/10
BLAZE
"10th DIMENSION"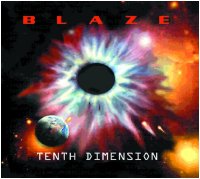 I've been anticipating Blaze Bailey's (x-Iron Maiden) band's second album after having seeing the band live and listened to 2-3 songs from the then unrealized album. And I have to say that it worth the wait! To be honest I didn't expect that they would release anything better than their first album Silicon Messiah (which was great), but I was wrong! 10th dimension is much much better than its ancestor. Fresh, released by Maiden's ghost, Blaze and his band produce pure heavy metal, performed in the best possible way. Heavy guitars filling the songs with solos and melodic interventions (really good work on the guitars), strong rhythm section, and Bailey in perfect shape! This album is better than whatever Maiden released with Blaze in their line-up (God save me after what I've written). Of course it reminds of them, especially in the way vocals are performed, but it is original in its way as well. The really good thing of the album is that it presents a variety between its songs. So, one can listen to it from the beginning until the end without being tired at all (I think that the only weak point of the album is the song "Land of the Blind"- not bad but bellow the standards of the rest of the songs). Do you buy many albums these days that you can hear them all at once without skipping a couple of songs? If yes, please tell us via e-mail, which are they, so that we can buy them as well. If not and you are really into pure heavy metal, just buy this album...you won't regret it.

  A.S. 8/10 T.A. 8/10
BURNER
"ONE FOR THE ROAD"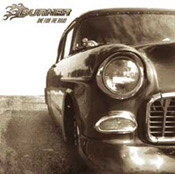 The release of monumental albums is always dangerous because it always presupposes that a whole river of imitators will appear like mushrooms to try and steal a part of the fame, creating thus a fashion. In this case the latest fashion is what came to be known as stoner rock. After Monster Magnet, Spiritual Beggars and a couple of others produced their masterpieces a few years earlier, an avalanche of imitators appeared. This is the case with Burner. One more stoner rock band, which tries to elevate by using others' success. It's not that their music is bad, but ok, we've had enough of it already! There are some good ideas and a few good songs (like "Five Pills"), but nothing more. Too much noise, sometimes they try to sound like Motorhead (this is quite difficult-trust me), and too much "aggression". Some of their songs (e.g. "No Regrets") try to combine dirty hard rock with death metal (!!!!), with the result to create a wonderful potato without identity. Judging from the times that I will listen to this again in the future I would give them a "6.5", but the grade is lower because of their singer. He adopts brutal vocals that are irrelevant to what they try to play, and worse of all when his vocals are clear, he tries to sound like James Hetfield. Hetfield is an average singer (not to say a bad one), and I really don't see why would anyone try to sound like him...
A.S. 6/10
BOSTON
"CORPORATE AMERICA"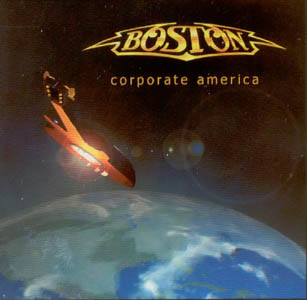 Boston's new album was really a surprise for us here in Metal Abyss. And that surprise was due to the band's return in the music society after almost 8 years with a new studio album, and also to the participation on "Corporate America" of the original singer of the band Brad Delp. But in this album, aside form Brad, are also singing Fran Cosmo and the pop/country vocalist Kimberley Dahme. And of course responsible for the songs and also for the good result of the album is -once again- the great Tom Scholz. So. "Corporate America" includes some classical Boston songs like the terrific "I Had A Good Time" (surely is the band's new hit!), the very good "Someone" and "Didn't Mean To Fall In Love", which might bring on your mind the superb and unique super hit of Boston, "More Than A Feeling". The good thing with that album is that in any case is not nostalgic and it doesn't sound, as it wants to turn the time back in the 70's. It has many good modern rock elements that you can find it out if you listen to songs like "Turn It Off", or the sensitive ballad "Cryin'". As a conclusion to those that I said above, I must say that "Corporate America" has many good songs (it would be a miss not to say how excellent is the homonymous song of the album) with many variations among them. Those who know what Boston have offered to the rock music will trust them once again. As for the others it's better late than never to discover such a big rock band!

T.A. 8/10
BLACK LABEL SOCIETY
"1919 ETERNAL"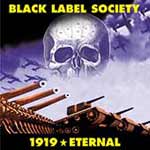 What can we say for a band that has the megalith Zakk Wylde as their former/guitarist? Prepare yourself for the ultimate statement from the premiere rock guitarist of our generation. Zakk Wylde's Black Label Society return with a spectacular new studio album, "1919 Eternal". We are hearing again and again "1919 Eternal", and we are more breathed each time! Black Label Society, with the latest release, has showed the difference between the spontaneous, authentic metal music and the canning boring one!!! In an industry that has been plagued with clique songwriting, boring riffs and machine-driven backbone, Black Label are a welcome breathe of fresh air with an uncompromisingly heavy set of songs from Ozzy Osbourne's favorite guitar-singer. Zakk himself, in conjunction with Black Label Society's live sound engineer Eddie Mapp, produced "1919 Eternal". 14 astonishing songs on the new album all made by unquenchable metal fire are making so hard to choose between them and say what are the best! But I believe that the metal fans will be thrilled by enormous bone-crunchers like "Demise Of Sanity" and "Battering Ram" along with the album's first single, "Bleed For Me", but also will enjoy the new tones to Wylde's riffing on tracks like "Lords Of Destruction" or to the ballad "Bridge To Cross". Let's face it, the man can play anything and make it sound as brutal (as Zakk would say) or subdued as he wants!!!!!!!!!

K.P. 9/10
BLUDGEON
"CRUCIFY THE PRIEST"
Bludgeon is a new American band that plays death metal, and also is the first band that has signed with Joey DeMaio's (and I was really surprised that Joey signed a death metal band) music company. The band plays heavy American death metal, the songs that this album features are not very fast-tempo and also the guys can write very good heavy riffs. A remarkable fact about this album is that it was recorded live in the living - room, in the house, where the band lives. That was Joey DeMaio's idea and I think that is was really successful cause the sound of the album is raw and very aggressive. The fans of death metal better check out Bludgeon, and they might discover a very good new-comer band. The album has some very interesting songs like "Smoke Green" and "Stained In Blood". Personally I would suggest Bludgeon and other bands also not to use so stupid and naive artworks, for their own good of course! But be careful, cause "Crucify The Priest" is only recommended to the brutal death metal funs, who they must listen to Bludgeon's new album, cause I'm sure that they're gonna like it. The rest of you might not even manage to listen to the whole album. Bludgeon's "Crucify The Priest" is a good album, for it's genre of course.
T.A. 6/10
MICHAEL BORMANN
"MICHAEL BORMANN"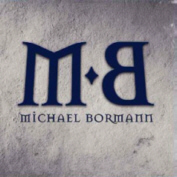 For those who aren't aware of that, Michael Bormann used to sing for Bonfire, Letter X, Charade, The Sygnet, Rain and he is also the vocalist of Jaded Heart. This is the first self-titled personal album. To be honest this is an album that can be presented even by non-metal/rock zines. Michael here plays pure AOR of the American kind (although sometimes he reminds me of Chris Rea), which at times flirts more with pop music rather with rock. If you don't have any problem with this and you do not belong to those who wake up with Slayer and go to bed with The Haunted, but you can fit into your listenings "softer" albums (which are valuable sometimes - imagine you flirting with someone with Dimmu Borgir in the backround), then this is a good proposition. I don't know if Michael wants to reach bigger audiences, but his songs here have the ability to do it, yet being remarkable. After all he is not just an ordinary musician...he has the ability to compose great songs, even if directed to easy listening. He experiments with soul sound "The Best Is Yet To Come", latin rhythms "So What About", something that makes the album pleasant in listening. The grade is according to the music he plays here.
A.S. 7,5/10