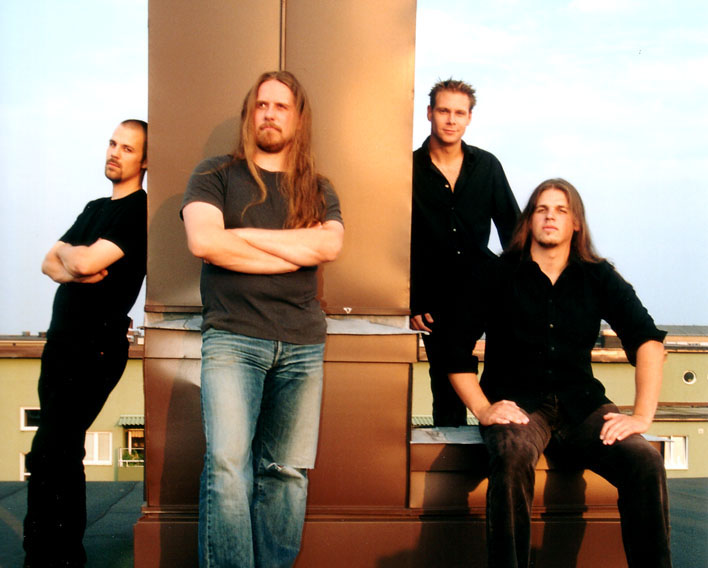 First of all let me congratulate you on your exceptional new album. You might know that we have rated it with 9/10 on our site. We are interested in listening to a brief bio of the band….
D: Thank you! The band started in 1999 with Johan (Guitar) alone. He got a record contract after the label heard his demos. So with some help from the company the band found Thomas (Drums) who knew Gert (Bass) and Martin (Keyboard) and they recorded Extension Of The Wish with Lawrence Mackrory (ex-Darkane) on vocals. He was just a hired gun for the album. Afterwards they started searching for a permanent singer for the band and found me through Martin. We met at the Music Academy where we both studied and played together on a project. It clicked and as a whole band Andromeda did some shows around in Europe. After that the French label asked me to re-record all vocals for Extension.. and to add two more songs for a France release. It came out at the end of 2001 there. This should be out in the rest of Europe some time this year by the way. After that we started working on our second album which now is out in stores... That's about it...
I noticed a huge improvement from your first record to the second one. What was the driving force behind this big change?
D: The big difference between the two albums is that Johan doesn't write everything anymore. It's more of a band effort now. Everyone contributes. Martin wrote a lot of the music and lyrics. I wrote some of the lyrics and did vocal arrangements. Even Thomas came up with some stuff that gave him credits on some songs. So its a totally different thing. With this album we didn't have to compromise at all, it took almost a year to record, and the record label gave us as much artistic freedom as we wanted. II=I is the album we would have bought ourselves if we would have found it at the record store.
The nature of your music (prog metal in general) is doomed not to be embraced by the large crowds, because of its complexity. How do you feel about it?
D: We realize we wont be a No 1 on the Swedish charts... Its too complex for most listeners. You probably won't like our music if you intend to listen to it while playing games on your computer or when you're vacuuming. It needs to be listened to. But what is important to not forget is that we don't write music because we have to. We strictly write the music we like and that feels great. Then it doesn't really matter how many buy it. Many reviewers have written that they first intended to give II=I a shitty rating after hearing it once, but they changed their minds once they heard it a couple of times. I think that music that grows on you after a few listens often bears a mark of quality. Too bad most people doesn't have the time or energy to sit down and listen.
Do you earn your living from your music, or do you have to resort to other jobs too?
D: Yeah, I live off playing music. The others have dayjobs.
"Andromeda" is a name coming directly from Greek mythology. How did you come up with it?
D: It was Johans idea. I guess it just sounded cool...
Do you think that songs like "Mirages" can work as singles to make a break for the band? Do you keep this in mind when composing?
D: Yes and no. Often we just write the songs and hopefully they will fit in somehow. But there are exceptions. Like the opening number, "Encyclopedia", it was written after we had a cup of java discussing the album. We realized we needed a strong opening number that summed up what the new Andromeda sounds like. Said and done. "Mirages" is actully one of the oldest songs. That one was the first to be written after Extension... and has been in our live set since 2000.
What is your method in composing those complex songs? You must have spent lots of hours in the studio…
D: Everything is composed before we enter the studio. All songs are recorded as demos in either Johan or Martins homestudio. We spent about 10 months on and off in the studio. We didnt wanna leave anything on the record that we were the least hesistant about. So we spent a lot of time getting it just the way we wanted it to sound. The mixing alone took about a month. But you really should ask Martin or Johan because they write most of the songs. I contribute with writing some melodies and lyrics. Then Johan sends me a demo without any vocals and i send it back with my idea of how it should be.
You must be satisfied with the production of the album accomplished by your keyboard player Martin. But how come you decided not to hire a experienced producer?
D: We talked about it a lot. Martin has a diploma from the Music Academy as a producer. So we knew he was qualified and he wanted to do it. So we went with it... and we have no regrets!
What was the response for the album so far? Are there any plans for a tour?
D: I think we have gotten good response. Since it΄s so different from the first album we didn΄t know how everyone would react, but i must say that most people seem to like it. Touring wise we have some plans but nothing concrete. We are playing at the Progpower festival in the fall. As for now thats all that is certain.
And some Weird Questions now!!! If you were living in Middle Earth (I hope that you have seen or read the Lord Of The Rings) which character would you choose to be and why?
D: Haha tough question... Aragorn I guess. He ends up with all the women...
Imagine that your wife/girlfriend is selling your whole album-collection just to buy for her an expensive, good ring. How would you react?
D: You know what they did to witches in the mid-evil days? (interviewers note: Yeap, be sure I know damn well...nice reaction!!!)
How do you image that the music world could be, one thousand years from now? And why?
D: Probably a much wider market. Not so limited to East/West musical boundries... But that will probably happen within fifty years. After that i havent got a clue... Maybe we will jam with aliens.
Is there anything you would like to answer, but I didn't ask you?
D: The sun is yellow because... ;) No I think you just about covered it.
Thanks for the interview and take care!
Thank you again Thanos and Alex.
by Alex Savatianos & Thanos Aggelakis