AVANTASIA
"THE METAL OPERA PT. II"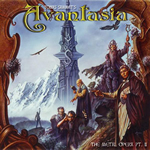 Ok, things here are simple: we are talking about the best power metal album of the year coming from a European band!!! Those who don't know Avantasia should be ashamed of themselves. It is the side project of Edguy's singer Tobias Sammet. This is the second part (the first one was released last year and it was equally amazing), and for once more the musicians who take part are dazzling: Richter (guitars), Grosskopf (Bass), Holwarth (drum God) and Tobias hold the leading parts, with special appearance from M. Kiske, D.Defeis, S. Den Adel, B. Rock, A. Matos, K. Hansen, B. Catley, T. Tolki and the list goes on!!!!! The result is astonishing: inspired power metal songs, full of melodies, passion, noble feelings and anything you can imagine. We are talking about a music orgy of high quality, which carries you away with its power. According to my opinion (although I might be exaggerating) the two parts of "The Meta Opera" can be for the 00's what Helloween's "Keeper..." albums have been for the 80's!!! Complete masterpieces-beacons for the rest to follow and draw inspiration. A must purchase for everyone who loves heavy metal (and especially power metal). Congratulations to the Avantasians!!!!
A.S. 9,5/10
ABDULLAH
"GRAVEYARD POETRY"

Even though their name is quite timely, Abdullah knows exactly how to rock. Well they play in the known heavy/doom style that they were playing in their debut album but this time the songs are faster than in their previous album. The vocals are in the same melodic and paranoid style, and that is something that I like very much in this band. Jeff Shirilla is an extremely good singer. The main influences of the band seem to be Black Sabbath but also some groups from the N.W.O.B.H.M. wave, like Diamond Head and Witchfynde. Several songs that they are going to blow your head off are: "Black Helicopters", "Deprogrammed", "A Dark But Shining Sun" and "Behold A Pale Horse". It is true that I liked very much "Graveyard Poetry" and I'm sure that the fans of the band and also the fans of this specific genre will be keen on this album. Don't expect to listen to fury guitars or synthies or technology's stuff here. We're talking about really heavy music that will travel you back in the 70's and allow you to feel how music was so beautiful and genuine then. The new album of Abdullah will be liked from the 70's dreamers and it's truly heavy dynamite! Join the club!!!
T.A. 8/10
AUTUMNBLAZE
"MUTE BOY SAD GIRL"

Well till I put "Mute Boy Sad Girl" in my cd-player, I didn't know what I was about to listen from Autumnblaze. But after I listened the whole album for the first time, I was truly astonished! Autumnblaze are playing incredible atmospheric, emotional rock music with some electronic elements and also they have been influenced from bands like Anathema and Katatonia. But their music has nothing to do with those two bands that I have foretold. Believe me that "Mute Boy Sad Girl" is an album full of emotions and the lovers of qualitative music will love it! Songs like the brilliant "Shells And Butterflies", the dark gloomy "It Never Felt Like This Before", the depressing-tragic "Can't Save Anyone", the wonderful "I Am Water" and the fantastic "A Crow On My Shoulder", can touch your deepest feelings! Autumnblaze have managed to write incredible sad emotional songs and "Mute Boy Sad Girl" is an album that no one should ignore. And right now I'm talkin' about good emotional music, nothing more or less. A music that comes straight from the heart and touches our feelings! If you missed "Mute Boy Sad Girl" you will surely regret it. Autumnblaze have released one of the best emotional albums of this year and not only! I am water, my mute heart - a singing wave…
T.A. 8,5/10
AMARAN
"A WORLD DEPRAVED"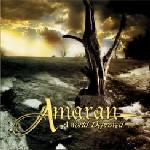 Amaran is a brand new Stockholm based band and "A World Depraved" is the first full-length album that they release. In fact the band is playing really heavy, (some may call it melodic death music) but also melodic and in some parts atmospheric music at the same time (you don't have to use only keyboards, in order to write atmospheric music!). Also the good thing with Amaran is the vocals of Johanna De Pierre that are full of passion and emotions. The album has many good and pleasant-sounding songs such as, "Little Victory", "Faith Healer and "Karma In Flesh". Moreover the production of the album is very good and the sound of the guitars is so massy! We are talking about a very heavy production! The fans of heavy and melodic music should check out this newcomer band. Their debut album is very good but I'm sure that they will write much better songs in the near future. As a result, don't hesitate to buy an album from a new and not very known band, cause many times the new bands has a lot to give to metal music.
T.A. 7,5/10
ANGEL DUST
"OF HUMAN BONDAGE"

Angel Dust are back with a brand new album titled "Of Human Bondage". With their new strong guitarist Ritchie Wilkinson who has replaced Bernd. 
Angel Dust are releasing a dynamic heavy power album, and the fans of that kind will definitely enjoy it. Angel Dust's sixth album is compiled of ten dynamic but not "noisy" songs so we recommend to pay some attention to tracks like "Got This Evil", "Forever", "The Cultman", "Freedom Awaits" and you will see what we mean. Angel Dust are surely presenting a decent album, with no extraordinariness but also very interesting. I'm sure that no one will get bored with this album!!! 
K.P. 7,5/10 T.A. 7,5/10
JEFF AUSTIN PROJECT
"GO BIG OR STAY HOME"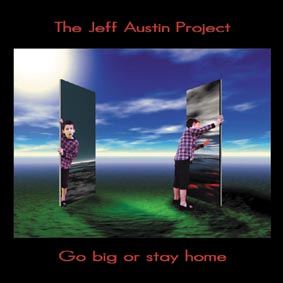 Another rock/AOR album! Shall we invest our valuable money on it? Yes if you are in this kind of music and listenings or you need a break from your "heavy" or "complex" CDs. I don't know about you but now that summer days are here and girls hang around in their summer clothes I prefer to rather follow some easy - yet qualitative - listenings that quaranty a good time and leave you with this feeling of optimism about things. Listen to the AOR hymn "So You Ran" or the dedication to old lost summer loves "Lisa" and let the rain wait for a few more months. We are talking about a typical AOR album with rich orchestrations, many synths and up-tempo guitars and vocals. Sometimes it reminds me a bit of Van Halen, or Def Leppard, a bit of Bon Jovi, but don't let your mind think that this is another commercialised potato. No, it is a very good release. Hmm I think I will add at least two-three songs in my summer compilation CDs from this album. Ah and it is not full of sloppy ballads that don't have anything to say!
A.S. 7,5/10
ASTARTE
"QUOD SUPERIUS SICUT INFERIUS"

Astarte is a Greek band, which is consists of three female members, and "Quod Superius Sicut Inferius"(the album's title translated from Latins to English means "As Above, So Below".) is their third release. Astarte are playing atmospheric black metal and especially in the fast tempo songs they are strongly affected from the Norwegian black metal scene. They have also some other elements from the Greek black metal style and they are close to other Greek black metal bands like Rotting Christ and Necromantia. The sound of the album is surrounded and enriched by the use of keyboards and the acoustic guitars and the songs are more atmospheric and more melodic. The album contains some interesting songs such as "Astarte" where Spiros of Septic Flesh is on the vocals as a guest appearance, and "Crossing The Wounded Mirror Of Death". The songs are becoming more beautiful; when they use the acoustic guitars and the clean vocals (let's hope that they will use it more in the future) cause I can't stand the classic black metal screaming vocals. I believe that this was one of the reasons that black metal lost so quickly the entire acceptance and the popularity that once had! Cause the black vocals which -once upon a time-used to be really great, now they have become a banally for the black metal scene. Anyway, my other objection is that they must write few minutes lasting songs cause it's really hard to do such a thing, and of course the melodic elements must become more and more in the next release. Also the artwork of the album is very smart. Astarte is a good band but they have chosen to play a music style that is not very popular anymore and only the extremely good bands have managed to succeed. But Astarte's new album is a good suggestion for the black metal fans.
T.A. 7/10
ADRIANGALE
"RE:PROGRAM"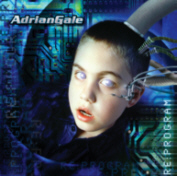 Adriangale's new (second in a row) album has something really special! To become more specific I'm telling you that it is very difficult to find an album with the quality and the melody that "Re:Program" has, especially in our times! This is truly melodic hard rock with great hooklines, very clever refrains and verses! What more can you ask from a band? The album has many admirable songs like the super hit "Heartgames", the sweet "Runaway", the fantastic ballad "If" not to mention the rest songs of the album! We are talking about hard rock music, my friends, in which they are mixed up the best elements from bands such as, Bon Jovi, Danger Danger and Def Leppard. This album will let your thought to travel to the 80's, while your body will be still in the 00's! I'm sure that the old fans of rock music will surely buy and love "Re:Program". But I'm not sure if the younger fans of rock/metal music will like an album like "Re:Program", cause they all raised up in a time where MTV and radio is proportioning shit-music like nu metal and colourness bands like Tool and Slipknot! Wake Up! Hard 'n' Heavy music will never die as long as bands like Adriangale release albums like "Re:Program". If you like hard and melodic music, then Adriangale is just exactly what you need!
T.A. 9/10
ANNIHILATOR
"WAKING THE FURY"
The band after a long time of experiments, seemed to found its way with its previous release Carnival Diablos, something that is assured with the new record. The first song of the album grabs you from the neck and compels you to bang your head for the rest of the 50 minutes or so of the album! I doubt that there will be one who will listen to the album without moving to the rhythm of the songs. Annihilator's approach these days is more thrashy, yet combining the needed melodic lines in order to have a tow on pure heavy metal. Jeff Waters' capabilities with the guitar are known, and of course are present in this record too. Don't expect to come up with the new "Alice in Hell" here, because you might be disled. However the band seems to have been reborn from its ashes and produces really heavy riffing and excellent songs like "Striker" and "Nothing To Me" (not that the other songs are bad-the contrary!). Someone more keen to this thrashy sound might appreciate the album more, but for me (I am not the greatest thrash fan in the world) it is a...
A.S. 8/10 T.A. 8/10
AXEL RUDI PELL
"SHADOW ZONE"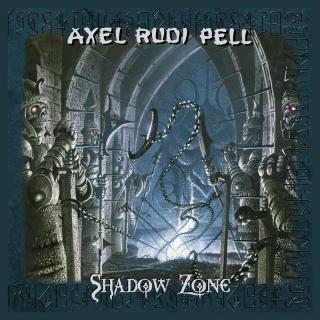 Axel Rudi Pell is one the best continuers of the heritage that the great guitarist Ritchie Blackmore has left us within the years. So, his new album sounds a little bit more metal that his previous works but that isn't something bad at all!!! I like Axel, and especially now that he plays really heavy! Once again in this album we can listen to all those great hard songs like "Follow The Sigh", "The Edge Of The World", and also some brilliant ballads like "Heartbreaker" and "All The Rest Of My Life", which made us love his music more. Also I must refer to the amazing voice of the singer Johnny Gioeli, who will remind you the glory days of Graham Bonnet and Joe Lynn Turner! I believe that "Shadow Zone" is one of the best albums that Axel has released for a long time now, and for sure the fans of the band will be very glad. For those who don't know anything about Axel, it's better to start searching for the two first albums that he has released or even buy this one for a start. Axel is back with a really heavy album! If you're looking for a qualitative album with many great songs, then "Shadow Zone" is just for you!
T.A. 8,5/10 K.P. 8,5/10
AQUILA
"SAY YEAH"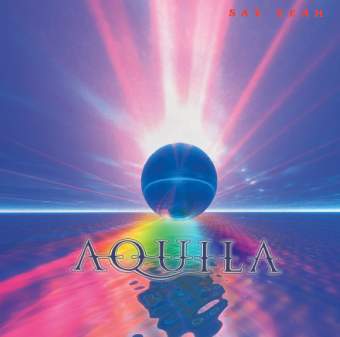 Aquila is the new band of the singer/guitarist and former of Terra Nova, Fred Hendrix. "Say Yeah" is their debut album. Also the keyboardist of the band is Ron Hendrix who is Fred's brother. In the musical part now, the band plays excellent Aor/rock music and of course Fred has the gift to write incredible hits like "Young And Restless", "Nothing's Impossible Now" with the mandolin in the chorus!, the radio-hit "Everyday", the homonymous "Say Yeah", the rock 'n' roll "The kids Wanna Rock" and the emotional ballad "Cecelia". This album is full of fine Aor melodic songs that every fan of Aor/rock music will love! In the last few months I have listened to many good Aor/melodic rock albums and, Aquila's "Say Yeah" was one the most surprising albums!! I'm just thinking that if their debut album is so great, how much better could be their second one? I'm anxious to see!! Well Aquila can become one of the "hot" names in the Aor/rock genre if they'll keep doing such a great job like they did in their very first release! And why not? Do you listen every day such albums with so many great songs? I believe that you don't! To put it simple, if you're fan of this kind of music this album will be a surprise for you. And if you don't listen to Aor/rock music, I'll suggest you to make a start with this album, before it is too late for you!
T.A. 8/10
ARACHNES
"APOCALYPSE"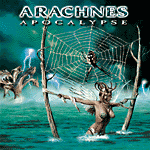 Arachnes is a band that comes from Italy and "Apocalypse" is their new album (third in a row). The music style that the band has is a mixture of heavy-power metal with symphonic elements. Maybe they are not the only ones that play this kind of music but this album has quality in combine with very good songs and the amazing guitar works of Franco Caruso and the high-quality melodic vocals of Enzo Caruso. Some remarkable songs of the album are "The Rain Song" (simply the best song of the album and one of the best of this year), which will be loved from all the heavy-power metal fans, the touching ballad "Forever", the epic powerful "Prayer part II and part I", and the homonymous "Apocalypse". This is a typical heavy power release but I can see that Arachnes have some good orchestras elements in their sound and if they try to enrich their sound more with such elements, they will surely make a difference in the specific genre. They have all the capacities to write more interesting music and to get away from the cliches of the genre. I like this band and I'll wait for the next release to see if they will make the breakthrough! As for the fans of the power metal genre better check out "Apocalypse" as soon as possible.
T.A. 7/10